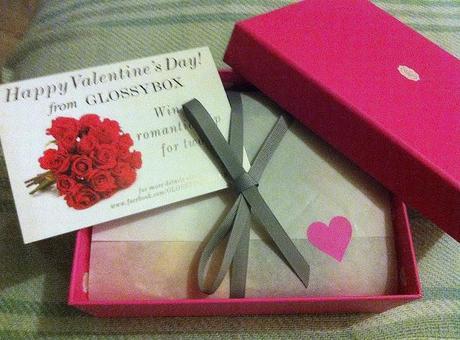 It's here!  The second limited edition box from the original UK beauty box
GlossyBox
- it's states this box is ".....all about being good to your lovely self".  As far as I'm concerned aren't they all??!  The box is a matte hot pink (which made me wonder why glossy boxes aren't erm...glossy?).
The tissue paper is sealed with a pink heart sticker, rather than the usual GlossyBox logo, which is a nice touch and the product list invites you to visit their
Facebook
page for details of a competition to win a romantic trip for two.  As I'm newly single I popped over for research purposes only but could only find details of their Pinspire competition to with a Clarisonic or Nars....maybe it'll be up soon? Update: Glossybox have announced the competition will be live on their Facebook page on 1st February 2012.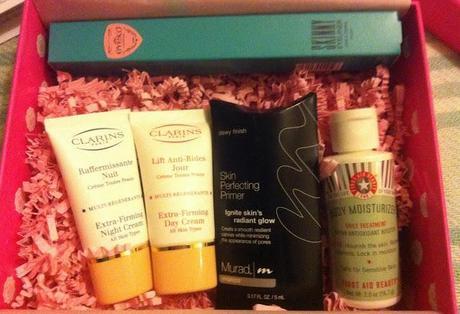 Eyeko Skinny Eyeliner - Full size product (Yay!) Worth £9.50
I was excited to see this full sized product and am really pleased with the shade I received which was Plum.  It's available in 5 other colours all of which were included in various boxes they are Black, Emerald Green, Dove Grey, Midnight Blue and Powder Pink (the latter being great for the lower waterline to create a wide eyed look)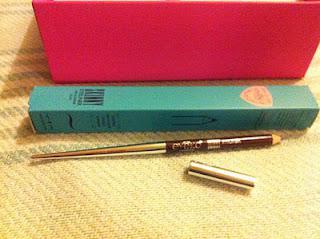 I was a little confused by the length of the tapered handle which is as long as the product itself but a quick glimpse at the website reveals it's actually a really clever idea to get the most use from your product because even when your sharpened it right down to a nub you still have enough length to work with - clever eh?
I really like the texture of this which I find butter smooth and really easy to blend.
You can buy this product from the Eyeko website here for £9.50 - Use the code GLOSSY in the comments box at checkout to receive a free gift on all purchases until 1st March 2012.  Use ambassador code E18519 and you'll get a free gift with all purchases over £15! 
In the interests of research I checked out their check out procedure and accidentally ordered a Vintage surprise gift set of 3 full range products from their last range which includes at least one nail polish and one Eyeko Fat Balm all for £10 with free shipping and they take PayPal! I'll let you know what I get!
Clarins Extra Firming Day Cream - 15ml Worth £14.40
Clarins Extra Firming Night Cream - 15ml Worth £14.00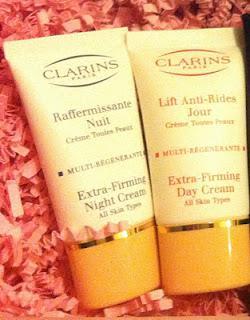 I don't think Clarins needs any introduction.  These are luxury product that retail at £46.50 and £48 respectively for 50ml of product. 
I had a slight problem with this as my day cream tube appears to be empty - eek! I emailed Glossybox and was so very pleased they responded in a very short time and have offered a replacement.  I understand this has been a problem for several people, there have also been concerns that there is no seal on the day cream, apparently there is only a seal on the night cream
I'll look forward to using these but simply cannot justify the price of the full size products!
First Aid Beauty
Body Moisturizer -  2 oz Worth £3.25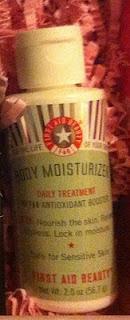 I hadn't heard of this brand before so was please to receive this (even if the Glossybox beauty card promised a gentle body wash!)  It's a US Brand, thus the contents are listed by weight and Moisturiser is spelt with a z!  You can read more about FAB here. 
Key actives are:
HEAL/SOOTHE: Colloidal Oatmeal
COMBAT FREE RADICALS: FAB Antioxidant Booster
MOISTURIZE/BARRIER PROTECTION: Dimethicone, Shea Butter
It also has white tea and is paraben free so good for sensitive skin
The full sized product is available from Feel Unique and Boots and is priced at £13 for 8oz.
I've yet to find a Holy Grail (HG) body moisturiser than can been good old Baby Oil on damp skin but I do enjoy trying them all!
Murad Hybrids Skin Perfecting primer - dewy finish - 5ml Worth £4.83

Dr Howard Murad MD is one of the USA's leading dermatologists and the Murad line was the first 'Doctor' branded line of skincare and the Hybrids make up range promise to not only minimise pores but to improve the look of skin over time.  I don't quite understand this statement as surely the idea is they improve the look of the skin immediately?!  I presume they mean the ingredients also improve the skin over time but they've added 'look' as a disclaimer (I am such a cynic when it comes to marketing!)
The Website claims: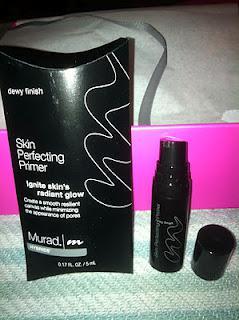 This 2-in-1 problem solver provides a shine-free finish that creates a smooth, resilient canvas while evening skin texture and tone. Now mask your skin concerns while you resolve them!
Additional features and ingredients:
Pore Factor-5 minimizes the appearance of pores while balancing oil production
Adaptive Shade Technology creates a perfect skin tone match
Light enhancing minerals create a radiant glow
Pore Factor-5?!! What the heck is that and just the sort of marketing I despise!
The 5ml sample comes in a little lipstick sized pump dispenser.  The oil free product is a thin liquid consistency that blends easily and leaves a subtle sheen to the skin.  It's also available in matte finish.  I will try this on my face tomorrow, both as a primer and mixed with my foundation.  It's tinted so can be worn alone.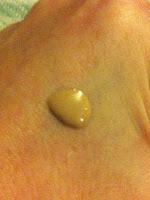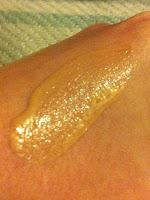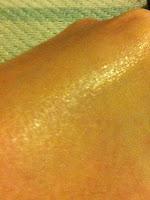 And finally nestled in the tissue paper I found this little slice of Glossybox rock - it was delicious ;-)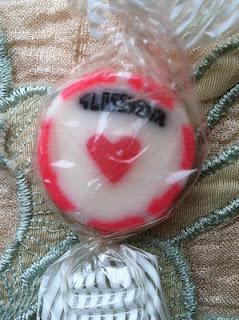 Now since starting this post early this morning I've noticed a lot of whinging
negative feedback about this box, along the line that it's 'not fair' people got different products and different color of eyeliner and also comparing the worth of each of the 3 (I believe) different boxes. I really don't understand this as I always get exactly what I signed up for which is at least 5 luxury sample products for £10 per month plus £2.95 P&P.  In fact every month I've received MORE than I signed up for because there are full sized products too. I've calculated the total worth of this box at approx
£45 which I think represents great value and also satisfies my thirst to try new products. 
If any readers are new to beauty boxes and would prefer to see exactly what they are getting for their pennies I would recommend Latest in Beauty.  For those who would like to get the exact same products as everyone else I understand Feel Unique offer 1 standard box each month.
Personally I love not knowing what I'm going to get and if there is a product I would rather have received I can always try to swap on the Facebook page Beauty Box Swaps.
If you'd like to subscribe to Glossybox for £10 per month plus £2.95 P&P you can do so here.
UPDATE - Special thanks to Honey Go Lightly for correcting the appaling maths in my original post!
Thanks for reading and please do excuse the quality of photographs from my beloved iPhone.  I have a memory card problem with my camera which should be rectified in the next couple of days.
Laters Peeps!
Love Lainey xx