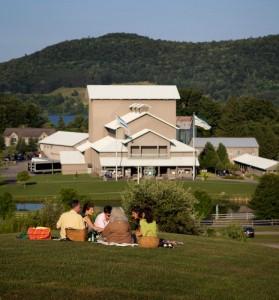 I'd hoped to grab your attention with that headline. But it's true. As I wrap up my vacation time in Cooperstown, New York,  home to the Glimmerglass Festival, I am reminded of what a rich and fulfilling experience I have there each year. And not just as a lover of opera, musical theater, and dance.
Did you know that Glimmerglass Festival also appeals to lovers of:
Picnics–you can have one before or after a show on the grounds
Ice cream–Hagen Dazs bars–yum!
Beer–they have delicious craft beers for sale at intermission
Wine–New York and California labels available, also at intermission
Strolling–roam the grounds during intermission
Hobknobbing–meet opera greats and near-greats after audience Q&A's
People watching–nuff said
Scarves–they have dozens of lovely scarves and other items for sale
Cabaret–during their "Meet Me at the Pavilion" series, you can see cabaret style entertainment and intimate talks.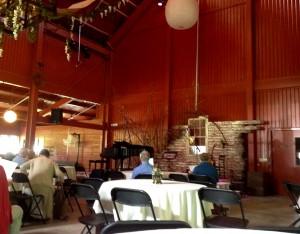 The lovely pavilion at the Glimmerglass Festival for intimate and cabaret entertainment
It was "Gents Night Out" at the Pavilion on Monday, July 29. The leading men of the 2013 offered solos and duets–cabaret style. What a fun show. Highlights for me included Jason Hardy's witty little ditty "And Her Mother Came, Too,"   a beautiful rendition of "Turnaround" by tenor Jay Hunter Morris who accompanied himself on acoustic guitar, and "Ive Got Rhythm," a surprise song-and-dancer number by countertenor and aerialist Anthony Roth Costanzo.
If you've never been to Glimmerglass Festival, you really should give it a go. I love the show talks before every performance–I swear I have more convolutions in my brain. I learn many new things each time I go, and most importantly, I can relax and have FUN.