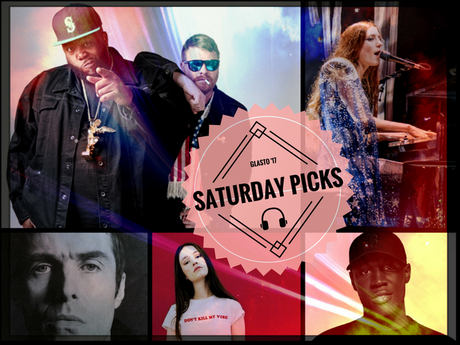 "We get to headline Glastonbury and I get to do it on two legs. It means a lot to me personally. It's part of my recovery" –  Dave Grohl, Foo Fighters.
Time for the mighty Foo Fighters to take their rightful place headlining the Pyramid Stage. Having last played Glastonbury in 1998, the US Rockers had to forfeit their 2015 headline slot, when frontman Dave Grohl fell off the stage in Sweden, breaking his leg. Now back stronger than ever, the rock icons are set to thrill audiences with an epic back catalog of material, having just announced news of their forthcoming ninth album, Concrete and Gold, and lead single 'Run'. Speaking with Annie Mac ahead of their high profile appearance, Dave commented on the cathartic nature of finally being able to take center stage at Glastonbury. Once again, I have the impossible task of picking my top 5 'must see acts', but I hope you enjoy this eclectic selection:
1) Run The Jewels: Pyramid Stage (16.15-17.15)
I have to start with US hip-hop duo Run The Jewels (AKA Killer Mike & El-P), not only for their epic third studio album, Run The Jewels 3, but because they managed to get man of hour, and 'of the many' – Jeremy Corbyn –  to introduce them on stage. The politically outspoken duo are quite familiar with Jeremy, with Killer Mike recently throwing his support behind the Labour Leader at London's Field Day Festival. This will be JC's debut 'performance' at Glastonbury having postponed last year's appearance in the aftermath of the Brexit vote. Expect plenty of White Stripes 'Seven Nation Army' inspired 'Oh, Jeremy Cordon' chants. JC also received great backing from the Grime scene recently in the run up to the general election. Stormzy is on the Other Stage at 20.30 Jezza if you want to stick around? … just saying! Back to the dynamic duo, Run The Jewels are set to tear up the main stage with their infectious beats and fierce flows, as they power through tracks from 'Legend Has It' to 'Close Your Eyes (And Count To Fuck)'. We might even get a special appearance from Danny Brown, who's been touring with them recently and features on 'Hey Kids'.
Update: On Thursday, Killer Mike tweeted that he had to fly back to the US to be with his sick Mother, who later passed away that Friday. Sincere condolences to Michael Render and his family. Despite this incredibly sad news, the duo are still set to perform as planned.
2) Stormzy: Other Stage (20.30-21.30)
With success of his debut album, Gang Signs & Prayer, there's just no stopping the formidable force that is Stormzy. The Croydon MC, AKA Michael Omari, is set to dominate the Other Stage tonight, showcasing his impressive range and fiery riddims. With his debut album storming the charts at number one and released via his own independent label, MERKY, Stormzy has continued to push Grime in a more commercial light, having found the perfect balance between mainstream acceptance and underground integrity. Expect an explosive set with all the big hits including 'Big for Your Boots', fan favourites 'Shut Up' and 'Know Me From', and his recent remix of Ed Sheeran's 'Shape of You'. Having collaborated with a host of artists recently including Kehlani, MNEK, Wretch 32, and Little Mix, hopefully we'll get a few special guests for his Other Stage performance.
3) Sigrid: The Park Stage (15.00-15.50)
There must be something in the water, because we have yet another Scandinavian pop star absolutely killing it. Hailing from Norway, 20-year-old Sigrid is gearing up for her debut Glastonbury performance on the Park Stage this afternoon, armed with an electrifying voice that's sure to captivate. Fresh off the success of her remarkable debut 'Don't Kill My Vibe', the infectious track has been streamed over 16 million times on Spotify and hailed as the 'ultimate millennial empowerment anthem'.  With a Summer of Festival performances on the cards for Sigrid such as Wilderness, Latitude and Roskilde, make sure you reserve your spot at The Park stage for an afternoon filled with rousing vocals, melodic vibes and an all around raw energy courtesy of this rising star.  
4) Liam Gallagher: Other Stage (17.45-18.45)
Former Oasis frontman, Liam Gallagher, triumphantly returned to the spotlight with his debut solo single 'Wall Of Glass'. Having only recently been confirmed as a Glastonbury performer, the Manchester rocker will no doubt receive an overwhelmingly large crowd. His brother, Noel, appeared at the Festival yesterday to introduce the Oasis documentary, Supersonic, on the William's Green Stage. Whether we get to witness an Oasis reunion or not, Liam will no doubt deliver a hefty, dose of blues-rock with plenty of his trademark swagger and attitude. Liam recently made a surprise appearance in Manchester for the 'One Love Manchester' benefit concert, where he performed 'Rock 'n' Roll Star', 'Wall Of Glass' and then 'Live Forever' with Coldplay's Chris Martin.  With his debut album, As You Were, set to drop October 6 and pre orders conveniently available from today, Liam has been hilariously signing off his tweets with said album name, some even going back as far as May last year!
5) Birdy: Avalon Stage (20.10-21.10)
So far we've had some hip-hop, grime, rock 'n' roll and some delightful Scandinavian synth-pop. Now it's time for the achingly beautiful vocals of Birdy! The 21-year-old singer/songwriter is set to captivate the Avalon Stage this evening, with her mesmerising vocals and enchanting piano skills. Having shot to fame six years ago with her stunning cover of Bon Iver's 'Skinny Love', Birdy has gone on to sell over 15 million records worldwide and last year delivered her third studio album, Beautiful Lies – the perfect 'coming of age' album. From the fragility of 'Shelter' and 'People Help The People', Birdy still delivers heartbreak like no other, but with a sound that's matured and grown organically over time, she's also able to deliver the more uplifting and empowering tracks such as 'Wings', 'Keep Your Head Up' and 'Wild Horses'.  Expect an emotion induced set, with plenty of unique covers too. Having recently collaborated with Sigma on 'Find Me', Birdy is currently working on new material. In the meantime, make sure your grab some down time at Glasto and enjoy the beauty that is Birdy.
As with yesterday's top picks, notable mentions have to go to a few more acts such as Solange, The Amazons, Loyal Carner, Mykki Blanco, Bicep, Seth Troxler, Dusky, Benga, and pretty much the entire Lovebullets Stage lineup, with performances from Route 94, Infinity Ink & Patrick Topping! Last but not least, I'm sure Katy Perry will no doubt deliver an epic, pop extravaganza on the Pyramid Stage.
Check back soon for Sunday's picks. In the meantime, check out the playlist below for all of today's top picks. Don't forget to catch all the live TV coverage across BBC 2, BBC 4 and the red button, as well as the BBC's dedicated Glastonbury site for live streams across 6 stages. BBC Radio 1, 1Xtra, Radio 2, Radio 3 and 6 Music will all be broadcasting live from the festival site all weekend too.
Advertisements