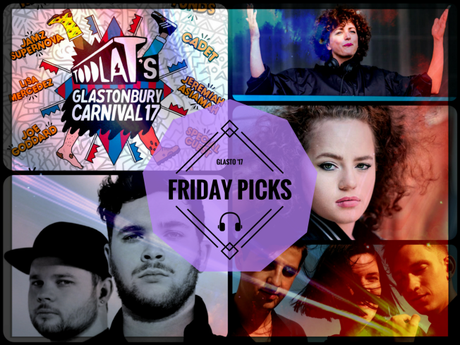 "You've got to leave your ego and your shades at the gate" – Ed O'Brien, Radiohead
Are you ready for the first Glastonbury headliner of 2017? With official TV coverage and online streaming starting today, the one and only Radiohead are set to headline The Pyramid Stage from 21.30-23.45. Having last headlined Glastonbury in 2003, Radiohead have an impressive nine studio albums under their belt, so expect an epic, career-spanning set. Over on Radio 1, Annie Mac caught up with Ed O'Brien ahead of their second headline performance, with Ed offering some sound advice to  his fellow artists. Ok, let's see who's made my Friday's Picks:
1) The xx: Pyramid Stage (19.30-20.30)
With the release of their highly anticipated third studio album, I See You, back in January, The xx are set to captivate the Pyramid Stage with their typically affecting live show. Having recently sold out seven consecutive nights at London's Brixton Academy in March, you just know The xx are going to deliver a mesmerising live performance. Sonically, the trio have evolved from the hauntingly sparse onset of 2009's debut album, to a more expansive and colourful existence. With an impressive back catalog of material such as 'On Hold', 'Angels' 'A Violent Noise', to their most recent offering, 'Seasons Run', expect emotions to be running high as Jamie, Romy and Oliver light up the main stage with their saccharin induced melodies, illuminating light show, velvety vocals and rousing, festival-friendly refrains – perfect for the grandest stage of them all.
2) Áine Cahill: Avalon Stage (14.20-15.15)
    The Bread and Roses Stage (18.00-19.00)
Áine Cahill first came to my attention during last year's Glastonbury festival, when BBC 2 hosted a series of acoustic-style performances throughout their live TV coverage. The 21-year-old performed her single 'Black Dahlia', which immediately prompted a surge of viewers eager to know more about this mysterious talent, even causing her to trend on Twitter. Inspired by classic 1950's jazz with a contemporary twist, the Irish singer from Co. Cavan continues to captivate audiences with her commanding vocals full of depth, akin to the likes of Amy Winehouse or Adele. With the success of singles 'The 27 Club' and more recently 'Plastic', be sure to catch Áine as she takes to the Avalon Stage this afternoon and then again on the Bread and Roses Stage later this evening. With a string of Summer festivals on the horizon including Sea Sessions, Latitude, Longitude, Secret Garden Party and Festival no 6 –  the future is bright for this rising Irish star.
3) Annie Mac: John Peel Stage (22.30-23.45)
I know I already mentioned Annie Mac in my top picks for Thursday, but that was for her special Glasto broadcast of her weekday show, with special performances from the likes of George Ezra and Nadia Rose. Now, it's time for her solo gig! As the Queen of dance on Radio 1, Annie has had the pleasure of kick-starting the weekend off for a number of years now, and what better way than on the John Peel Stage. With the success of her recent club culture documentary 'Who Killed The Night' and her personally curated AMP Lost & Found Festival in Malta, Annie is seen as the premiere tastemaker when it comes to the latest club bangers. While her weekly Friday night show is still being broadcast live from Glastonbury tonight, with special guests The xx, Goldie, Jackmaster, Joe Goddard and Little Dragon; her John Peel set will see Annie take center stage for a night of #raving. Having recently given birth to her second child and made her highly anticipated return to their airwaves last week, expect a large crowd for this set.
4) Toddla T's Glastonbury Carnival: Stonebridge Bar (22.00-05.00)
I couldn't leave out Toddla T's Glastonbury Carnival from my top picks. The producer/DJ, label owner and new Dad is set to bring his Carnival vibes to the Stonebridge Bar. While the annual Notting Hill Carnival is still 9 weeks away, Toddla T is starting the celebrations early and bringing the whole Soca crew along. Joining him for the 7 hour Glasto special include: Joe Goddard, Mist, Donae'o, Dj Target, DJ Q, Cadet, Jamz, Supernova, Kojo Funds, Lisa Mercedes and Jeremiah Asiamah, serving up an eclectic mix of dub & reggae, jungle, hip hop, grime and dancehall. With the every-growing popularity of Carnival, including Toddla's Spring, Summer and Ibiza Carnivals, the Toddla T Sound has grown from strength to strength celebrating the best of Caribbean music. Airhorns and whistles at the ready – and watch out for the Soca Police!
5) Royal Blood: Pyramid Stage (17.45-18.45)
Royal Blood have been a firm staple on my blog since their 2014 eponymous debut album. The Brighton duo are set to tear up the Pyramid Stage with a string of explosive singles, such as 'Figure It Out', 'Come On Over','Ten Tonne Skeleton' and more recent singles 'Lights Out' and 'I Only Lie When I Love You'. With their turbocharged, riff-laden hard rock, The Brighton duo have garnered quite the support from rock-royalty over the years, including Foo Fighters, Metallica's Lars Ulrich and even Led Zeppelin's Jimmy Page. With the release of their sophomore album, Why Did We Get So Dark, earlier this month, bassist & vocalist Mike Kerr along with drummer Ben Thatcher, have successfully delivered a follow up album that's evolved organically, all the while maintaining their undeniable raw energy. Word of warning – watch out for the mosh pits!
It's impossible to narrow down my top 5, so notable mentions have to go to festival favourite's Major Lazer – who on any other day would have been top of this list – and of course the incredible Lorde making her Glasto debut. Other acts that caught my eye include Melé, Gorgon City, Blossoms, Diplo x Jillionaire's DJ set and Eats Everything's fourth performance of the weekend. There's also still a few 'secret acts' yet to be announced, such as the 19.30 slot on the Park Stage. Could it be Elbow? Away from the live music acts, another highlight bound to get a big crowd is the William's Green Stage (21.00-23.10) for a special screening of the Oasis documentary 'Supersonic', which a special introduction from Noel Gallagher. While, The Cineramageddon (15.45-17.50) is set to screen two documentaries about the life and times of David Bowie; 'Five Years' and 'The Last Five Years'. See, something for everyone.
Don't forget to catch all the live TV coverage across BBC 2, BBC 4 and the red button, as well as the BBC's dedicated Glastonbury site for live streams across 6 stages. BBC Radio 1, 1Xtra, Radio 2, Radio 3 and 6 Music will all be broadcasting live from the festival site all weekend too. Check back soon for Saturday's picks!
Advertisements