I am re-posting this from last year. We still have so much to be thankful for. Now it is time to get ready to feed eleven people their turkey dinner. A very happy Thanksgiving to you and your families!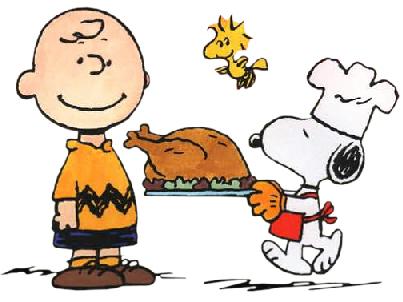 In honor of Thanksgiving tomorrow, I asked readers to let me know what they are really thankful for this year. A lot of you responded with answers about your health or the health of others, your faith, your freedom, your family, your friends, and your spouse/partner/boyfriend or girlfriend.
Here are a few of the many stories I received:
Steven: "I am thankful that the business my wife and I started on a whim has really taken off. It has allowed us to work together as a team, and it has been great."
Sally F.: "My grandchildren. They are light and joy and hope."
Deborah: "I am thankful that my husband has a job because last Thanksgiving he was let go from his job and we struggled for a year to make ends meet. It makes you appreciate the simple things in life, like a roof over your head and food on the table. All the other stuff we wish for is superfluous."
Sally M.: "This year I published my first book. Writing a book has been a lifelong goal, and at the tender age of 56, I finally did it."
Paul: "As an adoptee, this year I am thankful that I have after 41 years, found my biological family."
Patricia: "I am thankful for my eyesight. Blindness runs in my family. A few years ago I lost eyesight in one eye and then the other. Laser surgery was able to save my eyesight. Had I lived a generation earlier, I would now be blind in both eyes."
Bill: "I am thankful to be becoming a father for the first time at the age of 69. Life itself needs no explanation. January 2011 is the date."
Barbara: "I am thankful that despite divorce this year, my stepdaughter still wants to spend Thanksgiving with me. As a stepparent it is a fine line between being a parent and not being a parent, but apparently my relationship is valued and I am grateful. I am also grateful my ex-husband is respectful of this relationship."
Hearing other's stories always puts things in perspective for me. It is inspiring that even when you are feeling the most down, there are always people who have been in situations as challenging or more challenging than you that have pulled through and triumphed. 
So, what am I thankful for this year? I am also appreciative of my friends and my health, but I am particularly appreciative of my family. We welcomed our younger son into our family earlier this year after having some trouble conceiving and he has brought such joy into our lives. Just one look at his little grin or to hear one of his chuckles makes me fall in love all over again.
I am also thankful for all of you. When I started writing this blog this past spring I did not think anyone would want to read it. I have been amazed at how many people have viewed the site, have offered to contribute to it or to promote it, and have offered advice on how to improve it. I am truly blessed to have so many people supporting and believing in something that I really enjoy doing. 
What are you thankful for this year? Please feel free to post your story in the comments.