Giovanni - D: tox System - Face Cleanser
Claim:
With activated charcoal, volcanic ash and super oxidants acai & gogi berry. Your face is your calling card. In order to help your skin be pure and detoxifed, you need this lush, gentle foaming cleanser. With volcanic ash to dislodge and absorb pollutants, activated charcoal to extract impurities and detoxify, and super-antioxidants acai and goji berry to rejuvenate your face and recharge cells. Leaves skin refreshed and hydrated. PH balanced.
For all skin types.
Weight - 7 oz/207ml
Giovanni D:tox System, three steps to skin purification: only from Giovanni 3-step D:tox System, a premium detoxifying body care system. 
Steps 1 and 2 of Giovanni D:tox System lift impurities, polish and purify with activated charcoal and volcanic ash.
Step 3 of Giovanni D:tox System hydrates and replenishes with the super antioxidants acai and goji berry.
Step 1 of D:tox system is the Purifying Facial Cleanser. It claims to
Removes makeup, including eye makeup, leaving skin refreshed and hydrated, pH balanced

Volcanic ash and activated charcoal work to extract impurities, rejuvenating skin, removing makeup and its traces withouth drying skin

Includes hand-harvested super-antioxidants of acai and goji berry to help recharge and rejuvenate facial cells. 
View the Giovanni Complete D :tox system range here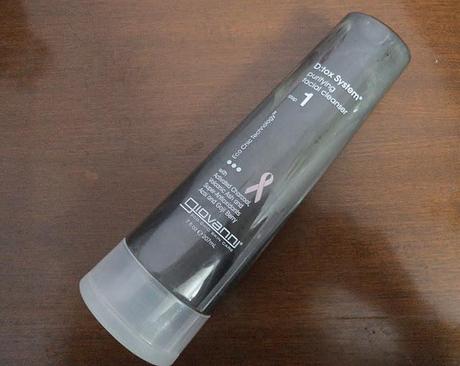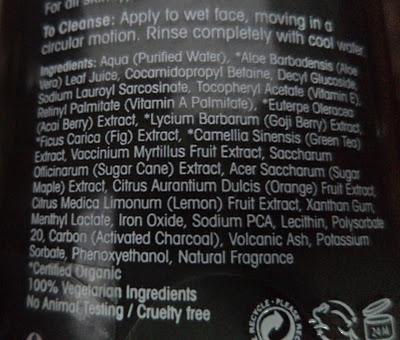 Ingredients
100% Vegetarian Ingredients No Animal Testing / Cruelty free
Price:
Rs. 495 for 207 ml bottle. Use within 24 months of opening. 
My Take on Giovanni D:Tox Facial Cleanser
I never knew that Giovanni has skin care products like this until I read Tanveer of Addicted toBlush's review. 
She recommended it for oily and sensitive skin. I have a bit of both. My T-zone is super oily whereas rest of my face gets very dry in winters. my skin is also sensitive to certain natural products like aloevera, turmeric. In summers, my T-zone of course remains oily but the rest of my facial skin is normal. What really fascinated was the presence of volcanic ash. I have read posts about how volcanic ash can do wonders for skin. So, when i spotted this one, I had to try this at any cost. I wanted a dry skin variant but this is the only cleanser in the D :tox system range. I have been using this for almost 4 weeks now. those 4 weeks were very severe and harsh winters in North India, when my facial skin except my T-zone gets super dry. So dry, that cleansing my face with Dove soap makes my face very dry and stretchy. I had got this one to try in summers, but once i got this, I could not contain myself from trying. I was expecting it to make my face very dry, but it did not. No stretchy feeling to rush and apply a thick cream. The slight dryness which I feel is most probably due to the warm water I use for washing my face and can be easily taken care of with a hydrating toner or a light face cream.
I need less then a pea sized amount for my entire face and skin really feels fresh and clean after cleansing. After using it continuously for one week, I could notice a soft subtle glow on face. I used it only once for cleansing my face. If I used it more then once, my face felt more dry and stretchy. I would recommend it for dry skinned girls too, (Me being one too) it's best to use it only once, probably in evening to take the remains of the day of your face. It has all the natural and organic ingredients, especially volcanic ash & activated charcoal alongwith green tea, acai & gogi berry. The bottle is huge and quantity is 207 ml, so it's a good value for money but not travel friendly. The facewash can easily last me 5-6 months, with single daily use. It's really good for a facewash and does not remove water proof makeup and stings a bit if gets in eyes. The only downside is the availability and the packaging. Wish this one came in chubby squeezy tube of 50 or 100 ml which can be easily carried in handbag. 
I am definitely going to buy this again. Have you used any Giovanni Products ? Do let me know your experiences with this brand.