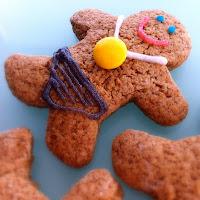 It's no secret that gingerbread biscuits are cute, and if the story is true; they're fast little fellows too.  Well, in the spirit of the Olympic Games, I thought it only fitting that his "nah-nah-you-can't-catch-me" refrain should probably be rewarded with a Gold Medal... (not that I condone his smarty-pants chit-chat mind you, it got him bit on the tushy remember, but I do admire his need for speed!)
Why don't you bake up a set of gingerbread people, grab some icing pens, draw on some swimmers or shorts, give them some smiling faces and of course some chocolate button medals - they're fast, funny, and best of all; yummy!
And when
the Olympics
are over, you can pop these little people into plastic bags for a sports carnival treat, a school fund raiser, or fabulous fete stall... just change the shorts to match the school uniform colours, and be sure to write clever labels like; "I'm a winner," "We're all winners," or "Gold Medal Effort" to go on the bags.
Enjoy! x
(PS - don't forget that to celebrate turning one, PartycraftSecrets.com is having a store wide sale for the month of August - with 40to50% of everything - Yay!)