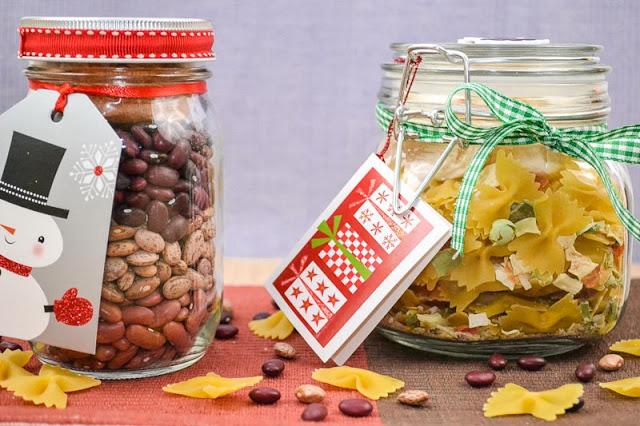 We all have those family members who don't necessarily have a sweet tooth.....shocking! I know, crazy right? But its true my mom is diffidently one of those lucky women who just don't have a sweet tooth.  Its more like a vodka tooth...lol just kidding, love you mom!
But seriously I wanted to give her and some other family members a homemade edible gift that wasn't just cookies, so I had to go a little outside the box.  My wonderful neighbor and friend let me borrow a small book she bought from the girl scouts that contained recipes for items in a jar and a few showcased soup mixes.  My mom and nana are huge soup fans so I knew that these homemade gifts would be just for them.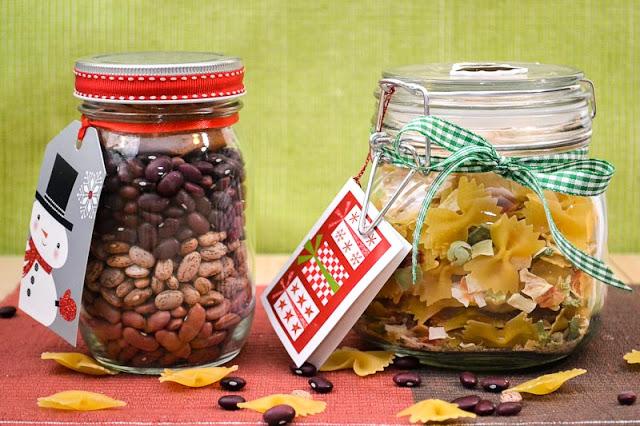 There are 2 different soup mixes.  Italian Tomato Pasta Soup Mix and a Taco Bean Chili Mix that have been adapted from the Gifts from a Jar book.
Materials You'll Need
Mason Jar (pint size for the chili bean mix)
Mason Jar (Quart size for the pasta mix)
Ribbon
Glue stick
Name tags
Stickers


Ingredients for Taco Bean Chili Jar


1/2 Cup dried Kidney Beans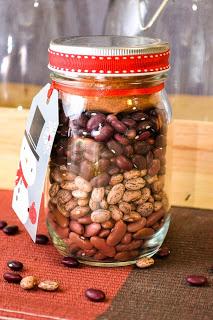 1/2 Cup dried Pinto Beans
1/2 Cup dried Red Beans
1 Package (1 1/4 ounce) Taco Seasoning Mix
1 Tablespoon dried minced onion
1/2 teaspoon chili powder
1/4 teaspoon ground cumin
To Layer the Ingredients
1st layer:  Kidney Beans
2nd layer: Pinto Beans
3rd layer: Red Beans
4th layer: ziplock sandwich bag with all your spices
In a ziplock sandwich bag and all your spices including emptying the taco seasoning mix into it.  add the ziplock baggy as the 4th layer and place the lid and close tight.
Recipe for the Taco Bean Chili
1 Jar Taco Bean Chili Mix
4 cups Beef broth or Vegetarian broth to make it vegetarian :)
1 can (14 1/2 ounces) diced tomatoes with green chiles
1 can (8 ounces) Tomato Sauce
1 pound ground beef or morning star crumbles (for vegetarian) cooked and drained
1 1/2 cups tortilla chips
Optional: Shredded Cheese, cilantro, sour cream and extra chips for dipping
Directions
- Remove the spice bag from the jar and set aside
- Place beans in a large bowl; cover with water. Soak 6 to 8 hours or overnight.  (To quick soak the beans, place beans in large saucepan; cover with water.  Bring to boil over high heat.  Boil 2 minutes.  Remove from heat; let soak, covered for 1 hour).  Drain beans; discard water.
- Place soaked beans, broth, diced tomatoes, tomato sauce, ground beef or crumbles and contents of spice packet in a large pot or dutch oven.  Bring to a boil over high heat.  Cover; reduct heat and simmer 1 1/2 to 2 hours or until beans are tender.
- Optional- Crush tortilla chips. Stir into chili and cook 5 to 10 minutes to thicken.  Serve with cheese, cilantro and sour cream.


Ingredients for the Italian Tomato Pasta Soup Mix Jar


2 1/2 cups Farfalle (bow tie) pasta
2 tablespoons dried vegetable flakes, soup greens or dehydrated vegetables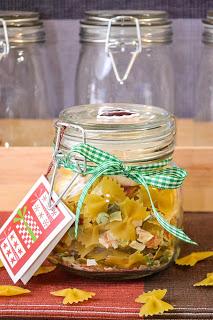 1 Tablespoon dried minced onion
1 teaspoon chicken or vegetable bouillon granules
1 teaspoon Italian herb seasoning
1 teaspoon sugar
1/2 teaspoon dried minced garlic
1/4 teaspoon black pepper
1/2 cup Parmesan Cheese
To Layer the Ingredients
Place pasta into the jar and sprinkle in the dried vegetables , onion, granules, italian seasoning, sugar, minced dried garlic and pepper.  Place the parmesan cheese into a ziplock bag and add it to the top of the pasta. Close the lid and decorate the jar.
Recipe for Italian Tomato Pasta Soup Mix
1 Jar Italian Tomato Pasta Soup Mix
5 cups water
1 can (28 ounces) crushed tomatoes
1/2 package (10 ounces) frozen chopped spinach, thawed
4 to 6 slices crisp cooked bacon, crumbled (omit for vegetarian)
Directions
- Remove cheese packet from jar
- Combine the water and remaining contents of jar in a large saucepan.  Bring to a boil over high heat; boil 10 to 12 minutes. Stir in crushed tomatoes, spinach and bacon.  Reduce heat; simmer 10 to 12 minutes or until pasta is tender. Serve with parmesan cheese.
Note: Even though I am vegetarian my family is not, so most of these recipes are easily adapted to be either made for my dear meat eaters or my fellow vegetarians.