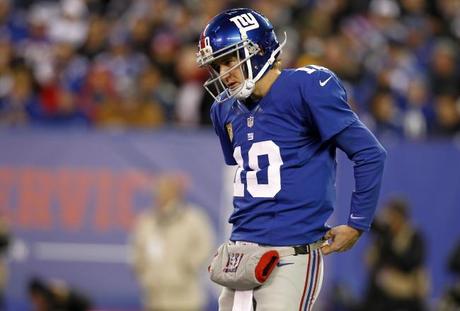 If there is a team who needs a bye week, it would have to be the New York Giants.  They have played absolutely dreadful the past two weeks.  The defense looks tired.  The offense looks sluggish.  Even special teams looks like its sleeping.  Yes the Giants are still leading their division, but they are now 6-4 and have and extremely tough road ahead.  They still have to play Washington, Green Bay, Atlanta, and a revitalized New Orleans team.
As any true Giants fan would note, they do perform best when they are under pressure.  However, they have a record of being an awful November team and they are only adding to that statistic.  The bye week will give the defense some much needed rest and allow for Eli and his receivers some extra time to get back in sync.  It will also give key players dealing with nagging injuries, like Ahmad Bradshaw and Hakeem Nicks, time to get healthy and back to 100 percent.
I definitely would not count this team out.  They know how to play in crunch time and that is what makes them such a scary team.  Their first game after the bye will be against the Packers (I will be in attendance) and I think the Giants will put on a show.  These two teams always put on a show when they face each other and this team the Packers will be fired up as they felt they were cheated in the playoffs.
As a side note, I would like to tip my hat to my fellow Scarlet Knight Mohamed Sanu for having an outstanding game today.  He scored his first NFL touchdown during the game.  At least someone on the field is playing #JerseyStrong!