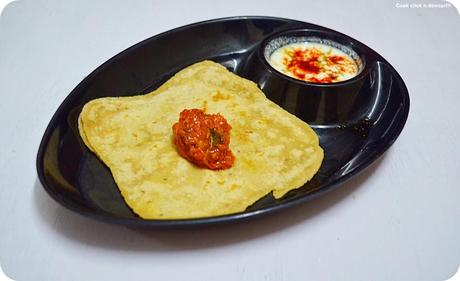 Ghee chapathi-I found this recipe in 100 tiffin varieties by Mallika Badrinath.I was quite surprised by the name first as we mostly use ghee to cook chapathi,then when I read the procedure it was quote interesting.Here we actually apply ghee and fold the chapathis which makes the super soft,visible layers and very tasty.I know some of you would already know this method of making chapathi but I wanted to blog about this as I always get a bunch of requests for north Indian flat breads.Also I am blogging this so that I will be reminded about this method.The book says we need to fold and make a triangle chapathi,but I made it into square as I have seen many square paratha recipes and I always wanted to try them.As we are using considerable amount of ghee here,there is no need to use any fat or milk or even hot water while kneading the dough.Just flour,salt and water will do. I always recommend using home made ghee in recipe where ghee is an important ingredient.Homemade is more fragrant,it doesn't clog and best for cooking unlike store bought ones which are mostly used for sweets made in large quantity. I served this with tomato thokku and simple raita,satisfying dinner it was,do try atleast once and you will love it.
Ghee chapathi recipe
Star ingredients:Wheat flour and ghee
Time:30 minutes
Yield:10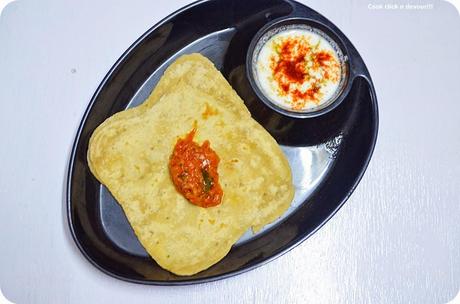 Ingredients:
1 1/2 cups whole wheat flour
Salt
4-5 teaspoons ghee
Water to knead the dough
Method:
1.Mix,flour and salt.Add enough water and knead to a soft pliable dough.Cover and rest for 1-2 hours.
2.Make 10 equal sized balls.
3.Take one ball and roll to a thick circle.Apply 1/2 teaspoon ghee all over the circle and fold to a suqare or triangle and roll thin.You can even make a circle again.
4.Heat a cast iron tava cook the rolled chapathi from both sides till light brown appears.Serve immediately or stack in a box.
Notes:
1.These chapathis remain soft even after few hours so ideal for travel or packing in lunch.
2.There is no need to add ghee while cooking or applying ghee after cooking like we usually do.
3.While making for kids you can add sugar or coconut along with ghee,or you can even apply jam and roll.