We were recently sent a £30 voucher for Shoe Zone to treat our feet to some new shoes from their Spring/Summer collection.
I have to be honest and say I haven't been in Shoe Zone for quite some time. I have been for a quick browse before, however, because everything was so cheap I had a preconception that the quality would not be good enough for the shoes to be comfy or to last at all.
One thing I really enjoy about blogging is being able to try out new shops and products and often have my thoughts changed (most of the time for the better!).
Before going into our local store I had a browse on the Shoe Zone website and saw quite a few pairs that I liked for both myself and the Little A's. In store there was not as much choice as online, however, we still found quite a few pairs that we liked.
There was a good choice for me in the women's range from strappy sandals to canvas pumps; heels and flats. I tend to live in gladiator sandals in the summer as I find them so comfy and easy to wear with pretty much any outfit. My eyes were immediately drawn to a pair of tan gladiator sandals with a zip up back. One thing I have to really praise Shoe Zone for is their choice of sizes. I am a size 7/8 and can often struggle to find shoes in my size - I think despite everyone gasping when I tell them how big my feet are, it is actually a very popular size!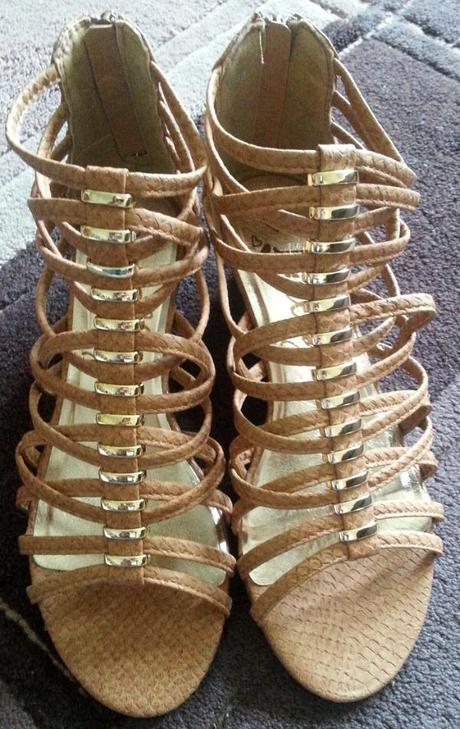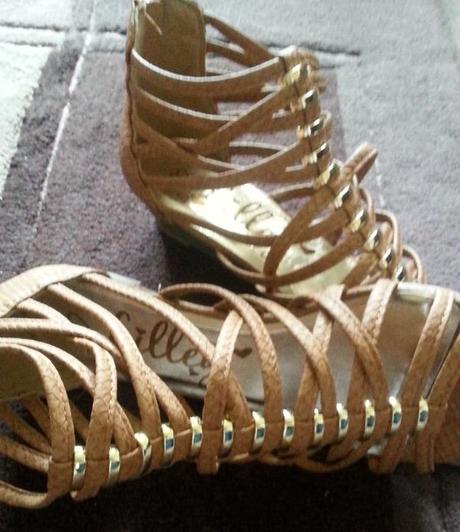 I tried on a size 7 and they fit perfectly. The quality of the shoes actually pleasantly surprised me. The soles were strong and the zips up the back of the shoe felt very strong too. For £14.99 I don't think you can go wrong with the quality and style of these shoes.
I have had the opportunity to wear them on a few occasions now (thanks to the glorious weather we had whilst away) and have found them extremely comfy. I can walk around all day in them without any discomfort. The shoes are holding up well to all of the walking too and I certainly think they will last throughout the summer, if not beyond.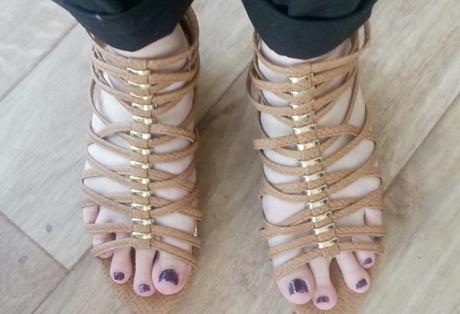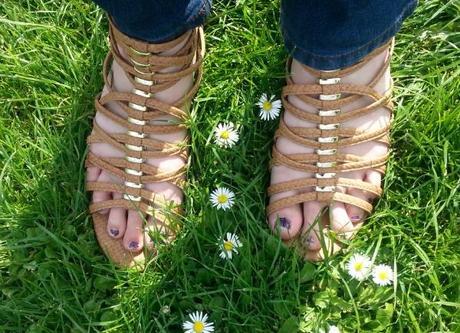 For the Little A's, again there was plenty of choice.
Little Mr A narrowed it down to a choice of two types of sandal, however, in the end we decided that the closed toe sandals would probably be best for him - he is very clumsy!
Again I was impressed with the size choices available and the sandals felt very sturdy with good velcro fastening across the back of the sandal.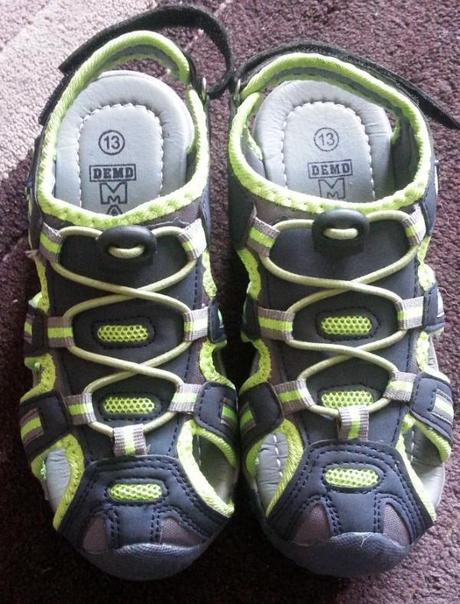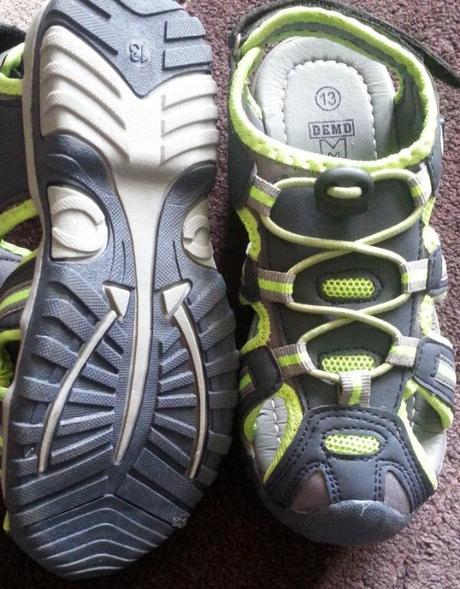 Little Mr A has loved wearing his sandals whilst on holiday and has not complained once about his feet hurting. They will definitely stand up to a lot of running around and (as long as his feet don't grow too much!) they should last him all summer. Priced at £9.99 I think they are great value for money.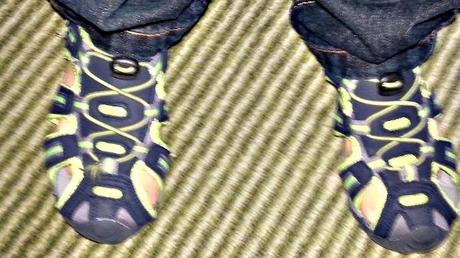 For Little Miss A there was a much larger choice including lots of strappy sandals, pretty shoes and canvas pumps. In the end we decided on a really pretty pair of pink flowery canvas shoes. She is a bit of a nightmare for tripping over so we didn't think sandals would be a good idea - I could envisage a lot of scraped toes!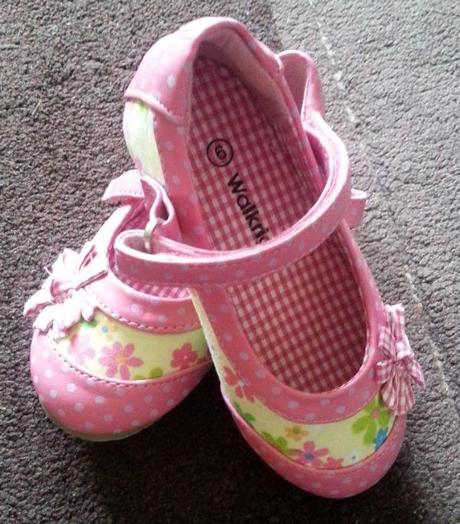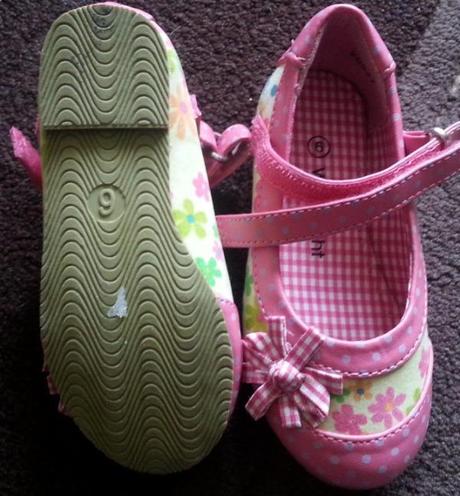 The sizings were good on the shoes and they fit her really well. I am always concerned when buying cheaper shoes that they will not fit properly, however, LIttle Miss A has been walking really well in them and there are no signs of rubbing at all. Priced at just £7.99, again, I think these are excellent value for money and will certainly last her some time.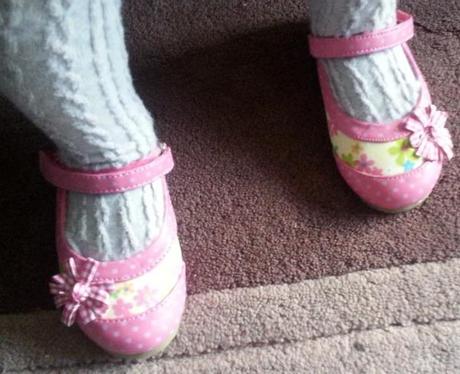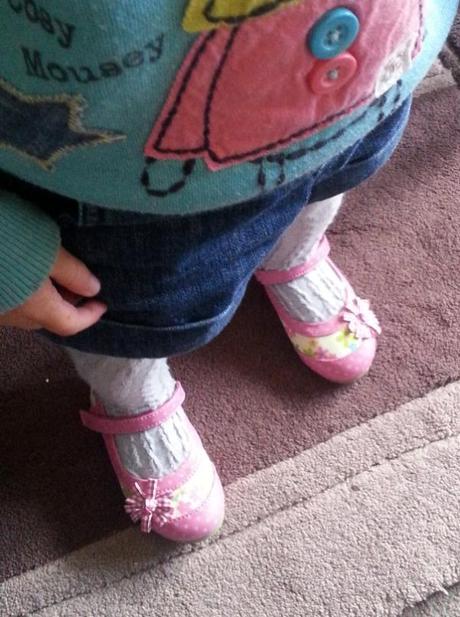 Overall I am really impressed with the choice and quality of the shoes for the price in Shoe Zone, it has certainly helped change my opinion! If you want pricey looking shoes that come in a nice box Shoe Zone isn't for you, however, if you are looking for good value shoes for the whole family then they are perfect as they have something for everyone!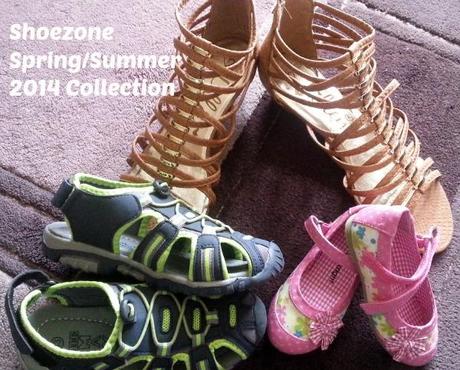 Stay at Home Mum to two children - Little Mr A born in 2008 and Little Miss A born in 2012. Blogging my way through dirty nappies and school runs!