Weather is warming up, were prepping for holiday's and everybody's gradually peeling off layers (okay, not quite yet). 
It's time to start looking at some bright and breezy footwear, I've picked a few Spring/Summer shoe's that I personally quite like. 
It's good to have some neutral one's cos' then they're versatile and classic, some pastel-y one's because we all know pastel's are THE thing this Spring/Summer and also some more statement one's. 
I'm not the best at walking in heels and I'm a bit of a fuddy, comfort over glam; but then often I feel a little bit plain sometimes in flat's, especially if you want to smart it up a bit; therefore I think a mid heel can look really elegant.  
Here's my pick: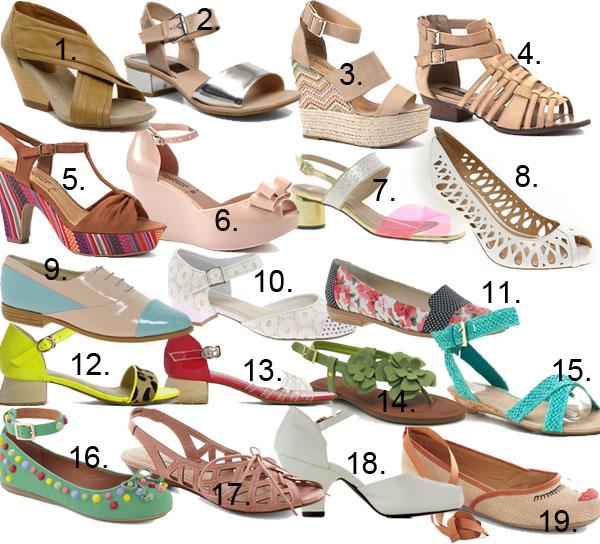 Brown Sandal - 

Sarenza

Nude and Metallic Sandal - 

Sarenza

Nude and Aztec Wedge - 

New Look

Nude Gladiator - 

New Look

Brown and Print Heels - 

New Look

Nude Jelly Wedge - 

New Look

Neon and Glitter Mid Sandal - 

Asos

White Cut Out Heels - 

Asos

Pastel Brogues - 

Asos

White Embroidered Mid Ballet pump - 

Asos

Floral and Polka Dot Loafers - 

Asos

Neon Leopard Mid Sandal - 

Chicwish

Red Jelly Mid Sandal - 

Chicwish

Green Flower Flip-Flop - 

Go Jane

Blue Woven Sandal - 

Go Jane

Pastel Stone Ballet Flats - 

ModCloth

Rose Pink Cut Out Sandal - 

ModCloth

White Strap Heel - 

Modcloth

Lashes and Lips Ballet Flats - 

ModCloth
ModCloth have unbelievable amounts of lovely one's, I could have gone on forever but would not have enough room. You can find all of their shoes 
here
. They have a mixture of sophisticated, pretty and quirky/unique one's and I love them all. Some of the other's I also liked (prepare for lot's) were
Cayenne

,

Bunny Shoes

,

Daiquiri,
Crafty afternoon

,

Heart work and dedication

,

Bring knit on

,

State of the Architectual

,

Twist of Gait

,

Fairytale Seafront wedge

,

Blogger meet up

,

Isn't she Dove-ly

, 

Deco Devotee
 and million, trillion more have a look for yourself. 
If I wasn't saving for a holiday as well as car Tax and M.O.T then I would be buying all of these lovelies in a flash. 
While I'm on the subject of my love of ModCloth, take a look at the frocks, they are amazing. Especially the 50's inspired Fit & Flare dresses, which are especially great for my shape as I'm a pear, smaller up top and got a massive butt, meaning that this style hide's a multitude of sins!

How amazing are these: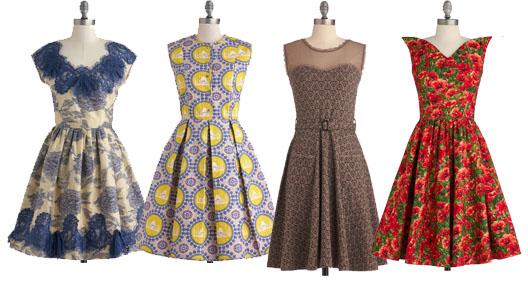 Okay so some of them are a little pricey, BUT if not buy them, then why not get inspired and get your creative juices flowing. Buy some fabric with a lovely print and follow a pattern similar to the style of these dresses on ModCloth, for a small price from here and create your very own one. At least you know nobody else will be wearing the same dress as you and you can make it to your exact measurements, meaning a much better fit rather than just a standard high-street size. 
When time is in my favour I will definitely be having a go, I wan't to look like a 50's princess too!