What is Onam?
Falling on the 4th of September (Monday) this year, Onam is the official state festival of Kerala which marks the beginning of their New Year. A festival celebrated by the Malayalis, you'll find boat races taking place in Kerala on the occasion of Onam, tiger dances, martial arts, music and dance, and of course, food.The most important part about Onam is the white and golden sari and dhoti that women and men wear, and the Sadhya that they have. My tryst with Onam Sadhya began long back, but the first time I actually learned the importance of this festival and other related things was in 2015 in Mumbai. My roommates were two very sweet Malayali girls who I still am extremely fond of. They dressed up pretty in their saris and went to college, and asked me to join them (or rather I made myself join them) for a sadhya meal in the afternoon. Had lunch with about 20 Malayali kids, all dressed up in the spirit of their festival, away from home, yet celebrating it together with food. The only non-Malayali amongst them, I was explained every single component on my banana leaf by Kajol and Alice. This blog post is also to tell them that this experience 2 years ago remains one of my fondest memories of Bombay and of life.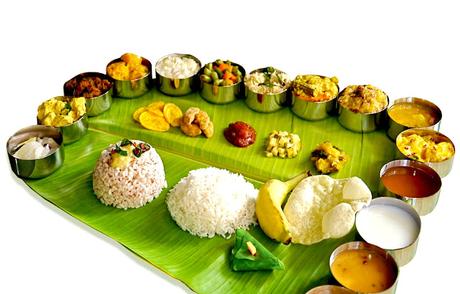 *picture taken from the web

So what exactly is a Sadhya?It's a lavish vegetarian Malayali meal served on a banana leaf. Sadhya is available all round the year at authentic Kerala restaurants across cities, but the sadhya served on Onam is more lavish and of course, special. A typical sadhya meal has about 20-30 dishes, though it varies and can go upto some 50 too. Different kinds of subjis, chutney, rice, papad, puri, rasam, chips, buttermilk and a banana are what a Sadhya consists of. Please note, you should have Sadhya only with your hands. Keep cutlery far far away from where Sadhya is being served.Here are all the places serving Sadhya this Onam in Delhi. Some of them are even delivering the sadhya meal, which you will have to check with the restaurant directly.1. Kerala House, JanpathDate: 4th SeptemberTime: 11-3PMPrice: Rs 250/-This is the state bhavan of Kerala and unarguably the largest sadhya service in Delhi. It is also the most famous. People who know even a little about sadhya and Onam would know they have Kerala House to go to if they want to relish an Onam Sadhya. There are long queues here on Onam, so go well in advance and be prepared to wait.2. Mahabelly, SaketDate: 4th, 5th, 6th SeptemberTime: 12 noon-3:30PM, 7PM to 10:45PMPrice: Rs 750 plus taxMahabelly in a very short time earned a lot of acclaim for its mind-blowing Coastal food when it opened. This year the restaurant is doing an Onam Sadhya on 3 days for both lunch and dinner. The food here is brilliant to say the least, so you can imagine how good the Sadhya must be too. For people who find going to a small eatery and having Sadhya not their cup of tea, Mahabelly is your place to go. Authentic food served in the comfort of a restaurant (airconditioned too), and you also have their ala carte menu to choose from if you'd like to have some non vegetarian delicacies.3. Kerala Hotel, INADate: 4th SeptemberTime: 11-4PMPrice: Between Rs 200/-  to Rs 300/-One of the most famous places for authentic Kerala fare in Delhi. A no-frills ambience, with food to die for. If there's a place after Kerala House that's extremely famous for its Onam Sadhya, it's this.4. Hotel Malabar, New Friends ColonyDate: 4th SeptemberTime: 11-4PMPrice: Rs 250/- (Rs 280/- for delivery)My personal favorite for Kerala food in Delhi. Tucked away in a narrow lane close to Holy Family Hospital, this is one gem that you must must visit if you love Kerala cuisine. Because their usual menu is so great, I am more than confident that their Sadhya meal would be delicious too.5. Kerala Café, Mayur ViharDate: 4th SeptemberTime: 1-4PMPrice: Rs 400/-The best bet for people living in and around Mayur Vihar. It's the only decently famous Kerala restaurant there and I've heard rave reviews about it, though haven't tried it myself. Go for it and try their Sadhya!6. Malabar Taste Buds, Sector 53, GurgaonDate: 4th SeptemberTime: 12-3PM and 7-11PMPrice: Rs 707/-People in Gurgaon get to experience a Sadhya this Onam and that too in a restaurant with other fine options to choose from as well. True to their name, the restaurant is giving you the comfort of choosing between lunch and dinner, so people going to work during the day are not going to miss out on the Sadhya- they can have it at night here!7. Hotel Malabar, Sector 39, GurgaonDate: 4th SeptemberTime: 12:30-4PMPrice: Rs 250/- (Rs 270/- for delivery)By the same people as Hotel Malabar in New Friends Colony, can complete vouch for the food here. Their usual fare is really good, and that gives us very high hopes from the place for their Sadhya too. It's famous amongst the Malayalis in Gurgaon, so you can rely on this one for authenticity.8. Grand Kairali, Sector 7, DwarkaDate: 4th SeptemberTime: 11 to 5-6 (they don't have a fixed ending time)Price: Rs 350/-A restaurant I haven't personally tried, but because it's the only place in Dwarka doing a Sadhya, people in and around Dwarka should definitely go here for the experience.9. CSA Restaurant, SaketDate: 4th SeptemberTime: 11-4PMPrice: Rs 250/-A fairly new addition to the Kerala food scene in Delhi, this one is on the list only because the list is exhaustive of every place serving Sadhya on Onam and CSA Restaurant is too. If you go here for the Sadhya, do tell me how it was. The place may turn out to be a surprise!10. Sanadige, Chanakyapuri
Date: 4th September
Time: 12-3:3-PM
Price: Rs 2000/-
The most buzzing Coastal cuisine place in Delhi is doing a lavish Sadhya and you must go for it if you haven't tried the food at Sanadige yet. While you're at it, also give their non vegetarian fare a try and come back utterly satiated.
Celebrate this auspicious festival with the thing that binds us all together- food <3
Connect with me here:
Twitter: @sahibagursahane
Instagram: 
@thetastingfork
Facebook: 

www.facebook.com/thetastingfork
Snapchat: @thetastingfork