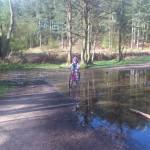 This week I have been getting out on my bike as instructed! I started on Monday night with a bumble with holly out to the Stepping Stones across the Sherbrook Valley where we generally mucked about, playing follow the leader and splashing through the ford. I didn't have any ill effects so planned a few more longer rides over the next few days.
I've now been out 3 times properly for about an hour, enjoying the sunshine (well not on Tuesday night, it hailed on me and I froze), the intense green of all the new shoots and leaves on the trees on Cannock Chase and of course the mud.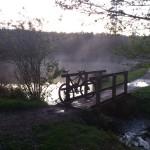 I've been staying mainly on the fire roads but have ventured onto a couple of bits of singletrack, including one of the very steep sections off Brocton Coppice. Its difficult to say I have not felt my back and hip because I have, its just not particularly bad so keep telling myself as instructed that I have some rusty joints!. I've also had two other good signs managing to sleep better without waking at 5am with back ache and after a whole day at a trade show at the NEC I only had slight back ache that soon subsided where in the last few months I would have been popping Nurofen all day to keep going.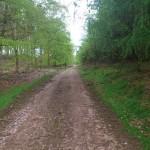 My last ride this week was with Cath and Alan where I
did a few proper sections of singletrack with a smile on my face. Before going out we had a look at the suspension setup, decreasing the fork pressure and reducing the rebound speed on the E5 which made the bike ride much better through the bumps (more of that in a separate posting I think). Cath seems to be getting more confident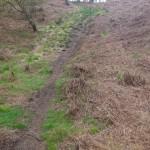 which is great, though today she lost her SPD virginity with two slow speed falls, firstly into some sticky mud and then a second into a puddle to wash it all off !
Ill try a few road rides now to try and get a bit of fitness back and try and lose some of the stone in weight I have gained over that last 6 months!