Amazon app store is giving away some Paid Android apps worth $100 for free including Plex, My Backup Pro, Pho.to lab Pro and many more.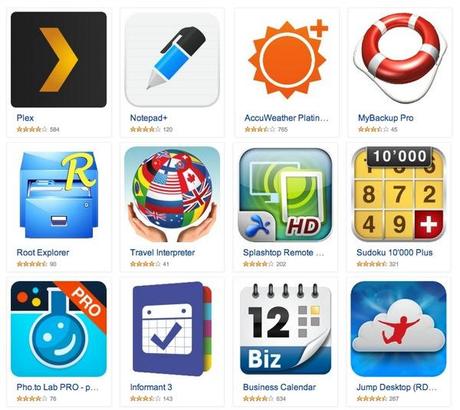 Do you Know Amazon App store is giving 31 premium Android App for free worth more than 
$100. The Offer is valid till tomorrow that is 28th June, To get this you can head-over to Here and download those apps which are included in this package.
Learn How to Make Easy Money Online
This List Includes Many Popular Android Games and Utility app and Many More.
Here is the list
Card Wars- Adventure Time
Plex
Notepad+
Sonic The HedgeHog 2
The Room Two
Dr. Panda Bus Driver
Wedding Dash Deluxe
Accuweather Platinum
Root Explorer
RavenSword Shawdow
Sudoko 10000+
Pho.to Lab Pro
Infomant 3
Business Calendar
Jump Desktop 
CrossMe Premium
Enigmatis The Ghosts of Mapple Creek
EZ Money Manager
MobiLearning Talking Phrasebook English-German-French-Spanish-Italian
SplashTop Remote Desktop
CLARC
Dungeon Village
aCalendar+
Travel Interpreter
My Backup Pro
Pinball Deluxe Premium
Loco Motors
Puzzingo Puzzles Pro
2Do :TODO List Task
Real Shanghai Mahjong
Leagues of Heroes Premium
If you have Never Downloaded any Android app from Amazon 1st Install The Appstore on your phone and Login or Signup using your Credentials. Once you linked with amazon you will be able to purchase app from Amazon and will automatically download to your phone.