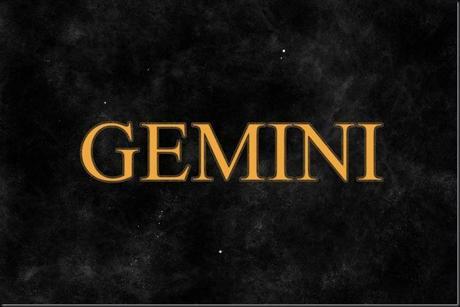 The following monthly forecast is only valid for those of you with Gemini as your rising sign, which is probably different from your Sun sign as it is dependent of the time of your birth rather than on the date of your birth. If you do know exactly or approximately when you were born, please click on the following link to find you Ascendant sign - FIND YOUR ASCENDANT SIGN
In this month of December, your Sun joined for most of the month by Mercury will be directed to matters of personal permanent relationships, business partners, professional people you consult with and open known enemies. The effect of the Sun and Mercury in this sector of your chart will see you examining these relationships intently to see where you can improve then. Marriage is highlighted here and your attitudes to your partner will be tested to see if they are functioning well. You know, it's never to late to redouble your efforts to strengthen your bond between you and your loved one. Mercury's presence here shows that this is a time not to go it alone in any project and having a partner or someone to help you will help you enormously to succeed in any ventures. Business deals and agreements can be entered into with a degree of confidence, as you will have a desire to examine any issues in a careful and thorough manner. The New Moon on the 3rd conjunct to the star Antares will also make you examine any relationships very intently and the square between Mercury and Neptune on the same day could see confused messages or even deceit between yourself and a boss at work, a business partner or a loved one. The full Moon on the 17th in Gemini will affect you very personally as it is in your Ascendant sign, making you more assertive and encouraging you to suit your own needs, but this may upset your partner who may feel left out.
Venus and Uranus start to move in opposite directions during this month. Venus slows down and stations on the 17th December before it begins a 6 week period moving retrograde. Venus is found in your 8th house of sharing sex, power and control, other people's finance and possessions as well as secrets and the unexplained. This will begin a period when you will examine your most intimate relationships and work out whether they are indeed satisfying your personal needs. In financial terms you will question all areas of your partner's financial situation as well as the money you owe to other people to examine where you can improve your personal position. Uranus turns the other way on the 21st December finishing a long retrograde period before stationing and moving into direct motion again. Uranus is currently in your 11th house so you will start to feel the need to take the initiative in groups and societies that you are a member of or you may want to join in team efforts, although a rebellious tendency could also come out if people disagree with your ideas and thoughts. Your friends may be inspirational now or you may encounter new people who inspire or surprise you, encouraging you to go in a totally new direction.
Looking to the planet of action, Mars will enter the sign of Libra this month and move into your 5th house for a long 6 month stay. This part of the chart is very much concerned with the matters of personal creativity, of your hobbies, of speculation and taking a risk, of children and of affairs of the heart and love given. These areas of your life will be energized by the presence of Mars and you will be very likely be active in the next month of so, especially if you are artistic in nature or if you have children. Mars in this house can be fun as it represents physical love and you will be in a mood to share with your partner the love that you feel for them; this will be especially prevalent while Venus is moving direct in your 8th house in the first half of the month. Please remember though that Mars can also be an aggravating factor in relationships too and you would be wise to to back down and keep calm if arguments start to flare up between you both.
Other Ascendant Sign Forecasts
Aries Taurus Gemini Cancer Leo Virgo Libra Scorpio Sagittarius Capricorn Aquarius Pisces
For A More Personal Look At The Future
As with all general forecasts, this can only be a rough guide to the movements of the planets and how they may affect you. Would you like this forecast made even more relevant for you?
Get in touch with me at [email protected] providing your birth details or please go to the following link, and I will endeavour to see what the planets have in store for you personally in the next couple of months. Please note I am unable to do personal readings for free.
Get an astrology report by clicking here...
Spread the word about Solaris Astrology - Click here to go to my Facebook Page