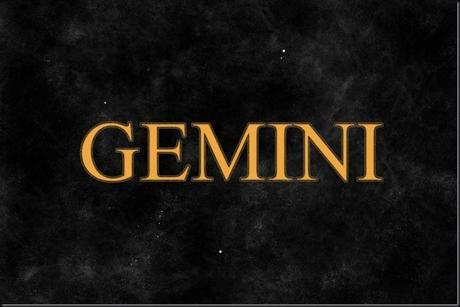 The following monthly forecast is only valid for those of you with Gemini as your rising sign, which is probably different from your Sun sign as it is dependent of the time of your birth rather than on the date of your birth. If you do know exactly or approximately when you were born, please click on the following link to find you Ascendant sign - FIND YOUR ASCENDANT SIGN
Gemini Rising – February 2013
During February, the Sun is passing through your 9th house of higher learning, beliefs and travel, so in the first half of the month so you will be in a mood to take in as much information as you can during this period. For you, this month is great for study, learning new skills and meeting new people whose culture or beliefs differ to your own – you will glean a great deal from them. In truth, anything that stirs your intellect is good for you now. It is possible that you may have to deal with legal issues in some way and if you are on you travels, you will find your trip hugely rewarding and enjoyable. Venus joins the Sun in this house too introducing the wonders and beauty of life to you, be it on your travels, or through things you learn about or experience first hand. You may well be introduced to new philosophies, art or music that maybe be unlike your normal tastes, but strangely you really enjoy. The New Moon on the 10th may be the spark you need to get you up onto your feet to try something new.
Mercury and Mars are passing through your 10th house of career and worldly progress. Dealings with those above you and starting to looking to the future will become priorities, and you may seek advice or start to put into action plans to further your career. You may have the urge to learn different skills within you work environment to make you more useful to your employers. Communications and paperwork may take up more of your time than normal and if you are entering into any work contracts, they should go reasonably smoothly. You will work hard and your need to achieve and get positive results will be very strong now, but conflicts at work with bosses and with senior people could be likely. You will be in a mood to take the law into your own hands and you will tend to reject any restrictions placed upon you. Please try to be moderate in your responses. In mid month between 12th and 16th Feb as both Mars and Mercury make trines to Saturn you can really impress people with your hard work ethic and concentration. Mercury enters a retrograde phase on 23rd February, so misunderstanding with employers or bosses could come to light and it will be best to double check all the work that you do to make sure that you are not making any unnecessary mistakes. It is not advisable to change jobs now. The full Moon in Virgo on 25th hits your 4th house of home and domestic affairs. This Sun/Moon opposition will be square to Jupiter, so your attitude could upset some people, especially within your family circle.
In February, Jupiter and Saturn both change direction within a couple of weeks of each other. Jupiter finally turns direct from the first day of the month in Gemini and Saturn turns retrograde on 18th February in Scorpio. Jupiter is in your 1st house of the physical body and your personality and finally some optimism will start to enter your consciousness, as if you have been personally held back for month on end, however this will return slowly finally picking up pace as we head to wards the end of the month and into March. Saturn is your 6th house of everyday work, routine and health, so now is an ideal time to adjust or ask for a change in your duties at work to more suit your lifestyle, maybe to change your hours or try to achieve more flexibility. This is not a good time for a complete change of job or workplace, much the better to make the best of what you are doing now. The same goes for health, diet and exercise and it will be a great time to finally go on that long promised diet and to make a commitment to eat and live more healthily.
Other Ascendant Sign Forecasts
Aries Taurus Gemini Cancer Leo Virgo Libra Scorpio Sagittarius Capricorn Aquarius Pisces
For A More Personal Look At The Future
As with all general forecasts, this can only be a rough guide to the movements of the planets and how they may affect you. Would you like this forecast made even more relevant for you?
Get in touch with me at [email protected] providing your birth details or please go to the following link, and I will endeavour to see what the planets have in store for you personally in the next couple of months. Please note I am unable to do personal readings for free.
Get an astrology report by clicking here...
Spread the word about Solaris Astrology - Click here to go to my Facebook Page