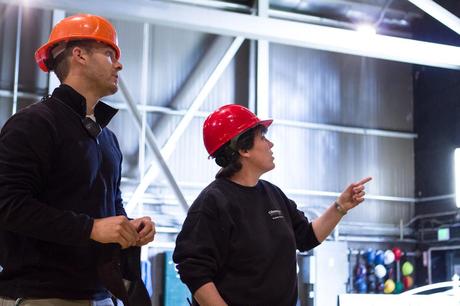 Glimmerglass Festival Technical Director Jake Josef and Director of Production Abby Rodd | Photo: William M. Brown/The Glimmerglass Festival.
The 2012 season at Glimmerglass Festival in Cooperstown, New York, an internationally renowned summer opera festival featuring four innovative new productions annually, kicks off Saturday with Verdi's Aida.
With preparations building to a fever pitch, I thought it would interest readers to learn how they prepare for their season. Here to talk with Operatoonity.com readers is Abby Rodd, Glimmerglass's Director of Production, who has been with the festival for 21 years in various roles but always behind the scenes.
Welcome to Operatoonity.com, Abby. Thanks for taking the time to talk with us. What departments or functions are under your supervision?
Scenery, Costumes, Props, Lighting, A/V, Stage Management, Wardrobe, Rigging, Stage Operations, Hair & Makeup, Wardrobe
What's your typical day like in June, the month before the Festival opens?
We are in technical rehearsals by mid-June.  So, in the morning (9a.m.-1 p.m.) we are working on the notes we received the evening before from the artistic team on stage and in all of the various shops. We have a tech rehearsal from 2-5 p.m. and another tech rehearsal from 7-10 p.m. During the break we receive more notes, which we work on onstage, and we catch a dinner break when we can. After the rehearsal comes down at 10 p.m. we have a production meeting and go through the events of the day to work out any issues that came up – perhaps a door isn't shutting properly or a hem needs to be raised. I find that during this time in the season, I am spending most of my time sharing information with as many people as possible and getting everyone on the same page.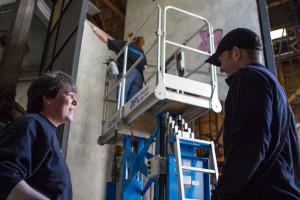 Abby and Jake in the scene shop | Photo: William M. Brown/The Glimmerglass Festival
What is the most taxing part of your job?
Winter is too long.  It is difficult to be in a creative job but only be actively creating something for a few months out of the year.
Any particular challenges this year in view of the season? (Oh, I don't know–corralling elephants? Obtaining archaic horns?)
The reason that I do this job is for the challenges.  There is something new every day.  I have a department of 97 artisans and technicians that are ready to take on any challenge we can throw at them.
Anything you are particularly excited about regarding the upcoming season?
The beginning of every summer season is an exciting time for us.  To go from 20 or so people in the off-season to 300+ in the summer is a pretty staggering difference.
One of the most interesting things to witness, in my opinion, is the interns and how much they grow over the course of the summer.  Many of them have never worked on an opera before – much less four of them in repertory. I get a lot of satisfaction out of knowing that they have had an amazing experience here and they can go back to their university and show off their stuff.
How do you keep your cool (on long, hot days)? What do you do to blow off steam?
Well, there's not much time for extra-curricular activities when we are in season.  But, if I need to escape, I have a kayak behind the office and we are right on the water so I can just paddle into the middle of the lake.  That can usually get me back on track.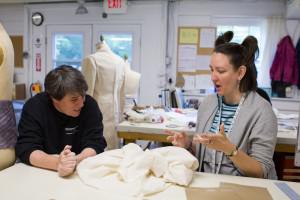 Abby speaks with Cat Hennessy, a draper for The Music Man | Photo: William M. Brown/The Glimmerglass Festival
Pretend this interview is a bullhorn. What is something you wish you could tell every member of the Glimmerglass Festival audience?
BRING ALL OF YOUR FRIENDS
You've been with Glimmerglass a long time. What surprises you most when you consider all the changes you've experienced in the intervening years?
I guess what surprises me most is that I'm still here.  It started out as a summer job after high school.  I had no idea that you could actually get a degree in technical theater or that you could turn it into a career.
I have seen  a lot of changes here over the years and I hope that we will continue to change or evolve.  That is what keeps it fresh.

Were you an opera fan when you started? Are you one now?
I wasn't a fan specifically of opera – unless Bugs Bunny counts, and I think it should.  But, I did grow up with a lot of classical music and theater.  These days, when we are rehearsing a show in the theater I will sometimes allow myself (if the rehearsal is going really well) to shut my eyes and just listen.  It can be very relaxing and I am grateful for those brief moments.
* * *
You can fan Glimmerglass on Facebook, follow them on Twitter at GOPera, and read their blog. For more about the upcoming Glimmerglass season, click here. Here's a great little video on what it takes to put the Glimmerglass Festival together: