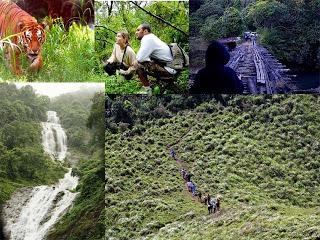 Gavi
is a small village in the
Pathanmitta
district of Gods own Country in Kerala famed for the abundant and luxuriant evergreen forests. Positioned at an elevation of 100 meters from sea level, it is just a few km away from the Pamba River. It is one of the best place to celebrate your honeymoon and as well as hot tourist spot due to its natural beauty and eco-friendly zone. This natural and biological garden with hills and valleys, stifling forests, rambling grass lands, sholas, cascading waterfalls and cardamom plantation makes this place worth visiting for any types of travelers.
If you are adventuring honeymooning couples, then you can explore the various things and leave home with a bag full of memories through bird watching, leisurely walk, safaris etc.
For honeymooners it is a best place as you can spend intimate times in a place where nature is at its best. The rhythm of the trees branching from one point to another combined with the chirping of the birds will seduce for romanticism. Ninnumulli is the major spot of this place where one can enjoy walking around various plantations and one can also visit to the paradise cove. Honeymooners will get an ample amount of time to strengthen their bonds of love.
The emerald dense forest of Gavi is home to many of the endangered and common species including; Elephants, Leopards, Tigers, Bears, Indian Gaur, Nilgiri Tahrs, Indian Bison, Indian Giant Squirrel Nilgiri Marten sambar, barking and mouse deers, Lion Tailed Macaque and more than 250 species of birds. One can watch the birds through natural walk but make sure not to shout, it is not allowed in here as the wild animals can be harmful to you.
Adventure
:
Trekking and Jeep safari are the best available options through which you can explore the immaculate natural beauty of the forest area. The jeep safari starts from a place called 'Kumli' from 8 am end ends at 5 p.m. You can enjoy the view of the majestic hills, dense forests and magnificent wildlife during the safari in their native which is a memorable experience. Night safaris can also be done in this place. 
One can also choose to stay in the base camps which were are established for the same purpose. Trekking can also be done through which you can come close to the beauty of nature which has created this place. Ensue to take the local inhabitants to take as your travel guide as you can understand the place in a better way from them.
It is one of the rare places where you can get an exotic taste of eco tourism combined with the varied wild inhabitants and birds that one can spot in this place. Beside trekking and jeep safaris, visitors can also camp amid the wilderness of Gavi which is rare in many of the India forests. One can have a majestic view of the deep ravine and the forest below from the Valley View.
Apart from these things there are other activities that you can indulge into; Visit to Cardamom factory, stay at top tree huts, boating in the Gavi and Kochupampa Lakes, Climb to Sabarimala Temple etc. You can also include your visit to the nearby areas of Gavi like Kuttikanam, Peerumedu etc.
Best Time to Visit:
The best time to visit this place is June-September for heavy rain, September-February for chilly weather and March to June for warm.