Past few days were extremely hectic- job, family, blog and a lot of travelling, made me crazy.
I was getting short of time and spending time on personal care somehow slipped to the bottom of my priority list. Still I was looking some fast and easy products specially for my hairs- something which could give desired results without much of efforts...as we all want.

Sales girl suggested that I should try this new Ultra Blends Range from +Garnier Skin Care .
Although I was looking for some herbal, chemical free and Paraben free formulations and bought this ULTRA BLENDS range along with some herbal shampoos.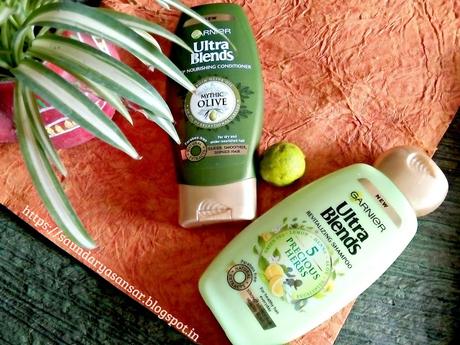 ULTRA BLENDS- the newly launched range hails its origin to a popular hair Care range- Ultra Doux from Garnier which was quite popular for hair softening and smoothing. This range has 5 types of Shampoo and conditioner Combo.
1. Royal Jelly and Lavender
5. Soy Milk & Almonds.
I picked - Garnier Ultra Blends Precious Herbs Shampoo as it claims to detoxify and revitalise while Garnier Ultra Blends Mythic Olive Conditioner for Hydration and Nourishment.

I chose rather unusual combo;I was looking for a shampoo which cleanses my scalp thoroughly yet is light on my hair. The Herbal ingredients list was sufficient to lure me. While I prefer a little extra nourishment in my conditioners, so the obvious choice was Mythic olive.

Above all the entire range is Paraben free...something must try now!!!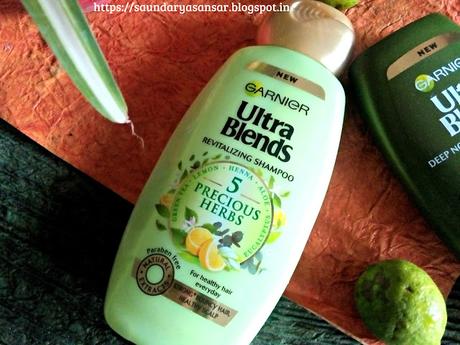 Garnier Ultra Blends Precious Herbs Shampoo- Revitalizing Shampoo(120 INR for 175 ml)
A detoxifying blend of 5 revered herbs for hair that is full of life. A blend that combines best of nature to detoxify scalp and give hair that is full of life.
Key Ingredients- Green tea, Eucalyptus, Lemon, Aloe, Henna. This is not 100% herbal shampoo but yes its is of course free of paraben.
This is a pretty colourful pastel green bottle sealed with gold flip open cap and key ingredients displayed on the bottle. Shampoo is white thick liquid with mild floral fragrances, similar to rose and basil.
Just add 4-5 ml of shampoo in water and apply this on your scalp. I could feel that my scalp was cleaner and my hairs clean, bouncy and voluminous. I did not find any improvement in frizz and my previous hairfall (although I attribute this to several other factors). But with every use my hairs were soft and shinier.
This is great everyday wash shampoo from normal to dry to oily hairs...i.e. would suit all hair types.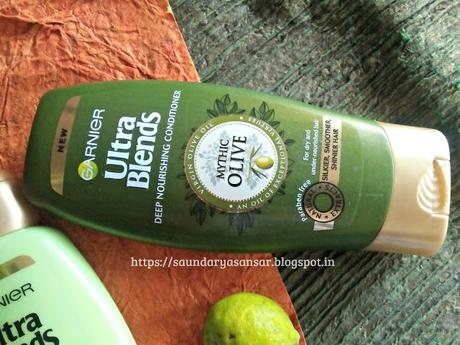 Garnier Mythic Olive Deep Nourishing Conditioner- Deep Nourishing conditioner (170 INR for 175 ml)
A Mythic Oil of thousand virtue. Olive Oil nourishes and rejuvenates.

Key Ingredients- Olive Oil.
Again this is a deep conditioner which comes is pretty attractive dark olive green bottle with golden cap. This is thick creamy conditioner smelling of cocoa, why I could not understand. (if you might have smelled cocoa butter lotion from Vaseline, exactly like that).
This conditioner although is thick but can be easily squeezed out from bottle, it spreads easily covering each strand evenly throughout the length. My hairs are too rough and frizzy, specially at ends so I had to apply the conditioner twice at ends. After washing, my hairs were soft, smooth, shinier but Frizzines was not reduced as expected. I felt that the conditioner was light& hydrating but was not nourishing enough to be termed as 'deep' conditioner. I would here rather prefer Sunsilk conditioners ( 1 & 2) which were light but super hydrating.
Still I would say that the conditioner is a good everyday use conditioner hair which would not make hairs heavy or limp and retains bounce of hair. I had to use other hair products to reduce frizz and define my curls but this would be a good option for normal to dry hairs.
Overall Garnier Ultra Blends Precious Herbs Shampoo is a good cleanser for everyday use suitable for all hair types while Garnier Ultra Blends Mythic Oil conditioner is good conditioner for everyday use for normal to dry hairs. Must Try!!!
My Rating- 4.5/5 for Garnier Ultra Blends Precious Herbs Shampoo
and 4/5 for Garnier Ultra Blends Mythic Oil conditioner.
Have you tried the Garnier Ultra Blends range? Which one you liked?