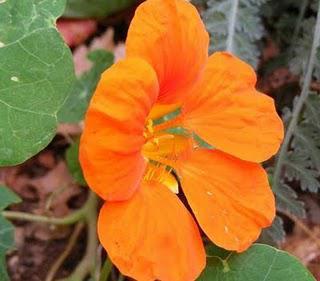 A favourite in the garden right now
is the Nasturtium
Tropaeolum majus
Temperatures this month:
Lowest Min 1.6C
Highest Min 12C
Lowest Max 15.1C
Highest Max 27.9C
3mm Rain
Weather:
The weather has been typically autumnal. Chilly mornings, windy cool days and beautiful sunny warm days. Very little rain has fallen.
Rain comparison with other years:
2011 3mm
2010 18mm
2009 31mm
2008 23mm
2007 30mm
Propagation:
Seeds:
Onion
Allium cepa
Domenica Sweet Southern Harvest
Onion
Allium cepa
Stuttgart The Lost Seed
Onion
Allium cepa
Ailsa Craig Eden Seed
Onion
Allium cepa
Creamgod Eden Seed
Onion
Allium cepa
Red Rossa Grower's Pride Seeds
These went into punnets - 2 of each variety
Radish
Raphanus sativus
Nero Tondo Southern Harvest
Radish
Raphanus sativus
French Breakfast DT Brown Seeds
These went into wicking boxes
I'm looking forward to tasting the Nero Tondo Radish. The Southern Harvest Seed listing describes it as:
"This stunning, zesty, radish has black skin and crisp white flesh. Offering large, round roots, it is more uniform, cold tolerant and bolt resistant than most other radishes. As it can be stored for up to 6 months in the soil over the cold months it is commonly used as a winter radish."
Seedlings planted out:
Cauliflower Violet Sicilian
Parsley
into MVG Bed 6
Sweet Peas Dwarf
on bottom edge of MVG Bed 3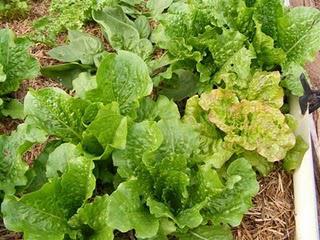 Greens seedlings planted in KG Bed 2
Lettuce Crispmint
Lettuce Drunken Woman
Endive Salad King
Cichorium endiva
Lettuce Miners
Montia perfoliata
Mustard Asian
Parcel
Spinach Bloomsdale Long Standing
into Kitchen Garden wicking bed 2
Parcel
Alyssum
into the Kitchen Garden
Cuttings/Division:
Coprosma repens
Around the Garden: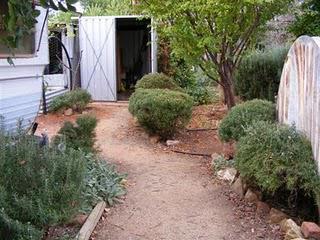 In the Kitchen Garden the pathway to Ninja's house was getting very overgrown. The Rosemary hedge has been pruned back and the Perennial Sunflowers removed.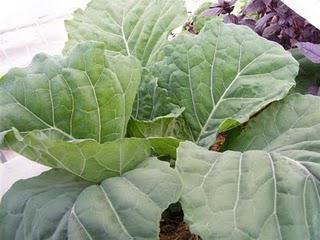 In the Main Veg Garden in Bed 5 the Cabbages
are looking healthy and pest free...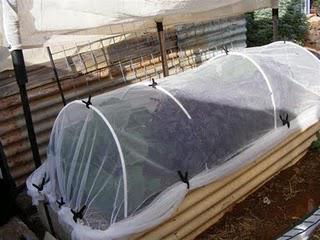 ...Thanks to their Vege Net cover they are safe
from Cabbage moths and butterflies,
Grasshoppers and Aphids!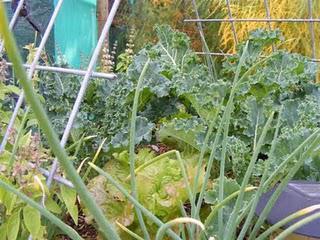 In Tank Bed f the Kale remains pest free too
possibly protected
by the Lemon Basil that remains in the bed
until the frosts will kill it.
Read more here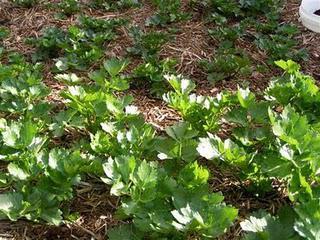 Bed 3 Celery and Celeriac have taken off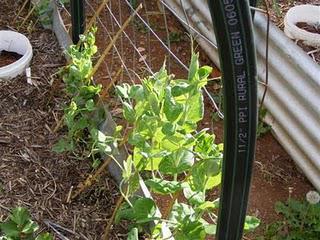 and the Climbing Peas have settled in,
being trained up the wire mesh with twigs.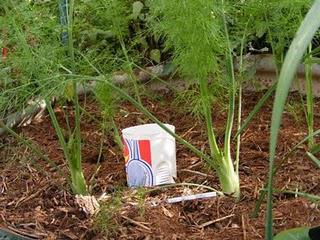 So far so good with the trial of bulb Fennel in Autumn!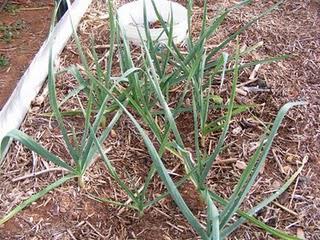 The early Garlic is looking good!
Harvest:
Apples Cox's Orange Pippin 700g
Apples Golden Delicious 4317g
Apples Jonathon 2385g
Apples Red Fuji 666g
Beetroot 71g
Nashi 1190g
Potatoes Bintji 2690g
Pears William 3944g
Nashi 1190g
Tomato Golden Sunrise 288g
Tomato Kotlas 1086g
Watermelon Golden Midget 670g
The egg count has dropped dramatically as we head into winter with only one of the brave little Farmyard Ferals still laying!
Egg Tally for April 29 Eggs.
April of Previous Years:
2010
2009
2008
2007
To see how the various Garden areas fit on our half acre block check out the newest Map of our place
HERE
See what's happening at the Community Garden
over here
at it's very own Blog