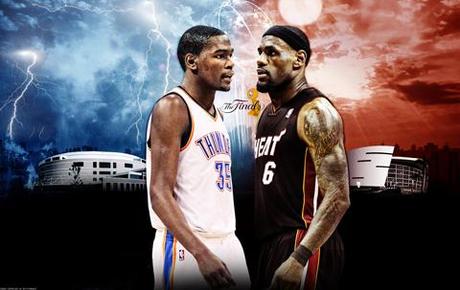 Photo Design: DIME Magazine - Ryan Hurst
- Adam Parker


The wait is finally over, everyone.
If you had any plans for tonight, cancel them. Were you planning to let some friends drag you to some underground club? Time to feign an illness. Again.
Is your significant other trying to haul you (likely kicking and screaming) to some company 'event' where he or she can show you off as arm candy to all of the co-workers who on the outside they love spending time with but inside are as annoyed by as one would be if one were listening to an endless symphony of nails on a chalkboard? Tell your significant other that they're going to have to fly solo.
The NBA Finals -- the battle royale between the Oklahoma City Thunder and the Miami Heat -- returns tonight.
While you're coming up with that excuse you're going to use so you can stay in tonight and watch 'Where Amazing Happens', let's take a look at some of the keys for Game Three.
Okay, Miami. You Stole a Game in Oklahoma City, Now Don't Choke At Home!


This is the same scenario that the Heat were in last year's Finals against the Dallas Mavericks aka the Dallas 'Dirks.' Only then, Miami was in the role that the Thunder are in now, having only managed a 1-1 split at home in Games One and Two and now having to play the next three games away from your home crowd. The Big Three and co. came into Dallas last year and immediately regained home court advantage after stealing Game Three.
However, that proved to be short-lived as the Mavericks went on to take the next three games
(including Game Six in Miami), winning the title four games to two.
The Heat need to do everything in their power to prevent history from repeating itself. Because if not, the end result won't be pretty. The Thunder will be rumbling and raring to go. Now the only question is, can the Heat contain the noise and protect home court like they were unable to do last year?
Can Someone Please Get a Body On Shane Battier?!


The former 'Dukie' has been lights out from beyond the arc, nailing 9 of his 13 three-point attempts in the first two games. After shooting 34 percent from three in the regular season, this hot streak couldn't have come at a better time for Battier and the Heat. Will Battier continue to kill OKC from distance, or will Thunder head coach Scott Brooks finally light a fire under his guys and get them to drastically improve their perimeter defense and force some Battier bricks?
Can the Thunder, Namely Russell Westbrook, Get Off To a Better Start in Game Three?


I  think it's a must at this point. The Thunder have struggled mightily in the first quarters in each of the first two games of the Finals, falling behind by 11 points in Game One and trailing by an astonishing 17 points in Game Two. Granted, they do deserve credit for rallying and erasing the deficit in Game One en route to a victory, but they weren't able to climb out of the hole they dug themselves in Game Two despite another valiant effort in the second half.
Just because the media may or may not consider you the underdogs in this series doesn't mean you have to go all 'method actors' on us and actually play the part by consistently playing from behind. A lot of people want to put all of the blame for the early struggles on Westbrook, and though he's definitely deserving, the blame has to be spread around. But enough with the 'Blame Game.' Oklahoma City needs to surge into American Airlines Arena tonight, not sputter out of the gates.
OKC's Role Players Need to Bounce Back!


They may not get a lot of the press, but they play a pivotal part in Oklahoma City's overall success or failure in this series. The unheralded role players like Thabo Sefolosha, Nick Collison and clutch playoff performer Derek Fisher will need to return to their Game One form.
After scoring a combined 23 points in Game One, this trio was almost completely silenced, scoring a measly five points between the three of them in Game Two.
Pathetic.
Those numbers must improve if the Thunder want to have a chance to steal a game on the road and regain control of this series.
Prediction!
Both teams will come in hungry for this one, and rightfully so considering that the winner of Game Three has gone on to win the whole shebang 85.3 percent of the time (the main exception being last year with the Mavs' overcoming the Heat).
I'll take Miami in Game Three.