About Metal Gear Solid 2 (2001)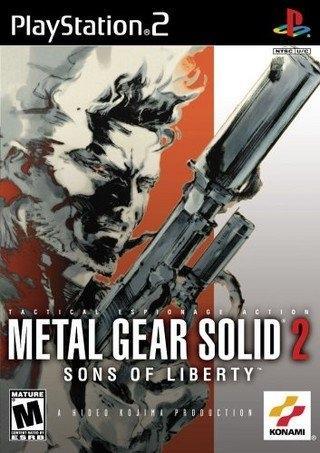 A stealth action video game directed by Hideo Kojima, developed by Konami Computer Entertainment Japan and published by Konami for the PlayStation 2 in 2001. It is the sixth canonical game in the Metal Gear series and the sequel to Metal Gear Solid. The story revolves around a massive offshore clean-up facility that has been seized by terrorists calling themselves the "Sons of Liberty." They demand a massive ransom in exchange for the life of the President of the United States, and threaten to destroy the facility and create a cataclysmic environmental disaster if their demands are not met. The motives and identities of many of the antagonists and allies change rapidly, as the heroes discover a world-shaking conspiracy constructed by a powerful organization known as the Patriots.
Amazon US
Amazon UK
Review: Metal Gear Solid 2: Sons of Liberty (PS2)
There was a lot expected of Metal Gear Solid 2 after the brilliance of its predecessor on the Playstation. I remember following this one closely and soon grabbed a copy on its release. The chance to go back a decade on and see if my thoughts are still the same was a welcome privilege.
Metal Gear Solid 2 begins two years after the incident at Shadow Moses and has Snake infiltrate a tanker to find evidence of a new Metal Gear. A reunion with Revolver Ocelot from the previous game culminates in the tanker being sunk and Ocelot escaping with Metal Gear. The game switches two years on to a offshore plant that has been hijacked by the Sons of Liberty whose leader is Solid Snake and is assisted by a rogue group known as Dead Cell. Our protagonist, not Snake but Raiden, is sent in to rescue hostages including the President and to stop the hijackers preventing a major ecological disaster. Raiden finds help along the way, of course, with some familiar faces from the previous game.
After the opening segment with Solid Snake, it's somewhat strange to take on the role of Raiden. You still have contact with Colonel Campbell who briefs you on your mission objectives. It will all seem similar to the previous game but there is a reason. Very soon you're into your stride, evading guards as best you can and taking out those you are forced to deal with. Big Shell is actually divided into two shells with a series of connected struts around the perimeter. Raiden first infiltrates Shell 2 and comes up against members of Dead Cell such as Vamp, Fortune and Fatman. You also meet a member of a SEAL squad that has found his way into Big Shell, Iroquois Pliskin, who looks and sounds very familiar and it should take maybe a nanosecond to realize this is Solid Snake.
Rather than take on the role of Solid Snake, we have Raiden for the game's entirety and he must do everything from fighting members of Dead Cell in tricky battles, disposing of bombs and even taking out sentries with a sniper rifle. There is so much to do and as usual the storyline is full of the usual intrigue and double-crossing as the previous game. Visually it looks much better than the last game but somehow it has lost what made the other installment so great. The members of Dead Cell are not as memorable as FOX HOUND and having to make do with Raiden instead of Snake is criminal. Interesting that Snake was very much the leading man in the games that followed.
Metal Gear Solid 2 is a good follow-up to what was a great game. Had the storyline centred around Snake only then this could have been very special indeed but Snake's relegation to your ally hits the overall narrative hard. There are still some great set-pieces and it's an awesome experience at times but has lost some of the wow factor that made the previous game so incredible to play.
Verdict: 4/5

About the Author:
I was born in Barnsley, South Yorkshire, England and have always been a bookworm and enjoyed creative writing at school. In 1999 I created the Elencheran Chronicles and have been writing ever since. My first novel, Fezariu's Epiphany, was published in May 2011. When not writing I'm a lover of films, games, books and blogging. I now live in Huddersfield, West Yorkshire, with my wife, Donna, and our six cats - Kain, Razz, Buggles, Charlie, Bilbo and Frodo.
David M. Brown – who has written 830 posts on Tweedle Dee and Tweedle Dave.
---