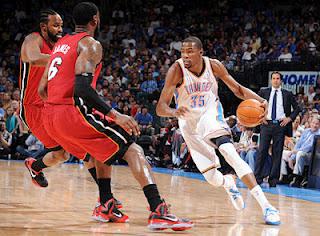 Photo: Getty Images - Garrett Ellwood
- Troy Ballard
I don't want to call anything too early -- but off the surface, the Oklahoma City Thunder look damn good.
Despite a red-hot start by the Miami Heat in the first half that included not only enough three's to sink a ship, but also a sizable lead -- in typical Thunder fashion -- Kevin Durant and Russell Westbrook rallied the troops and stole the show after halftime.
The combo of Durant and Westbrook was dynamite, and when those two started to pick-up, the rest of the team fell into place.
In the end, Oklahoma City secured a Game One win at home with the final score of 105-94.
Here are a few quick thoughts from the game:
Nick Collison - Unsung Hero Extraordinaire!
If anyone says that going into this game thinking that Nick Collison was their pick as the
x-factor
and make or break player -- it's a lie. But, without taking away too much credit, Collison did explode against Miami and was actually, believe it or not, a key cog to the team's success.
With the minutes he played, he was not only agressive on defense but also was the definition of
glass eater supreme
 (securing several timely offensive rebounds, five of them to be exact), and was also quite handy on dump-off passes for easy dunks.
I would have never pegged Collison as the deal breaker in a game like this -- but something new happens every day, right?
Ok, Chris Bosh, Seriously? 
Listen, I understand totally that Chris Bosh is still feeling ill-effects from his strained abdomen. It must be totally painful to play through. But after the rocking performance he had in the Eastern Conference Finals, I have no idea what happened in this game.
Not only was Bosh almost entirely ineffective on defense, but his offensive game was just miserable. I would also be a fool not to mention that Bosh (even with his hot three-point shooting streak in mind) took three deep shots from beyond the arc, with only one going in.
I can totally respect a player who is playing through an injury, but Bosh's performance in this game was abysmal and really did a number on Miami's balance on offense and defense.
Thabo.. Dude! 
Thabo Sefolosha was absolutely lights-out. I've heard grumbles here and there about why James Harden should be the starter and how Sefolosha doesn't have the same kind of value as a starter.
This game just proved why Sefolosha is the starter.
Even though his stat-line won't show it, Thabo was able to lock-down, contain and cause problems for Dwyane Wade and the entire Miami offense. Throughout the entire game, Sefolosha was constantly involved in the play and forced several turnovers -- all of which converted into fast-break points.
Shane Battier, Who?
Not much else to say other than this: 6-9 shooting, 4-6 for three and 17 total points.
I think Shane Battier used his single magic pass to teleport his body back to the Duke days.
James Harden Totally Tanked!
It basically went totally unnoticed as Durant and Westbrook were playing so well, but Harden was totally out of character. For a player that was averaging close to 20 points a game through the entire postseason -- scoring five points in 22 minutes of play isn't going to cut it.
Luckily, the Thunder didn't need
The Beard's
magic powers tonight, but for the remainder of this series, Harden is going to have to step it up. Write this one off as nothing but nerves and hope that he rebounds in Game Two.
Erik Spolestra Has Trouble Stopping The Bleeding..
The Heat are an excellent team when everything is clicking. But the moment that things start to unravel and the opposing team is catching up, Miami can't seem to get things back in check. Erik Spolestra is keen on calling timeouts when the other team is on a run, like most coaches are, but it doesn't seem to actually do anything on-court.
I don't know if this is the old Coach Spo showing, or if OKC is really that hard to stop on a run, but the Heat need to find a solution moving forward.
That Stadium Was Thunderous! 
OKC must have the best home court advantage in the NBA. End of story.
James vs. Durant Was as Good as Advertised!
We all were drooling over this match-up and hoping that the basketball gods would allow us to witness one of the best NBA Finals duels in recent memory -- James and Durant didn't disappoint.
The two combined for 66 points, 16 rebounds, 8 assists and 92 total minutes played.
But the stat-lines don't reflect the entire magnitude of the match-up, as both James and Durant battled back and forth on defense and offense the entire game. The two were equally impressive, and not one had the edge over the other.
The only reason KD gets the nod as the better performer is because of his clutch shooting -- which never seems to fail. Still, LBJ did some things that made me re-think logic entirely, and he would be getting the praise had his team won the game.
Be Sure to follow Beard and Stache on Twitter @BeardAndStache, and also Troy @TroyBallards, like our Facebook page HERE!