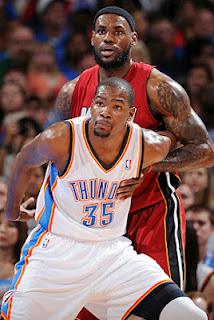 Photo: Getty Images
- Troy Ballard
After a three-day break (one that felt like an entire off-season) the 2012 NBA Finals have officially arrived!
The dreamy basketball match-up of the Miami Heat and Oklahoma City Thunder is now just moments away from tip-off. Although some basketball fans are disgruntled that the combined awesomeness of James and Durant will likely cause the world to end, what are you going to do?
Here are some quick thoughts for Game One:
Can Anyone on the Heat Guard Russell Westbrook?
Yes -- LeBron James. But, the issue with that is the Thunder still have some guy named Durant.
Mario Chalmers is a wildcard. Dwyane Wade is going to be pre-occupied with
The Beard
 in James Harden. And the Heat's best bet is going to hope that a team oriented defense can slow down Westbrook, with moderate support from Chalmers.
Even though I don't dig Westbrook -- I fully expect him to have a big game.
Which LeBron James are we going to see?
Even though LBJ has been an absolute monster this postseason, there is always the chance (Cleveland fans would say guarantee) that he struggles and kind of.. well.. sucks. We all watched it last year.
I don't think after watching James through that Boston series that there is much of a chance that he will totally drop the ball, but anything is possible. In the situation that
The King
 fails to get off the bus, Miami would be wise to feed Wade the ball and hope he can dial it up.
James Harden -- Heat Killer!
This has been the question that has been eating away at my soul over the past 48 hours -- what can we expect from Harden? Is it going to be the typical slasher/three point deadeye that we have witnessed this entire season, or will he totally tank under the pressure of the Finals?
Here's the deal, if Harden and his beard are red-hot like they've been this entire postseason, I fully expect to have this guy be the deal breaker of the entire series. We're talking about a dude that can score 30 a night
off the bench
, against a tired Wade.
Big trouble in little China town for the Heat? I'd think so.
Give Me Some of That Chris Bosh LOVE! 
Chris-Chris was literally a machine in Game Seven of the Eastern Conference Finals. For what seemed like the first time in his entire career, he hit a three. Wait, no, four threes.
The abdominal strain didn't seem to hinder Bosh's offensive game, but his defense and rebounding ability were slightly lacking. With a few days off, I expect him back in the starting lineup and playing better than before.
And if Chris can come out guns-blazing like he did against Boston, the Heat are going to be on another level.
OKC is Going to Be Rocking Like a Hurricane! 
Is there thunder during a hurricane? I'm not entirely sure, but it did work well with the title.
OKC hasn't yet lost at home in these playoffs, and there's little doubt that the entire team just feeds off the crowd. After Miami demolished the Celtics in Boston there's reason to believe that distracting LBJ and Wade is about impossible, but the Thunder's fan base does seem to have a knack for rattling opposing teams.
Prediction! 
Oklahoma City takes Game One, despite another MVP caliber performance from LBJ and terrific team defense all around. Durant and Harden will be the sealers, and Westbrook will be his typical volume-scoring self.
But then again.. if Bosh is hitting threes again..
Still sticking with the Thunder. That home crowd is just too much.
Be Sure to follow Beard and Stache on Twitter @BeardAndStache, and also Troy @TroyBallards, like our Facebook page HERE!