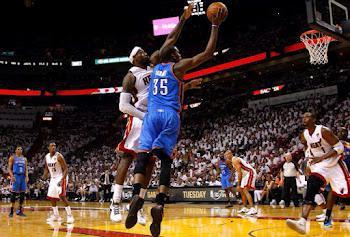 - Troy Ballard
I have one thing to say before I delve into the game: easily, in my lifetime, the most imtriguing and relentless NBA Finals played.
The Miami Heat and Oklahoma City Thunder are the perfect combination. It's the mix of flashy superstars, sprinkled with effective role players and enough motivation and desire to push each other to new heights. The games are electric from start to finish, and if not for the end result of Game Four, I'd say this would be an easy seven-game run.
But, as most know who are reading this, the Heat rolled to a 104-98 victory, and much more importantly -- a 3-1 series lead over the Thunder. With one game still remaining in Miami, things have taken a sudden and radical turn in what was once thought of as a lock to go back to Oklahoma City.
Here are some quick thoughts from the game:
LeBron James 'Cramp-Game'
LBJ had another phenomenal game -- no surprise at this point. However, there are going to be comparisons to Michael Jordan's infamous and legendary
flu game
, as in the late-fourth James went down and had a wicked leg cramp.
Despite hobbling around and dropping multiple profanities on live television, James still was able to knock-down a late three that ultimately iced the game. Not only that, but he was just as agressive and effective on defense with the cramp as he was before it.
I love LBJ, and he deserves mad props for a killer game (only one rebound shy of a trip-dub) and for playing through an injury -- but to compare this to Jordan's game is an insult.
Is Russell Westbrook Really Da Guy in OKC?
I will be the first to admit -- I don't like Russell Westbrook. There is a plethora of reasons why, and if I were to list them now, after a nasty 43-point performance, I would look crazy. That being said, looking at Westbrook's game, there's nothing to complain about.
Aside from totally having no in-game awareness and fouling Mario Chalmers with an expiring shot clock, Westbrook was perfect. Any claims that had been made about his lack of consistency in key moments faded, as it seemed every shot the kid took went in.
He was the definition of automatic.
OKC has had problems with Kevin Durant not taking over games, and it looks like in his absence, Westbrook just took over.
D-Wade Looks Like D-Wade
After a wishy-washy performance throughout this entire postseason, Wade has finally arrived. His numbers have remained consistent, but more than anything else he is finally taking back the leadership role in Miami.
By that, I am referring directly to taking tough shots with the game on the line, but also trusting in the team's role players like Chalmers and Shane Battier. He is allowing others to take the shots, but he's there with beautiful lead passes and plenty of high-fives.
At this stage in his career, that's where Wade is best suited.
James Harden Can't Be Trusted -- Period.
I love this kid. He's awesome. But in the NBA Finals he has been miserable.
The Beard's
ice-cold shooting streak continued, as Harden went as far as to miss a fastbreak lay-up. In any other situation, it would be worth it to continue to feed him the ball in hopes that he rebounds, but with OKC facing elimination, there's not much time left to risk it.
I thought this kid could handle the pressure, but obviously not. Luckily, he's only 22 and the Thunder and Harden have time to turn things around in future seasons.
The Game.. It's Just So.. Fast Paced!
On several occasions it felt like I was watching both teams play on fast-forward. The ball movement, fast-breaks and the general feel of the game is just
fast
. It makes sense given the amount of athletic talent on the floor, but it's still hard to believe in real time.
Is It Over?
We're all thinking it. Down 3-1 with the possible close-out game still yet to be played in Miami. The Thunder have rallied back and rallied back (and in Game Four even held a 17-point lead early on), but it seemingly has not been enough.
Miami is in a groove, and all three members of the Big Three are rolling.
It doesn't look good for OKC. The chances of mounting a comeback, even if the Thunder were to win Game Five, are practically insurmountable. James is finally this close, Wade is playing like he should and Bosh is excelling in his relatively reduced role.
At this point, if Miami didn't win, it'd be the greatest comeback in NBA history. And as much as I love the youth of OKC -- that's the exact issue. This team is young, and it's showing late in games with inexperience and poor overall decisions.
The Heat will be able to close out this series in Game Five.
Be Sure to follow Beard and Stache on Twitter @BeardAndStache, and also Troy @TroyBallards, like our Facebook page HERE!