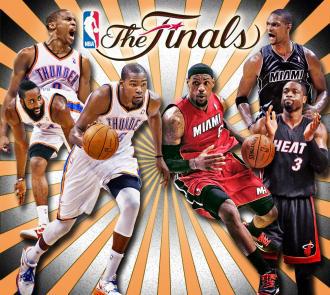 Photo: sportscollision.com
- Adam Parker


Game Four of the NBA Finals matchup between the Miami Heat and the Oklahoma City Thunder resumes tonight.
Two teams going toe-to-toe in a battle royale to earn some nice gold trinkets commonly known as the Larry O' Brien trophy and of course, their own championship rings that half of the winning players will either have auctioned off on eBay or sold elsewhere with all proceeds going to charity.
Let's be honest. The trophy and rings are nice, but isn't it really all about the bragging rights? Isn't being able to announce to your rivals and the rest of the world that you're the best of the best and used them as proverbial stepping stones on your way to the NBA summit?
Sounds good to me.
Ah, who am I kidding? Of course, it's about the jewelry as well!
Now, onto the preview for Game Four!
The Oklahoma City Thunder Must Prevail Tonight!
There's no "ifs", "ands" or "buts" about it. The Thunder need this game tonight. They can't afford to fall down 3-1 with a game still to go after this one in Miami. Winning tonight is of paramount importance. Not only does it ensure that the series will have to return to OKC, but it also puts even more pressure on Miami's Big Three to perform (like they don't have enough already).
We all remember what happened to Miami when they got to this point last year with a 2-1 series lead over the Dallas Mavericks. Dirk and co. came back to sweep the next three games and bring an abrupt end to the series before the Heat even knew what happened.
Needless to say, the Miami Thrice really don't want to see history repeat itself for the second year in a row, so it's going to be that much tougher for the Thunder to pull it off. Nevertheless, OKC must roar back with a win tonight. If not, this series is all but over.
What's the Deal with James Harden?
What? James...Did you forget to 'plug in' and 'charge' your Beard last night so it would be ready when you left the hotel room this morning? After all, if it's not abundantly clear by now, your Beard is the source of all of your basketball powers.
You apparently forgot to keep it charged up heading into Games One and Three, but did remember for Game Two. Hopefully Kevin Durant, Russell Westbrook and the rest of the squad texted you friendly reminders before you dozed to have your Beard fully charged for Game Four, and will consistently do so for the rest of the series. But if not, at least the Thunder can count on the odds-evens pattern that you have going -- which means OKC should at least count on a decent performance from you tonight.
Practice Your Free Throws, OKC!
62.5% on 15 of 24 free throws made. Pathetic. What was the final score again -- 91-85? Huh. A six-point deficit. So basically, Oklahoma City, if you had taken advantage of your shots at the charity stripe you would have won the game. Let this be a lesson to all the youngsters (and grown-ups alike apparently) out there -- practice your free throws!
Which Mario Chalmers Will Show Up?


1-for-8 shooting including 0-for-3 from downtown for a resounding two points. Along with three rebounds, three assists, two steals and one block, that sums up Chalmers' stat line from Game Three. It's a good thing the Heat can win without you, Mario.
Good for them, I mean.
However, it doesn't bode so well for your personal job security. You do realize that future Hall of Famer Steve Nash is hitting the free agent market this summer to go ring-chasing for one more three-year contract? You better step your game up, Mario. But who knows, it may not even matter as even in his late 30s, he's still outplaying you.
Objects in the mirror are closer than they appear, Mario. You better hope your team wins it all this year and you can actually do a better job contributing because then you at least have a fighting chance to keep your starting job.
If not, the Big Three will no doubt foaming at their collective maw to have you pushed aside to make room for the former two-time league MVP.
Prediction!


I liked this series to go seven games from the beginning. The best chance of that happening is if Oklahoma City pilfers Game Four tonight. I'll take @KDTrey5 and company to get the job done.