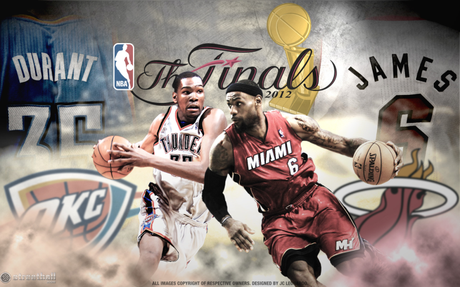 Photo Design: JC Leonardo
- Adam Parker


The day has finally arrived.
The day where 'the King' will finally get his ring, or the Oklahoma City Thunder will force the series to be finished back in OKC, where they're 9-1 in these playoffs.
I can't imagine Miami Heat star LeBron James slept very soundly last night. Anyone participating this game who did get any sleep last night deserves truckloads of credit for their strong will and resilience, because if it were me, I'd be far too anxious to sleep.
If I was with the Heat, I'd have a similar feeling to that of a kid anxiously awaiting Christmas morning where every minute feels like an hour.
If I was with the Thunder, I'd likely have a sleepless night for far different reasons. 'Hey, coach [Scott] Brooks, any chance I can take some game film back to my hotel room with me?'
Needless to say, I would be spending every waking moment combing over every inch of the previous games in the series to see if there's something, anything that I can do better to force this series back to OKC and keep hope alive.
Oh, and somewhere in between all that film study, I can 100 percent guarantee that I cursed the air about the absolutely horrendous officiating job that's occurred in these Finals.
But as every one of us is likely almost as anxious as the players for Game Five to commence, we here at Beard and Stache would like to offer a quick preview to hold you over until tonight's tipoff.
Welcome to the Series, Mario Chalmers!
I called Chalmers out in my last preview, citing that former two-time league MVP Steve Nash was hitting the market this summer to go ring-chasing and he could be coming for Mario's job. Obviously, Mario took my words to heart (okay, he didn't but hey, a guy can dream can't he?) and exploded in Game Four for 25 points after scoring a combined 17 points in the first three games.
Maybe, the Heat already have their long-term starting point guard in place after all...Congratulations, Mario.
Will James Harden End the Cold Streak Tonight?
I don't know how many times I can say it. Harden needs to play better if the Thunder are to have any chance whatsoever of getting this series back to OKC. News has recently surfaced that Harden has apparently been playing with a bruised left hand, but that's really not an excuse. It's like I've always said, if you're healthy enough to be out there on the floor playing, then you're healthy enough to be counted on and scrutinized when you don't perform.
Turn it around, James, or you'll likely be the LVP of this series for players that actually saw the floor -- we're omitting ring-chasing skeletons like Juwan Howard and glorified towel boys like Dexter Pittman and Cole Aldrich from the list.
But to answer the question, do I see him turning things around? No, probably not.
Can the Thunder do anything to Stop the Heat Juggernaut?


First, it's worth noting that no team in NBA Finals history has ever come back from a 3-1 deficit to win the title, hell, no team in the position the Thunder currently find themselves in has even been able to force a Game Seven.
However, don't count OKC out just yet.
While no one has yet to achieve the feat, if anyone has the tools to accomplish it, it's the Thunder. After all, in case you've forgotten, they've already battled back to win a series down 2-0 against the San Antonio Spurs in the previous round. Granted, the Heat are a far more athletic team than the Spurs, but they're not so overwhelming that they just run the Thunder right out of the building.
In fact, all of OKC's three losses in this series have been by four, six, and six points respectively. In other words, a few different bounces, a few more made free throws, a few more hustle plays could have changed the landscape of this series entirely.
The Thunder is on the ropes, but it hasn't been knocked out yet.
Prediction!


I initially believed this would be a seven-game series with the Thunder coming out on top in the end in front of their home fans. That's still a possibility, albeit one less likely than before the series began, but still possible nonetheless.
However, the lack of consistent contributions from guys like Serge Ibaka, James Harden and everyone else not named Kevin Durant and Russell Westbrook has all but sealed the Thunder's fate at this point.
Miami takes Game Five and the series, thereby giving King James the crown he has shed blood, sweat and tears for over the past nine years.