The Scoop: Didier Drogba plays against his old club for the first time. That's the big story here, and it's been all the talk of the last week, especially in England. The bigger picture sees a stern Chelsea side going up against an experienced, underrated Galatasaray squad that could cause some serious problems for the Londoners. While Roberto Mancini doesn't have the best European track record, he does have the luxury of a group of experienced players who have been in these knockout situations before. Wesley Sneijder, Emmauel Eboue, Didier Drogba; the list goes on. That being said, Chelsea aren't exactly pioneers to the competition either. While Chelsea may provide some distance to the tie in the second leg at Stamford Bridge, tomorrow's matchup at the Turk Telekom Arena will be an interesting affair.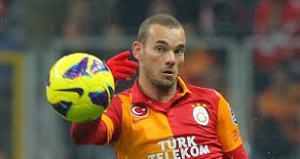 Drogba might be the main attraction, but one mustn't forget about another of Mourinho's favorites in Istanbul, Wesley Sneijder
The X-Factor: Didier Drogba. Not to play into the mainstream media hype, but Drogba can be seen as one of many x-factors. While ageing, the Ivorian still possesses a special brand technique and physicality unlike any other player in the world. Sure, Drogba will have his hands full with the likes of Gary Cahill and old club-mate John Terry, but that's not to say Drogba hasn't dealt with many a challenging center-back pairing in his career. This is after all, the same man who at the age of 33, single-handedly carried Chelsea to a 1-0 win against what some people might refer to as the best team ever in Pep Guardiola's Barcelona. If Drogba can score a goal or two, the Turkish side will have hopes of progression when heading to London in a few weeks time.
The Pivotal Matchup: Eden Hazard vs Emmanuel Eboue. The battle of old vs new. Emauel Eboue was once regarded as one of the best right-backs in the world, but father time has since caught up with him. Years ago, the former Arsenal man would be feeling confident going into a matchup against a player of Hazard's speed and ability; but it won't be so this time around. On his day, Hazard is second best to none, with immense pace coupled with some of the finest dribbling skills the world of football has to offer in the modern era. Hazard is lethal from almost anywhere in the final third with both of his feet, and utilizes his quickness and ability to shift and turn to draw fouls from overambitious defenders such as Eboue. Give Hazard an inch of leeway, and he'll destroy you. All things withstanding, Eboue will be able to take heart in the fact that Hazard was completely shut down buy impressive Everton right-back Seamus Coleman at the weekend.
The Edge: Simply put, Chelsea is better than Galatasaray at almost every faucet of the game. Galatasaray isn't short on quality and has a brilliant manager in Roberto Mancini, but talent wise, they are no match for Chelsea's pace and technique.
The Prediction: Galatasaray 2-2 Chelsea. In football, and in sports, anything can happen. While you might say this game represents the has-beens against the up-and-comers; experience on both sides will play the biggest factor in who comes out on top. Expect Jose Mourinho to go with a three man midfield with Hazard and Willian out wide, while Roberto Mancini will employ his two strikers, Drogba and Burak Yilmaz in front of Wesley Sneijder. With the game being played in Instanbul, I'll go with a well deserved draw that benefits the hosts.
Goal scorers- Torres, Ramires; Seluk Inan, Drogba