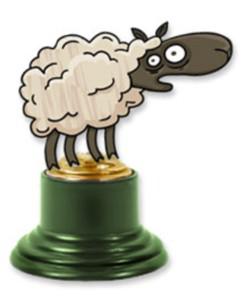 Hello everyone. The 2012 Lammys kicked off officially last night. This post is to remind you of the upcoming awards and ask you to remember Impassionedcinema when you cast your ballots!
For those of you missed it we did a Podcast with the guys from the Lambcast for Blade Runner and it was epic. Some fellow LAMBs visit Impassionedcinema from time to time and I'd like you to consider us for the following awards:
Best Design
I hope with the new theme up you look for us in the best design category. A lot of work went into making this website as professional as possible.
Best Running Feature    
Claire Packer and I have our extremely well received Running Feature called Trilogy Thursdays. We have already covered a lot of fan favorites including Star Wars and Lord of the Rings, but we've only just begun.
Best Festival/Awards Coverage  
Impassionedcinema began it's festival coverage in 2011 with our first visit to IFFBoston. We continued with a brief look at NYCC 2011. Then came the onslaught of Awards Coverage. At Impassionedcinema we tried to post the results to every award ceremony that mattered. We plan to continue our strong coverage during the rest of 2012.
Best New LAMB  
Impassionedcinema is almost a year and a half already. We have a lot of achievements already with over 100,000 views and over 600+ articles and reviews! I hope you consider us in this category.
Best Ratings System
With our brand new rating system, think of us when picking this category.
Best Movie Reviewer  
Earlier this year we busted out our new review system covering everything from Cinematography to Score. We have also implemented a new layout featuring standout quotes and high quality photos. Of course over time my writing has gotten stronger as well. Please consider Impassionedcinema for best movie reviewer.
LAMB 2012 Regulations
All of the regulations, deadlines, requirements, and categories can be found in an extensive post over at the LAMB here.
But two crucial aspects I'll emphasize: First, you must be a LAMB member to participate and vote. And secondly, you have till May 27th to cast your nominations.
credit: Duke & The Movies
If you'd like to go cast your vote for us, here is the link you need. This is also a great time to look at other LAMBs and to look into joining the LAMB community yourself.