COSMOLOGY OF WOMEN    THE KEY ELEMENTS TO THIS TREND ARE:


I

nspired by Meadham Kirchhoff - Dress Up Box concept
Anything goes "attitude"
Modern look on the modern day women - she is creative, fiesty and beautiful!
Strong primary color palette which is complimented with  delicate pastel shadows
Simplistic yet effective graphic imagery
Childlike media - executed in a sophisticated style
Theatrical elements
Crazy and wacky styling makes the designs eye catching and innovative and conversational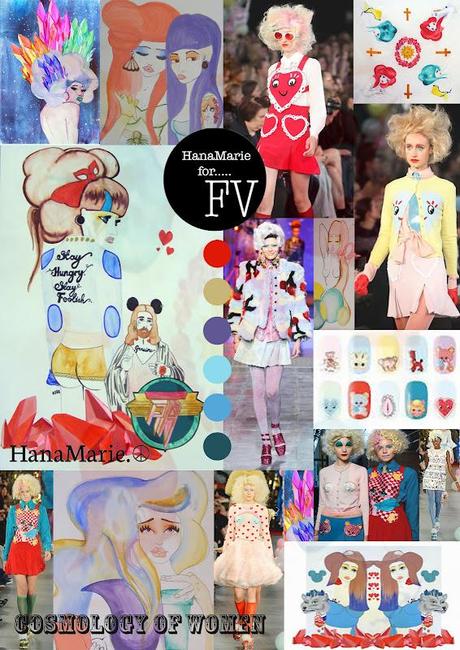 © 2012 by HanaMarie and Rebecca Horner. All rights reserved.   
Inspirational layout may not be reproduced or transmitted in any form or by any means, electronic, photocopying, or otherwise, without prior written permission.
  FEATURE  
All illustration imagery Credited to: Rebecca Horner - feature by HanaMarie
Rebecca Horner 
is a BA Hons Textiles and Surface Designer. She is extremely innovative and open minded when it comes to design and uses child like media such as "glitter and glue" to create sophisticated pieces of artwork. Meadham Kirchhoff 's work has inspired Rebecca as they are not afraid to push limits and boundaries which may be shocking to some people but great conversational pieces for others. This concept shows the modern day women as they see themselves today. They are not pretty dolls but are creative, feisty not afraid to be controversial but still show beauty in a more innovative and quirky way.