This week i thought i would change the trend concept for the FV blog.As i am in my final weeks of finishing my textiles degree i have been inspired by some of the 3rd year students final collections.One of the fashion fabric design students Helen Proudlock final collection is really coming along and her designs that she has created so far are very eye catching due to the vivid use of her exotic/experimental color pallet along with the mix of innovative styled prints.She has made such a versatile collection by being experimental and using a wide range  of fabrics and  techniques such as screen printing, digital printing and the contemporary technique of sublimation printing.I have created this concept board as i think Helen prints are very inspirational and create a lot of trend directed ideas which could be translated into S/S13 future trend.
APRIL 20, 2012
   ORNAMENTAL GODDESS    
THE KEY ELEMENTS TO THIS TREND ARE:
Contemporary twist on English floral prints.

Vintage Americana Tropicana - trend inspiration from "Vintage Americana"

African inspired insect prints - trend inspiration from "Power Prints"

Miami feel,  cool and fresh prints ready for the beach.

1950's Art Deco geometric prints updated with mashed up animal prints.

Traditional paisley with a Middle-Eastern vibe.
The overall trend and collection has a bright bold pattern clash statement:
Experimental prints from power prints/floral ditsy prints/scale variation create a wide and interesting look to the full collection.

Mixing traditional screen printing with digital and contemporary sublimation print.

Heavily inspired by new fresh talents like Holly Fulton, Matthew Williamson and Thankoon.
Trend Forecaster weekly contributor -
HanaMarie.☮
   [ 
hanamarie-hanamarie.blogspot.com
 ] andHelen Proudlock [ 

helenproudlocktextiles.blogspot.co.uk

 ]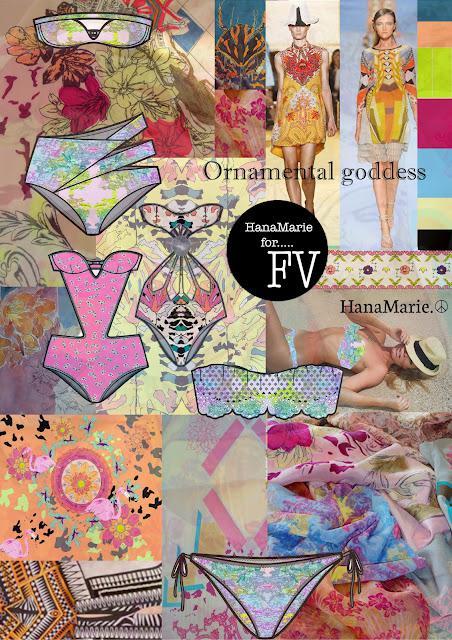 © 2012 by HanaMarie and Helen Proudlock. All rights reserved.   
Inspirational layout may not be reproduced or transmitted in any form or by any means, electronic, photocopying, or otherwise, without prior written permission.
  FEATURE  
All imagery Credited to: Helen Proudlock 2012 - feature by HanaMarie
Helen Proudlock is a fresh emerging BA (Hons) Fashion Textile Designer from the UK. Her eye-catching collection of fabulously bold statement prints are clearly pattern focused, which show a interesting mix of various cultural ideas. I really love this collection and it has lots of potential to give other creative designers inspiration and trend direction. I definitely can see this trend catching on and be seen on the catwalks very soon.
Source of inspirations: Thankoon, Etro, Holly Fulto
n