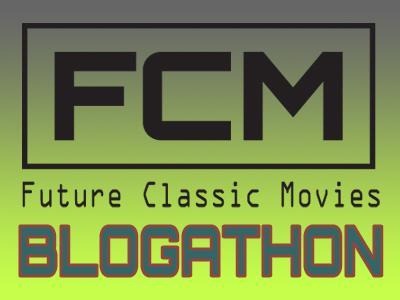 Paula over at Paula's Cinema Club happened upon the idea of predicting films made in the last ten years that will be "classics" in thirty or forty years time. That means films from the year 2000 upwards. There were a lot of films I could've selected. Some of the more obvious entries to me would've been No Country for Old Men, Gladiator, Children of Men, There Will Be Blood, and Sideways.
I wanted to champion a genre that doesn't usually get considered in the classic film realm, Comedy. Over the years, how many comedies can you truly remember as game changing. Some of the ones I would included would be Animal House, Some Like it Hot, This is Spinal Tap, and Monty Python and the Holy Grail. There have been a lot of comedies that have come out in the 2000′s that might be remembered. The one I specifically choose was The 40-Year-Old Virgin.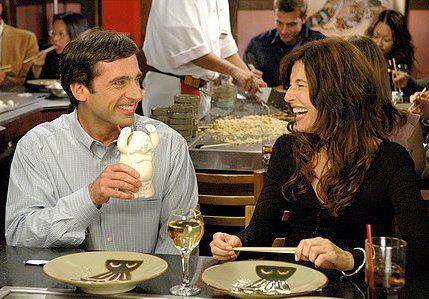 In Judd Apatow's first directorial effort and Steve Carrell's first leading role, The 40-Year-Old Virgin was the introduction to a cast of characters that remains popular today. Not only did the film launch the careers of Apatow and Carrell into the stratosphere of Hollywood Superstardom, but the supporting cast of all gone on to create memorable movies and television careers of their own.
Here's a brief synopsis for those unfamiliar with The 40-Year-Old Virgin:
One man nervously ventures forth into the final frontier in this comedy starring comic actor Steve Carell. Andy Stitzer (Carell) is a cheerfully geeky guy who is settling into middle age with his large collection of comic books, action figures, and collectable models. Andy works in an electronics store, and seems reasonably happy with his life. However, one day his friends and co-workers David (Paul Rudd), Jay (Romany Malco), and Cal (Seth Rogen) discover that Andy has a secret — due to his rather severe jitters around women, Andy is still a virgin. Andy's pals are appalled at this state of affairs, and set out to find a woman who'd be willing to get horizontal with him. After a number of disastrous dates, everyone thinks Andy has finally struck gold when he meets Trish (Catherine Keener), an attractive single mother who takes an immediate liking to him. What the other guys don't know is that Trish has just gotten out of a bad relationship, and has informed Andy she isn't ready to be intimate with him just yet.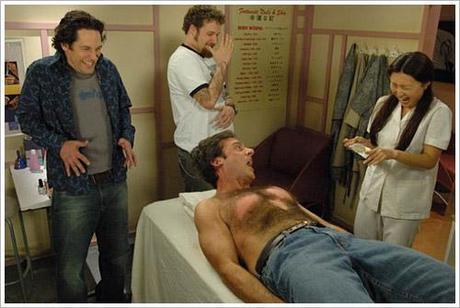 While I can't say I fully understand what Andy goes through during the course of this movie, I can appreciate his struggle. Andy isn't the typical geek (He has little bits of a broken self-image and social anxieties), but he has a lot of hobbies that develop his character. He has put the 'pussy on the pedestal' for far too long. Virginity has reached a height for him where it has taken on mystical qualities. Luckily he has friends that care he succeeds.
Most of the suggestions from his friends fail in the end, but they do help him for the bigger picture. They have him clean up his imagine in one of the funniest scenes ever recorded (waxing Steve Carell's chest). They have him go on multiple dates so he doesn't become dependent on one result. Finally, it gives Andy enough courage to say he's had enough of being led around and he's going to take his problem into his own hands.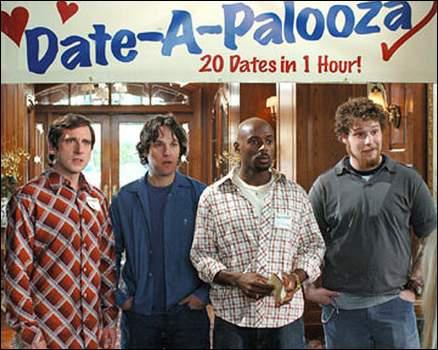 Judd Apatow has now made a living out of creating raunchy romantic-comedies. At its heart, The 40-Year-Old Virgin is the male equivalent of a romantic-comedy. Funnily enough it even features a chase scene in the end while Asia's 'Heat of the Moment' is playing. If that isn't a classic genre ending I'm not sure what is. The 40-Year-Old Virgin will stand the test of time since men will always have trouble talking to women and this is the film that launched countless careers.
Did you enjoy this article? If so, we'd love to hear your thoughts in the comments below. It would be great if you subscribed to our RSS feed or signed up for email updates to get more goodness. There's lots more where this came from!