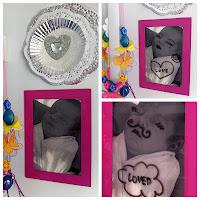 It's no secret that if you have a computer you probably also have a fridge and a digital camera.  Assuming that every now and again you actually print out some of your photos, why not combine your two 'modern appliances' and put a photo on your fridge.  Oh - wait - you do?  Then why not have some fun with your fridge photos.
In the same shop where you get your photos developed, you'll probably find that they sell magnetic photo frames.  What you want is anything made of acrylic with a magnet on the back.  Some come as a flat sheet with a painted edge, others that I found at my local discount store were like a pocket or a sleeve that you slipped the photo into.
The only other item you'll need to dig out of a drawer or buy, is a whiteboard marker.  These markers will write on the acrylic and then can be wiped back off again.
All you have to do now is get creative.  My suggestion is that you use black and white photos for clarity and that you leave the drawing to 'big-kids' so that you don't end up with writing on the fridge... I don't want to be held responsible for that, thanks very much.
Perhaps, my choice of photos is a little disrespectful, given that Little Lotti (now 3) was perfectly beautiful just as she was, but hey; sleep-deprived, stay-at-home mums need a little levity sometimes... besides - the great thing about this cheeky classy craft, is that you can wipe the slate clean, so to speak, before everyone comes home, so the evidence simply 'dis-da-pears'... It's sort of a mummy-mood-board if you like, right next to where I hide my secret stash of 
choc-mint salvation
... perfect!
PS - If you want to get more organised, and get the kids involved, take favorite photos and print them onto A4 sheets, laminate them then allow the kids to draw on them as a 'feelings' experiment.
PPS - I used a similar approach to convert a cheap A4 picture frame into a
re-writable to-do list
for my desk - see the tutorial pictures here.
PPPS - if you're wondering about the other stuff on my fridge, the silver doily is a left over decoration from Lotti's ballet party, and the necklaces are from the Summer Activity ebook (using fragipani printables included therein).
PPPPS - If you have a fridge-photo you'd like to share with the world, feel free to leave a link in the comments section, or send me an email: linda(at)partycraftsecrets(dot)com.
Keep laughing,
Linda.