First off, Happy Memorial Day to all my U.S. followers.  While not everyone agrees with war in general, not to mention the one we're in the middle of right now, we should still stand behind our soldiers.  Without them we'd be much worse off than we are today.  My thoughts and prayers go out to all those fighting oversees and that they make it safely home.
Now, with Memorial Day comes an extra day off so with all this free time I've decided to try out some of those fun nail designs I've been hording on Pinterest…here are the finished results.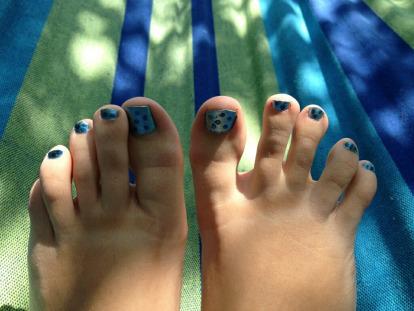 blue polka dot toes
These may be my favorite of what I've tried so far.  I used a metallic blue for the majority of the nail and then a mat dark blue for the polka dots.  It came out very well and the polish has stayed with few chips for about two weeks.  I used the regular polish brush for the base coat but used a smaller paintbrush for the dots.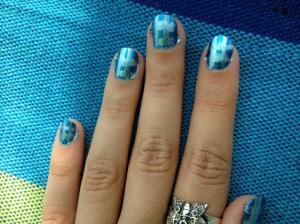 crosshatching blue nails
These didn't turn out quite as nicely as I hoped, but I think that's just because I used too thick of a brush for the stripes and I should have gone thinner.  I reversed the colors from my toes here, using the mat dark blue for the bottom and then metallic blue for the cross.  These lasted for about a week before they started chipping.  I like this pattern but I would definitely use a smaller brush size next time.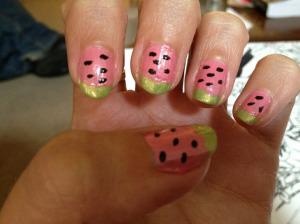 Watermelon Nails
This is what my nails look like now.  I thought it would be a fun pattern to try for summer/BBQ time.  I used a lime green for the top part of the nail (like you're doing a french tip) and then a light pink for the rest of the nail.  After that dried I put on the black dots for seeds.  I really like this pattern but the polish I used was very, very old and that caused it to clump instead of spread.  I probably should have mixed in some nail polish remover before painted to thin it out a little.  While the green is a perfect color, it took about four coats to get it to show up and after only two days it's started chipping like crazy.
Word of advice…use fresh polish.
Hope you've enjoyed my foray into nail painting.  I'm hoping to try a new pattern every week or two so keep an eye out for some more fun designs (unless of course I lose motivation and time and never paint my nails again).  Enjoy your Memorial Day.  The weather here is almost perfect, in the high 70s with lots of sun.  Hope you all are lucky enough to have weather like us!