No matter whether your pup's been naughty or nice, it's a great idea to include them in the many family celebrations that take place during the holiday season. From dog toys to treats, collars, beds and costumes, there's something for every dog personality. When you are shopping for gifts for friends and loved ones this holiday season, don't forget to pick up something special for your furry dog friend too.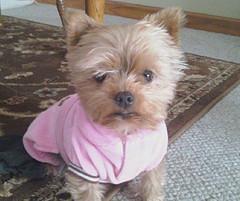 CC:Image source
Christmas Gift Ideas for Dogs
Toys: Toys are a practical Christmas gift for dogs and something they will enjoy long after the holidays have passed. Holiday inspired toys are available as well as traditional chews and tug of war toys. Make the gift special by choosing a toy that your dog will really love. A good old fashioned squeak toy will never disappoint.
Treats: While it may not be a good idea to allow your dog to overindulge during the holidays, choosing one extra special treat is a great way to celebrate the occasion. Try a frosty dog cake pop or head to a local dog bakery to pick up fresh gourmet treats he will love. While no one wants to spoil the fun of the holidays, it is important to keep an eye on the ingredients in the treats that you purchase or if you plan to bake the treats yourself. Some ingredients such as chocolate or sultanas can be toxic to dogs.
Costumes and Hats: While this may be a gift that you will appreciate more than your dog, there are plenty of adorable Christmas themed costumes to choose from during the holiday season. Dress your pup up like an elf, a reindeer or Santa's little helper. If your dog is not a huge fan of costumes, try a cute Santa's hat or reindeer antlers.
Collars and Leashes: For the practical canine, a new collar and leash is the ideal gift. Harnesses are also a great choice for dogs that are still learning how to properly walk on a leash.
Shirts and Sweaters: During the holidays, pet specialty stores are adorned with aisles of Christmas themed shirts and sweaters. Some shirts even feature Christmas trees with stars that light up and twinkle. Shirts and sweaters are also a great way to keep your dog warm during those chilly winter walks.
Dog Beds: Pamper your dog by buying him a new bed. There are a myriad of different doggy bed options on the market today. Some look like over-sized pillows, while high-end dog beds look just like their human-sized counterparts.
There's no need to break the bank when you're planning a gift for your canine family member. If your budget is tight, then make him a batch of homemade biscuits, or if you're crafty, sew him up a new toy. He'll appreciate it just as much as a gift that cost money. The best part of a homemade gift is watching him enjoy it, knowing you put your heart and soul into creating it.
Author Bio Box:
Dr. Susan Wright, DVM has been providing care for domestic animals for more than a decade. Susan extends her love of dogs through freelance writing on topics that teach owners how to be better caregivers and friends to their loyal companions.

Dr. Susan Wright