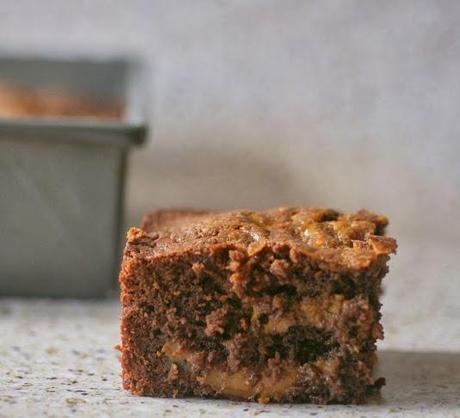 For this months Secret R ecipe Club I got Louise's blog,  Lick That Spoon.
Her Australian blog is full of fun recipes. She doesn't normally eat all her creations. She likes to send them to work with Luke her husband. She loves to share her creations with family and friends. That is what she does when she is not busy taking care of Benjamin and Vienna her two kids.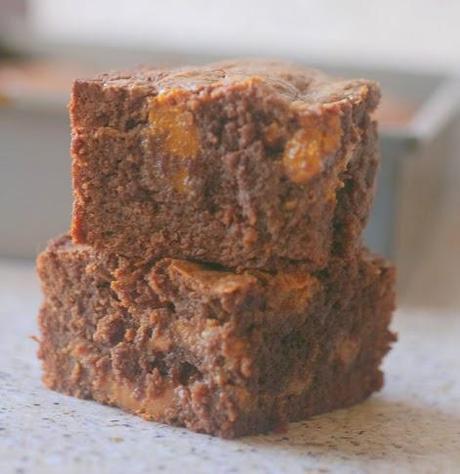 When I saw Dulce de Luche, I was hooked on this recipe. To be honest, when I saw brownie I decided to make it.
Like Louise, I cant eat everything I make, so I decided to bring this in to work and share it with my coworkers. Yes, I do have a day job. I only blog in my spare time.
To begin with, Louise cooked the sweetened condensed milk on the stove top. I did the same thing, keeping true to the recipe. However I have seen on other blogs where they use their slow cooker.   I think I will do that next time, yes there will be a next time it was that good!
I had a bit of a problem converting everything. You see here in American we usually measure in cups.  For instance the Fudgy Dulce de Leche Brownies that I picked from her blog measured a few of the ingredients in grams.  I converted it to cups. Also we use Fahrenheit for our ovens.  It was good that I did all that converting. It keeps me sharp! Not to mention that these brownies were so worth the extra work.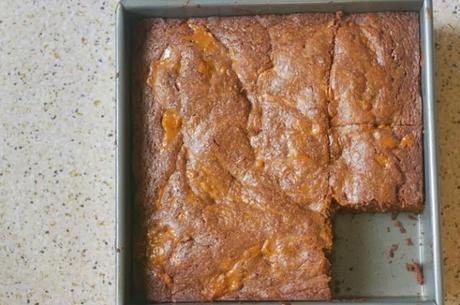 Print Recipe
Fudgy Dulce de Leche Brownies
Ingredients:
400g can sweetened condensed milk
200g dark chocolate, chopped
250g butter, chopped
1 3/4 cups brown sugar, firmly packed
4 eggs
1 1/3 cups plain flour
1/4 tsp. baking powder
1/3 cup cocoa powder
Directions:
To make the dulce de leche, remove the paper label from the side of the sweetened condensed milk can. Immerse the can into the saucepan of water covering it by about an inch. Place over a high heat on the stove and boil for three hours.Turn off the heat and allow the can to cool before removing and opening.
Meanwhile, preheat the oven to 180C.
Spray a square cake pan and set aside.
Place the chocolate and butter in a medium saucepan over a low heat. Stir until the contents have melted and are well combined. You may also put this in the microwave in one minute increments until everything is melted. In a bowl place the brown sugar and the eggs. Whisk until the eggs have broken down, then add the melted chocolate and butter mixture. Stir in the flour, baking powder and cocoa until well incorporated.
Pour half of this batter into the base of your pan. Scoop half the cooled dulce de leche from the can onto this batter in random areas. Cover with the remaining brownie batter, and repeat again with the rest of the dulce de leche. Gently swirl the caramel on the top layer with the end of a spoon
Bake for 35-40 minutes or until set. The dulce de leche will be molten, so allow to cool in the pan before removing to cut into squares.
Peace be with you,
Veronica