Claudia wrote a beautiful report of her day, so I'll leave the words to the beautiful bride.
Oh – and this wedding is in two parts with a bonus wedding inspiration board at the end… so keep coming back to English Wedding blog for more this week!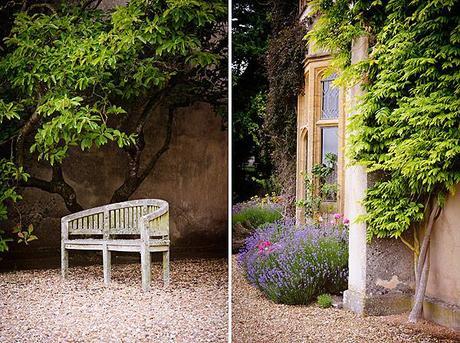 John is Australian and I am British and we both reside on the east coast of Australia together. It was always going to be tough deciding which country to marry in as the expense of flying would inevitably inhibit some family and friends from making the trip. John chose for us to marry in the UK. This was a very kind gesture on his part. He said that I had made it to Australia to be with him so the least he could do would be to come back to the UK for me. Fantastically, John's immediate family and many of our aussie friends made it over too!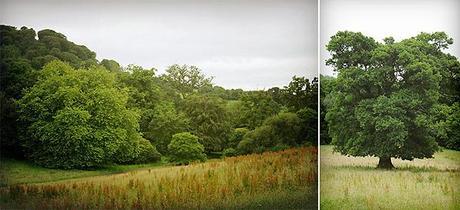 We hired
Combe House Hotel
in Gittisham, Devon, for the weekend and hosted a pre reception on the Friday before the wedding as many of our guests had never met before. I thought a classic Devon Cream Tea would go down a treat with the aussies followed by Pimms and a barbeque in the evening. This was a great ice breaker and made the wedding day feel more intimate.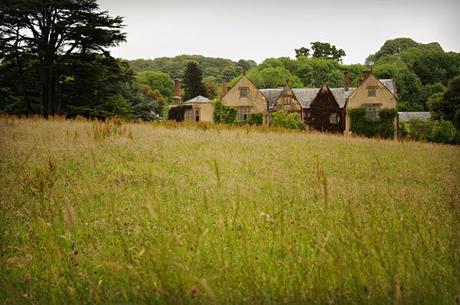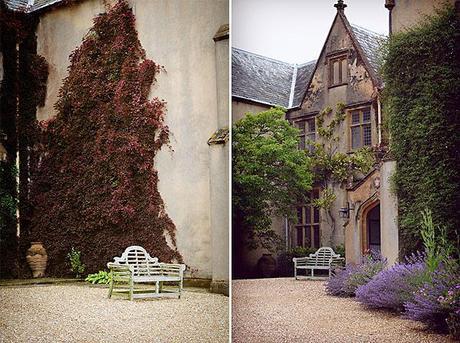 Our wedding day was the best day of our lives! It was perfect! We married in St. Giles Church in Sidbury. It's a delightful, little church that dates back to the sixth century. The sun was shining and the church bells were ringing when we walked out as Mr and Mrs McKay. We were driven back to Combe House in a family friend's open-top Bentley, which was a real pleasure. A local farmer had let his Arabian horses out to roam Combe's grounds as we drove up the drive, it was so romantic and picturesque.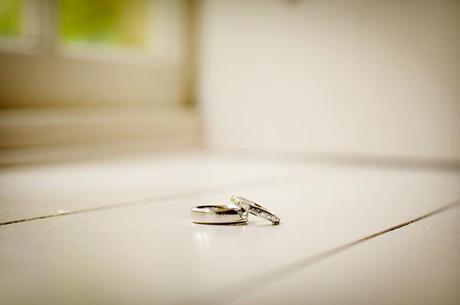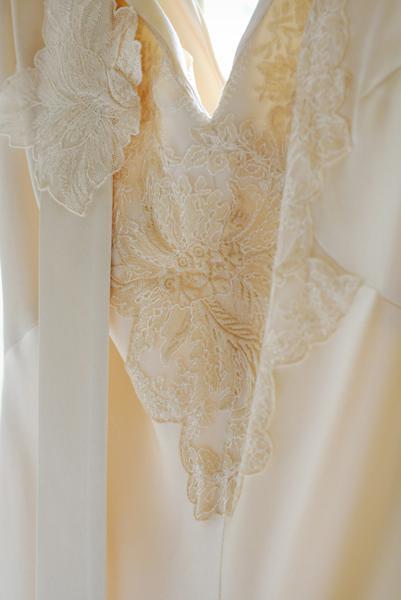 My dress came from
Johanna Johnson in Sydney
. It was a figure-hugging silk dress with a fish tail skirt and train with lace detail around the bust and torso – think old Hollywood elegance and glamour!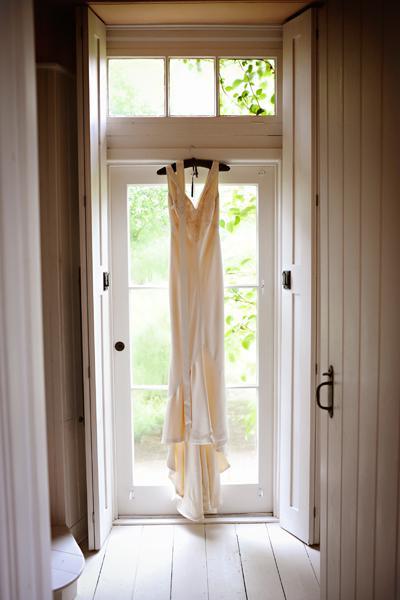 I wore a pair of art deco style pearl drop earrings that were a gift from my mother, they had originally belonged to her mother, my grandmother. My mother also leant me a pearl and diamond pendant given to her by my father.
My shoes came from Alannah Hill. They were black suede pumps with oversized black patent bows. Surprisingly they worked with the dress!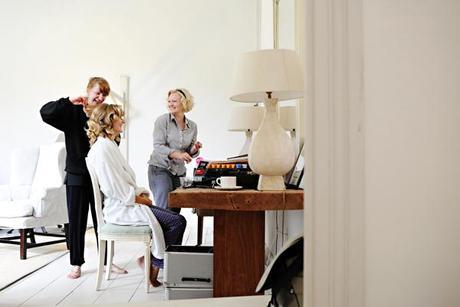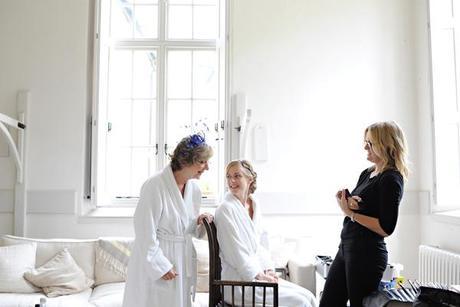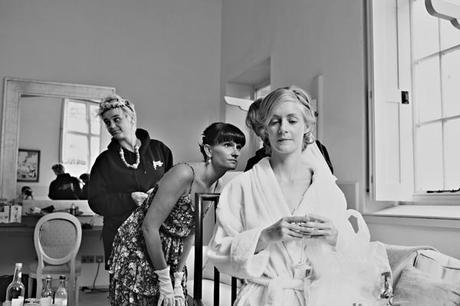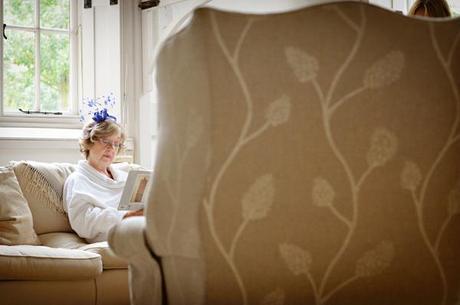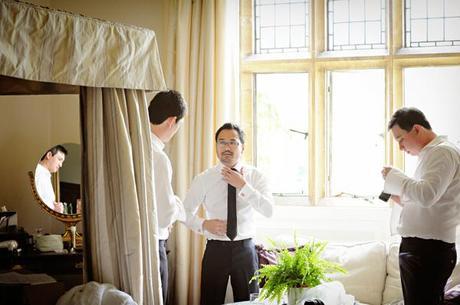 John's suit came from Harrolds in Sydney. It was silk in dark french navy, single breasted and very well tailored. He wore an ivory shirt and a narrow black tie and black shoes. The unusual colour combination looked very sophisticated.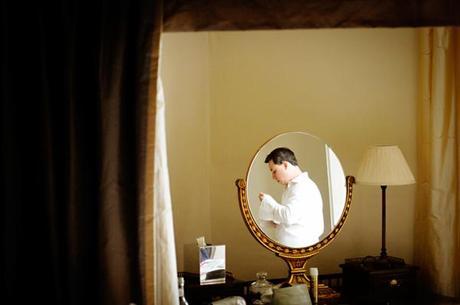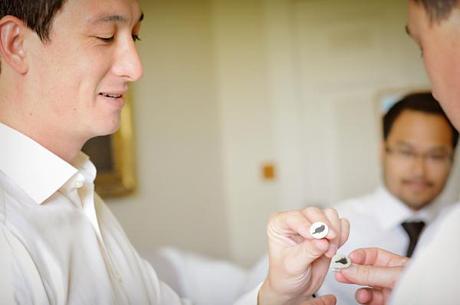 I had silver cufflinks made with the silhouette of John's favourite family dog, Bear, etched into them.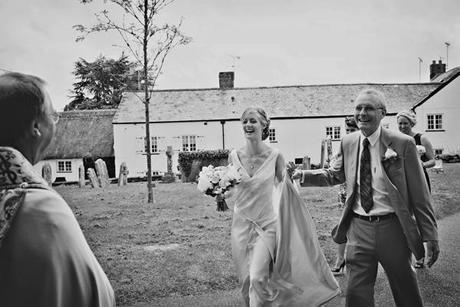 I wore a stunning crystal and pearl bead encrusted hair piece from Johanna Johnson. My veil was also from Johanna Johnson and was a very simple cathedral veil of the softest french lace.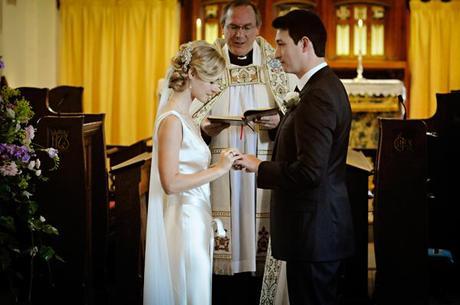 I love Claudia's classic bridal style, don't you? Her straight, elegant wedding dress with the lovely sash detail at the waist is perfect and suits her figure and style. Claudia looks absolutely beautiful – and they make such a good looking couple!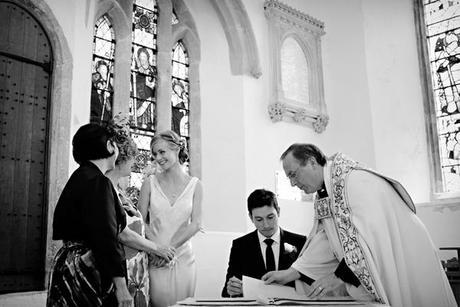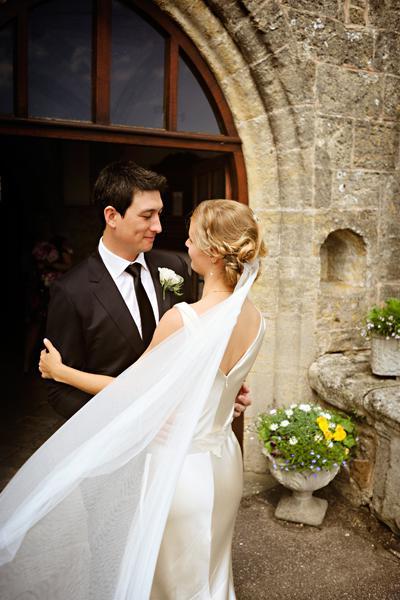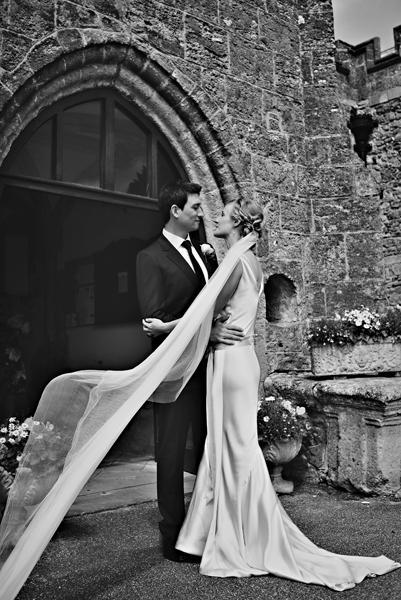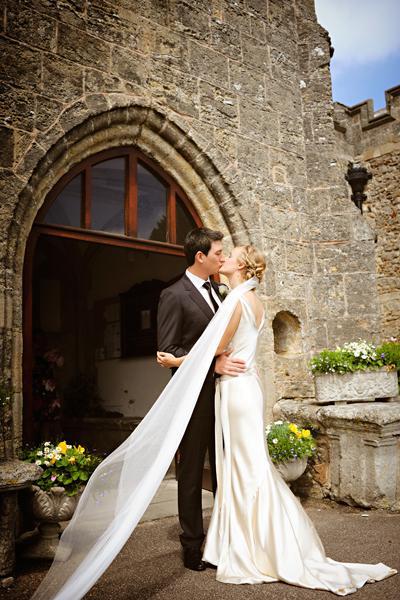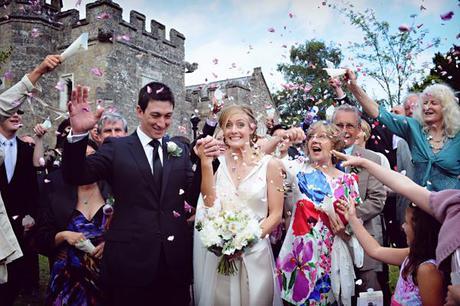 Excellent "I'm being confetti-ed" expression from Claudia! There's more from this wedding day, post-confetti attack, on English Wedding tomorrow!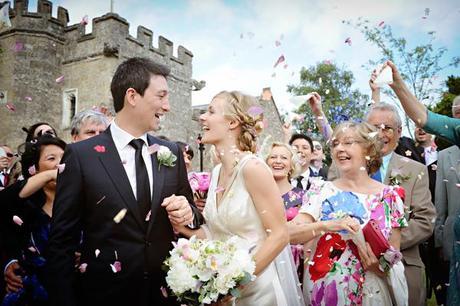 Thank you to Richard Rayner photography for sending in this beautiful collection of wedding photos for the blog. Thank you to Claudia for the wedding report… more of which I'll share with you tomorrow!
You'll love it… I haven't even started with the vintage styling and inspiration yet!
Claire xx