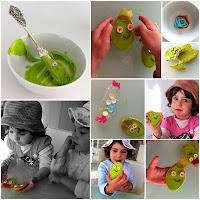 It's no secret that the motif of the frog prince is a cute one to add to any royal-themed party.  For little girls it conjures up the idea of a prince charming in hiding, just waiting for a kiss... and for little boys it's suitably icky in its own right just as it is!
My daughter Mimi would like a fairytale themed party later this year and we've been experimenting with food ideas that we might be able to use on the Big Day.  A while back I blogged about the Magic Mirror biscuits that we made by topping store-bought oval biscuits with blue icing and candy... well a couple of days later we made frog biscuits.
To make your own frog prince biscuits (click the photo to enlarge):
Buy or make oval-shaped biscuits.
Buy or make green icing - and spoon onto the biscuit.
Add sherbets or other small round candy for eyes.
Use an icing pen to make two dots and a smiling mouth
Cut up a "fruit-strap" (a flat sheet of pressed fruit) into the shape of a crown and stick on top.
Mimi told me that the Queen biscuit was super-sweet but that the King frog tasted like porridge.  As irrational as that is; I think I believe her!
Biscuits like these can be mass produced as party food, party-craft make-and-takes (that the guests create and then eat or take home), keepsakes, or class-gifts, and can be adjusted to suit any theme; spook them up for
Halloween
, cute them up for a
Mermaid-party
, or use them without a crown for an 
Autumn-themed schoolroom activity
.
Next time you're at the local supermarket, why don't you have a look in the biscuit aisle for ready-made "blank-templates", and think of ways that you could turn bland into wow with the help of some icing and some candy; easy as.
Linda.