We love us some frittata, as you may have noticed here and here. It's a great way to make use of leftover vegetables, it's healthy, and it tastes great. Moreover, bringing one of these babies to work saves you from buying a bagel from the local deli. In the long run, it will save your waist-line as well as your wallet. Without further ado, here's a delicious recipe that we made last night…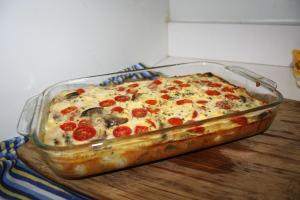 Prosciutto mushroom, and mozzarella frittata
What You'll Need For the Frittata (4-6 servings):
1 package of chopped mushrooms (about 1 1/2 cups)
proscuitto (we used about 1/2 lb)
1 cup of mozzarella balls (or fresh mozz diced)
1 cup of chopped cherry tomatoes
1 sprig of rosemary (finely chopped)
oil (olive, canola, or vegetable)
salt and pepper
6 eggs
milk or cream
8×10 Pyrex or oven-safe dish. (preferable glass)
medium sized pan
sharp knife
whisk/fork
wooden spoon or spatula
Step 1:
Preheat the oven to 350 degrees. Wash and dry the mushrooms, and get out your cutting board. Slice up the mushrooms, if needed. We bought them pre-chopped to save time.
Put a medium sized pan over low-medium and go once around the pan with cooking oil. Add the mushrooms, then stir or flip the pan so that they are all covered in oil. Cook them low and slow until nicely browned. Toss them in a greased pyrex dish.
Step 2:
While the mushrooms are browning, dice the proscuitto. Hint: Layer them up into a pile, roll them, and slice. Then turn the sliced rolls sideways and run your knife throw them again. Toss those into the greased pyrex dish along with the mushrooms.
Step 3:
Crack 6 eggs in a medium bowl. Add a splash of milk or cream, a little salt and pepper, and start whisking. Hint: The more you whisk, the fluffier they'll be! Try to create some bubbles in the egg mixture.
Toss in 1/2 the mozzarella balls, all of the egg mixture, then the rest of the balls on top. Sprinkle the rosemary and sliced tomatoes over that.
Step 4:
Pop it into the oven for 20-30 minutes or until golden. You'll know its done when you wiggle the pan and it stays still in the middle. Pull it out and let it cool for at least 10 minutes before serving.
Enjoy!
Click to view slideshow.