This places confuses me a bit! It's a Belgian fries and sausage joint. However the frankfurters, the Erdinger and "Haus" all scream Germany to me. Meh, maybe I'm over thinking it! One thing's for certain, the food sure as hell isn't confusing, it's damn good.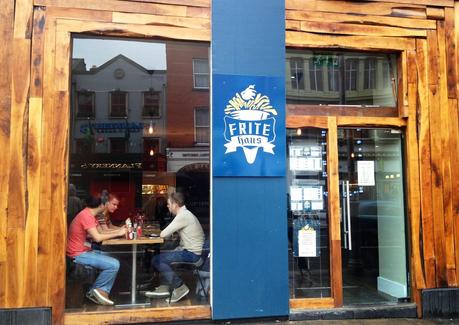 The menu is small yet complex. One simple cone of fries can be coupled with over twenty different sauces. The humble sausage is offered up in several different guises. It should have been an easy choice but I dithered, oh, what could be the best combo?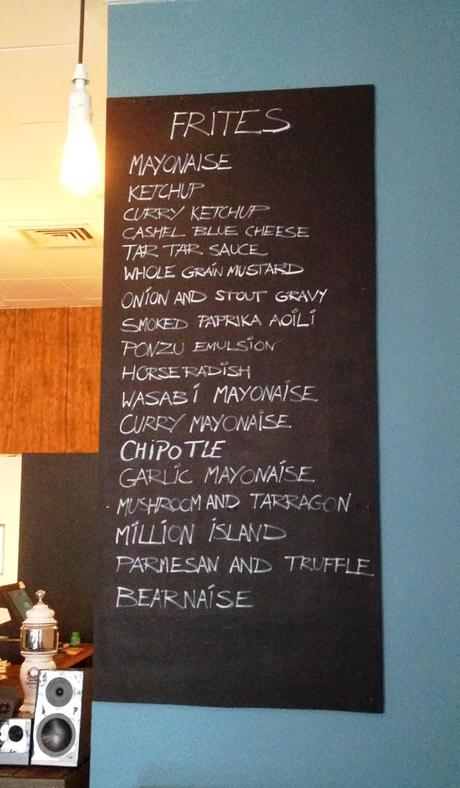 Some of the sauces on offer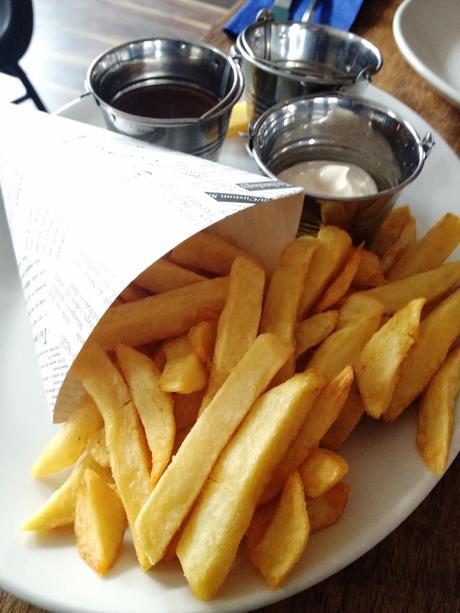 Belgian frites.
Eventually we decided to share a cone of fries and order extra sauces. As well as the mayo and ketchup we opted for the curry ketchup and the Parmesan truffle mayo. Both were super. The curry ketchup was served warm and was really tangy, just like a curry wurst sauce should be. The Parmesan truffle was rich, luxurious and silky. The fries were superb, twice cooked in beef dripping and none of that horrible seasoning you sometimes get.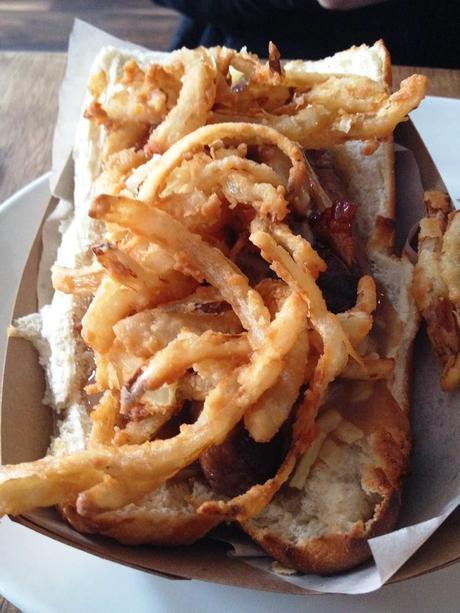 Black pudding sausage with gubeen cheese and gravy ... but check out those onions! 
My sausage decision was made all the more difficult because himself went for my first choice, the Sweeney Brothers black pudding and onion sausage with smoked gubeen cheese and onion gravy. Eventually I settled on a Hicks spicy chorizo with olives, aoili and rocket. It wasn't that much of a compromise though!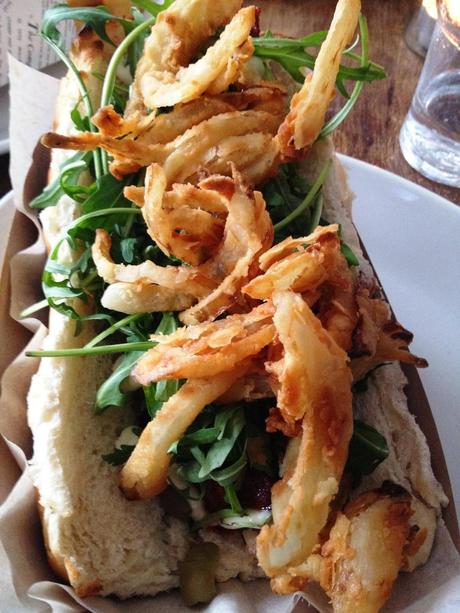 Tasty chorizo sausage with more of those yummy onions! 
Both sausage came on really substantial (but not too substantial so as to detract from the flavor of the sausages) buns. More importantly they were topped with the most amazing deep fried onion rings. The batter was so light and crispy, really a thing of beauty. I'd nearly advise coming for the onion rings alone but I don't want to give in to hyperbole!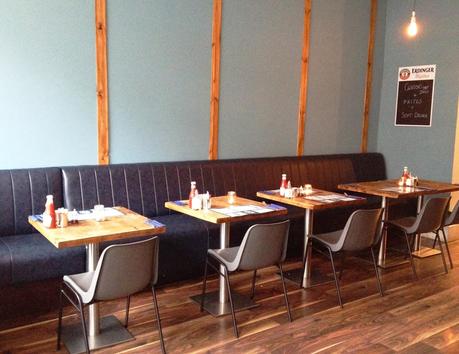 Minimalist interior of Frite Haus
Across the road from Frite Haus you'll find Against the Grain occupying a premises that used to be nicknamed "the corner of death" such was the turnaround of eating and drinking establishments on that site. Against the Grain seem to have banished the moniker but I am a bit worried that it may have relocated itself to number 87 Camden Street. I attended the opening of Yum! here only 18 months ago and already Frite Haus has superseded Flavor as the newest venture. Here's hoping the ghosts can be exorcised. If anyone can do it I have no doubt this combo of frite and sausage can!
Frite Haus
87 Camden Street
Dublin 2
087 0505964
Website