Cycling is such a wonderful opportunity to look amazing. Biking perfectly showcase your legs, arms and back. So why not design clothes around this activity. If we want to ween ourselves off fossil fuels, designing bike-friendly clothes is a good place to start. Plus, when you drive no-one sees your cuteness. Why hide in a smelly-dangerous-gas-guzzling car, when you can be free, active, green and adorable on a bike?
For fashion illustration class we were required to pull from an iconic 60s designer. This line is designed with the great French designer Andre Courreges in mind.
Here are the inspiration boards, one a direct example of Courreges work and one to set the tone for my line.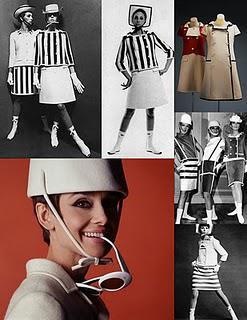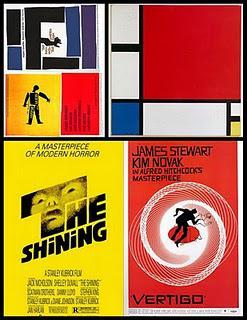 Color blocking was huge in the 60s, so I used that concept in my moodboard with vibrant reds and yellows. In my collections the yellows serve a double purpose, 1. fun and dynamic, 2. increase visibility. This line combines safety and sexy with bright colors to keep you visible to cars and short skirts and shorts to show of your amazing cycling legs.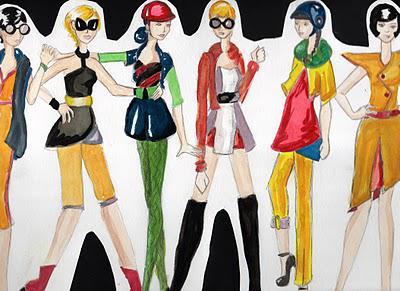 Courreges was very inspired by space, so his collections featured helmets and large alien-esque sunglasses. Helmets are important when cycling to prevent brain damage, and my collection features awesomely huge sunnys because they shields your eyeballs from the wind when riding.
The first outfit, which is cut off, is a one-piece speed-suit with red-reflective piping. She's wearing it with a toned-down gray/blue vest/shawl.
The next outfit is a cocktail dress with capri pants. The skirt is tulip style and come apart for easy biking. This is a class chick on the go. She bikes to work (covers up her dress with that cute cropped jacket on number three), then bikes to the club where she does a quick change in the bathroom, taking off the capris and coat and rolling them up and sticking them in her bike panniers. Fun-jet-setter to sexy party-goer in the blink of an eye.
Number three is another heavily layered look to keep this girl covered (or uncovered) depending on the situation. The striped sweetheart corset tube-top and a cropped jacket is rock'n roll and yet classic paired with the large flowy shorts and cable knit tights.
Number four is one of my favorite looks. The dress is classy and that orange peeking out of the bottom are a pair of booty-shorts with a re-enforced bottom and crotch - perfect for cycling. It's a fresh take on the skort, but way more versatile.
Number five is all about safety, her pants won't get caught in the chain guard with that nifty roll-up button feature and that day-glo yellow is sure to grab the attention of drivers and sexy-dudes. She's wearing a two-toned spaghetti strap shift dress with a free flowing peddle bottom so as not to interfere with pumping legs. She covers up for work or school with an over-sized collared crop jacket.
Number six was my over-the-top funsies design. Courreges was hugely influenced by space and futurism. So this dress pays homage to graphic 60s sci-fi movies.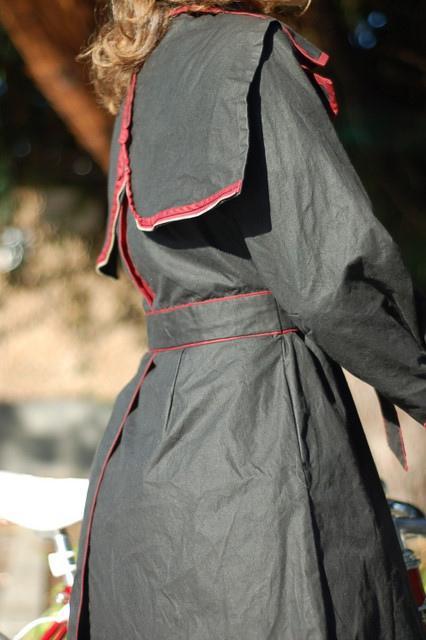 I'm not the first design to design for the bike. Here are a few of my favorite cycling designers:
B. Spoke Tailor
: If you want custom made stylish cycling gear this is it. Just send in your measurements and you'll receive some custom made cycling girl from top quality wool materials, made right here in California (San Francisco). B. Spoke features arm and wrist warmers, vest-packs, and helmet liners. I love her stylish rain gear and wish I owned this rain jacket today. Nan Eastep is the owner and artisan tailor of B. Spokes and her ingenuity shows in her designs.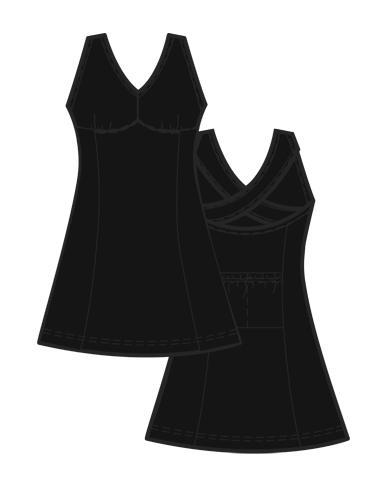 Sheila Moon: Another San Fransisco stylish cycling apparel company. Sheila Moon's designs appeal the feminine and flirty. I've had the privilege of trying on one of Sheila's dresses at a cycling event last summer. It fit like a glove, held everything in place and was so easy to move in. Everything I want in a cycling dress. Her site doesn't look like she's updated in a while, but here's a picture of the basic black cycling dress, the Mitzi.
The Bicycle Muse: This is a great place to find lovely, vintage inspired accessories and tweed helmets. These helmets make safety sexy and that's important. They also have lovely panniers and bags in a myriad of color options.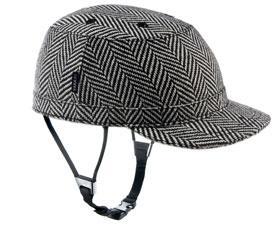 Now for stylish cycling bags! Everyone knows the bag can make an outfit and there are a lot of great cycling bags out there. I had the great honor of attending a get together at Hot Italian for two great San Francisco cycling companies:
Public Bikes
and
Rickshaw Bags
.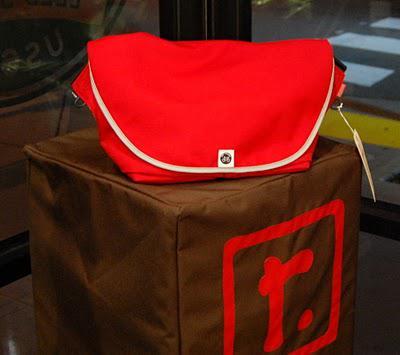 Note the Hot Italian logo on the Rickshaw bag.
I've been drooling over these bags for ages and spent many an hour on the customization page on their website trying to figure out the perfect combination of tweed and piping.
This is what I came up with: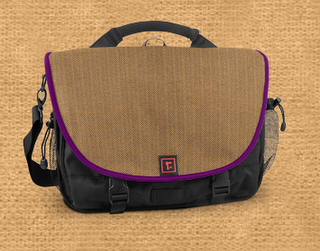 I decided on the commuter laptop bag because next-semester (hopefully) I'll be in grad school and going back and forth from Sac State to home and work I'll need something that can do it all and I don't think I could live with out that top handle. I love the classic brown tweed and that splash of purple piping is just the right amount of personality while still keeping thing professional.
Here are the specs on the performance tweed,
"Rickshaw Performance Tweed(tm) is inspired by the famous woolen textiles of Scotland and Ireland. Historically favored by British royalty, sportsmen and a famous Scotland Yard detective we've refashioned it for modern mobility in 100% recycled polyester, with a high-tech, eco-friendly, stain-resistant coating. Rickshaw Performance Tweed(tm) is woven exclusively for us, in the USA."
In a note of full disclosure and complete joy; Rickshaw Bags is my very first sponsor. I'm very excited to have them supporting me.
Appetite for adorable cycling gear still not satiated?
Don't worry, head on over to CycleChic UK's online store and take a gander at these lovelies.