Howdy Friends,
Happy Happy Friday Friends!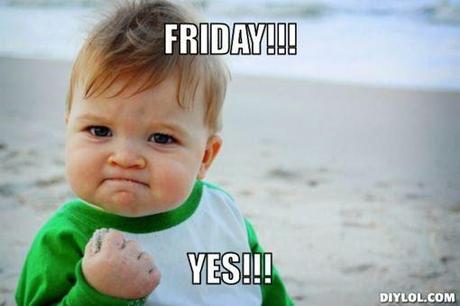 This is an extra special Friday, because this weekend is Annabelle's baby shower in College Station, and I get to see a ton of friends and family I don't get to see all that often. My amazing friend Kelli is throwing the shower, and I can't wait to get to spend the weekend catching up with her! She lives in Dallas so we don't get to see each other all that often. That makes this time together extra special. :)
I mentioned on Tuesday, that I am trying to incorporate more strength work into my routine to keep my muscle mass up through the end of this pregnancy. Sometimes I feel like I'm training to go into battle. Labor is pretty much like battle right? :)
This morning, I taught a Barre class at 6 AM and decided to take advantage of being already nice a warm (read, legs burning like fire) and squeeze in a quick Tabata workout. I needed to finish in 30 minutes so I could get home and wake of the beast (aka E). Have no fear, you can do some serious work in 30 minutes if you go all in. Here is what this morning's workout looked like.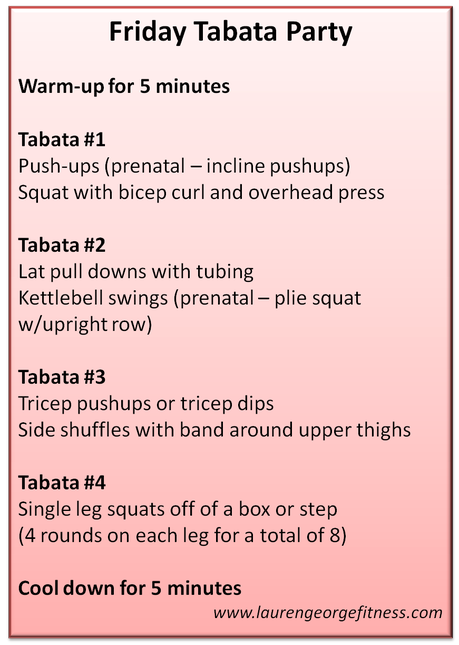 This workout can be tailored to fit anyone, including my future mommies, by selecting weights that are challenging and making the modifications I suggest above. I hope you enjoy!
Great Read
- Need some ideas on how to spice up your warm-up? Check out
this great post
by my friend Alison, at Fearlessly Fierce, all about
killer warm-ups
.
I'm off to do a little packing and cleaning before my 11 AM Barre class and then it's time to head to good 'ol College Station.
What are your plans for this weekend?
In health,

Posted by

Lauren George
at 8:25 AM

Email This
BlogThis!
Share to Twitter
Share to Facebook
Share to Pinterest