Making time for the gym is hard. It messes up your shower schedule, makes for more laundry, and if the only time you have is in between appointments or classes, the last thing you want to do is sweat. But, if that's the time that works best for you, here are some
quick tips
to freshen up post-workout, keeping you feeling clean and put together the remainder of the day.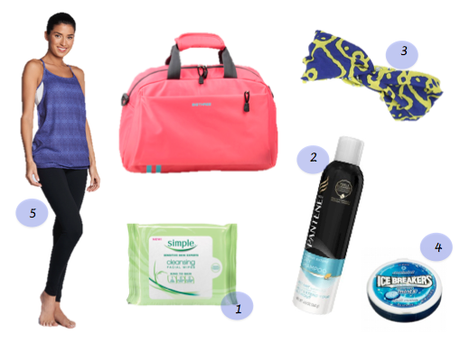 Wipes. These aren't just for babies! Keeping a package of cleansing wipes in your gym bag is great if you are opting out of a quick rinse in the shower. Wipe away your sweat [and makeup] so you don't have to worry about it later. 
Dry shampoo. This is quite possibly the best beauty invention. A quick spray absorbs oils from your hair so you aren't left with that oily hair we all despise. 
Headbands. Not sure what to do with your hair after a workout? Throw on a headband for an easy, put together look. 
Fresh breath. Carry a toothbrush or breath mints in your gym bag. This will help you feel even more freshened up and the mint will help cool your body temperature. 
Cute workout gear.

Depending on where you are going after the gym, wear cute gym clothes that can easily transition from sweat to street. Let's be honest, cute gym clothes are also a motivator to go to the gym in the first place, right?
I'd include deodorant and body spray, but thats a given. ;)
What else do you carry in your gym bag?
XO, Carrie