Operatoonity.com review: The Barber of Seville presented by Opera Philadelphia
Live performance: Sunday, September 28, 2014
The Academy of Music, Philadelphia, PA
Music: Gioachino Rossini
Text: Cesare Sterbini
4.5 stars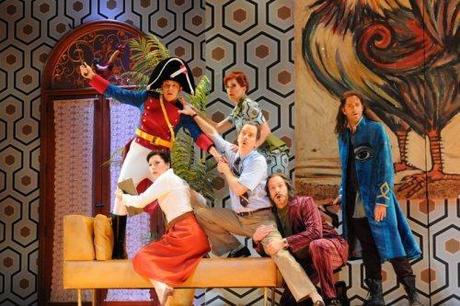 The principals in Opera Phila's season opener delivered a zany crowd-pleaser of a show at the Academy of Music on September 28, 2014
Bravo! Bravo! Bravissimo! The planets must have been aligned (as were all the creative forces in play) over the Academy of Music on September 28, 2014 for Opera Philadelphia's 40th season opening production The Barber of Seville.
What a wonderful romp! From the brisk and beautiful opening overture–from conception to execution–this was a frothy, foamy, and wholly hilarious show that made opera buffa as relevant and entertaining today as it was when it was written.
Credit the over-the-top direction by Michael Shell for the show's overwhelming success. He envisioned a show as eye-opening as the one audiences experienced in Rossini's day–from carnival performers to dancing chickens to the lead tenor masquerading as a hippie-dippy music teacher, and his creative team, including a whimsical set design by Shoko Kambara, carried out the vision to a tee. The flavor of this Barber was rollicking, fresh, and fun. Director Shell credits Pedro Almodóvar for inspiring his treatment for this show. I suppose I am late to the Almodóvar party, but I do know the work of Almodóvar's muse–Blake Edwards–and I guarantee you will recognize and appreciate the same absurd qualities of this show if you are a fan of the Pink Panther movies. This marked Shell's directorial debut with Opera Phila, and I certainly hope it won't be his last effort with Philly's premier company.
The entire company was emotionally invested in pulling off this wacky 'Barber' from the moment that Figaro sung by baritone Jonathan Beyer rolled onto stage in a bright blue frock coat, riding on a bicycle.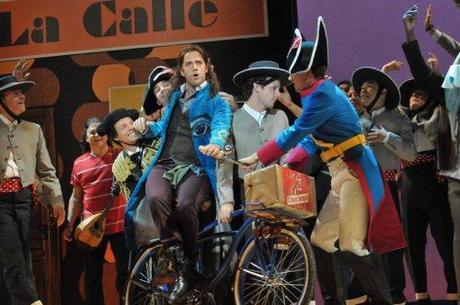 Jonathan Beyer cut a dashing figure as Figaro.
Beyer faces some daunting expectations playing one of classic opera's signature roles and singing one of the most beloved and also challenging arias to kick off the show. He played a sturdy Figaro, but it was not a mind-blowing performance.  Clearly, he is not a Rossini baritone. And while the end result was solid, he seemed to be laboring very hard to achieve his sound. Since Figaro gets the last bow, you want to feel as though you loved that character the best. But in this production, Figaro was simply outsung, outplayed,  outperformed by Dr. Bartolo.
Dr. Bartolo?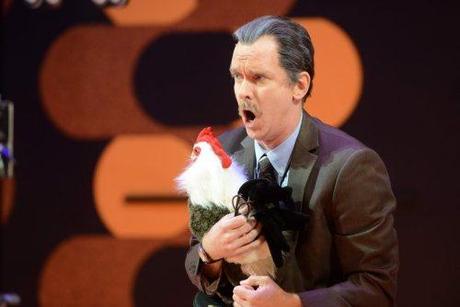 Bass Kevin Burdette stole the show as Dr. Bartolo.
There were many fine performances in this version of Barber, but bass Kevin Burdette as the ludicrously evil Dr. Bartolo absolutely stole the show–hands down.  I hardly recognized Burdette from his earlier star turn with Opera Philadelphia singing the loathsome Prophet in their stunning 2012 production of Dark Sisters. What a versatile talent Burdette is–as convincing in great comedic roles as he is in great dramatic ones! He is also obviously a human rubber band with the ability to twist his body into more convolutions than an unbaked pretzel all while seamlessly carrying off his vocals to great effect. He simply put the audience in stitches with each appearance.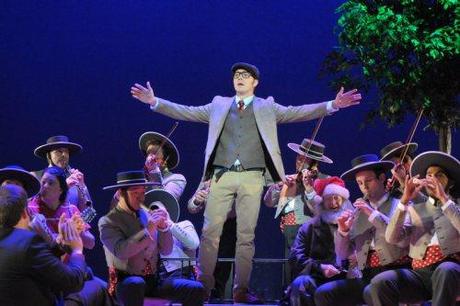 Taylor Stanton sang the lovelorn Count Almaviva.
Tenor Taylor Stayton as Count Almaviva was a great boon to the show's success. His singing was also strong but not as effortless as Burdette's.  However, his comic timing was spot on, particularly impersonating the psychedelic substitute music teacher.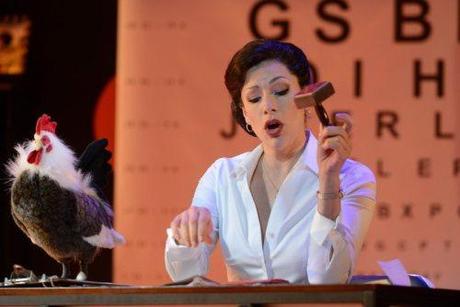 Jennifer Holloway sang the role of Rosina.
As Rosina, apple of Count Almaviva's eye, mezzo-soprano Jennifer Holloway was lovely to see and hear. In this zany production, Holloway reminded me of Marilyn in the old TV show The Munsters, in which everyone and everything around her is off-kilter, yet she has the grace and good looks to go with the flow and win everyone's affection in the end. I would love to hear her in other roles. A very impressive performance!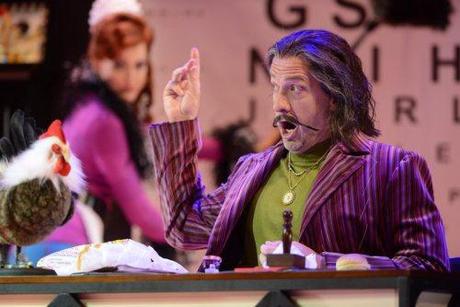 Wayne Tigges turned in a hilarious Don Basilio.
As Rosina's music teacher, bass-baritone Wayne Tigges delighted the audience with his rock-star aria delivered with bump, grind, and a fake microphone.  He proved a wonderful foil to soprano Katrina Thurman's Berta, who took what might be considered a cameo or throwaway role and transformed it into a lustrous showcase of all her assets.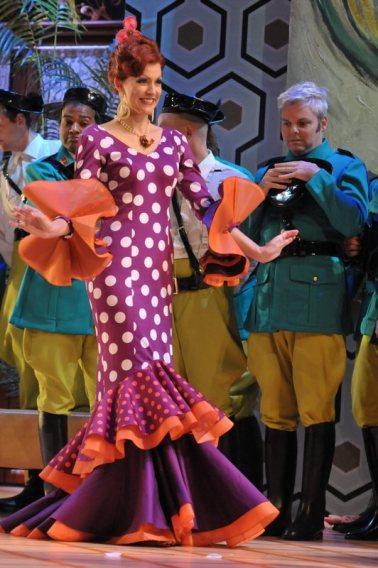 Katrina Thurman turned heads as the shapely Berta.
It was surprising to see how young many of the performers appeared in the program versus how they carried off older, more mature characters on stage with such aplomb. Credit must go to costume designer Amanda Seymour to wigs and make-up by David Zimmerman for the inspired platform they created for the performers to succeed.
Credit Opera Philadelphia conductor Corrado Rovaris for the glorious and controlled sound of the orchestra. The Barber of Seville is a long opera, and while the tempos were brisk, this is one opera that needs to keep moving.
In actually, the production flew by. In no time at all, it seemed, everyone was on their feet at curtain call, rewarding the cast and conductor with a standing ovation for their efforts.