We have an aversion to Scottish JKs (big UK Easter Orienteering Festival), when I lived down south it was too far, the weather is often iffy at Easter and there always seems to be a nice alternative somewhere warmer. This year we were trying to go to Spain, but could just not get any info on the event. In the end Cath discovered a French '3 Jours de Paques', just north of Bordeaux on the l'île d'Oléron.. Sand dune forests, French food, what more could we ask.
http://3jours2012.club-co17.com/index.html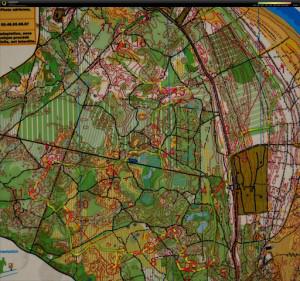 Im not sure it was a great decision to go for just the weekend and drive! meaning it turned into a bit of a major road trip (1600 mile weekend) but overall we had a great time and I believe the orienteering was OK too (cath's map shown) The area was actually quite runnable and not as green as the map suggests.
The club took 3 cars out and stayed in a posh resort caravan park with a fantastic spa pool we all lazed in when not visiting light houses, orienteering or eat ice creams and crepes. The 3 juniors who came out did us proud and it was a struggle to get the 8 trophy's into the car for the return journey.
I had a word with my physio before I went (he was really not happy about the drive) and said that I could take a bike a go for a few poodles for my mental health rather than just sitting there moaning. In the end I had 3, 45 minute, lane and forest road rides on the Whyte E5 and I am starting to like it. I still wonder whether it is slightly too big for me and that I might need a small but overall its good, particularly pedalling over the bumpy stuff. The rest of the time I took photos and enjoyed the slightly windy sunshine thinking of friends getting cold and wet in Scotland!