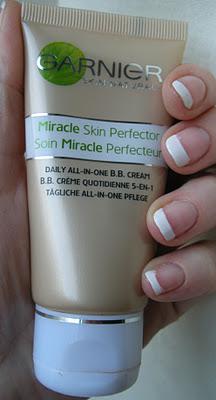 I'd heard the buzz about BB creams for a while, they're big in Asia and are described as an all in one skin treatment that provides coverage  (BB stands for Blemish Balm).  They were reported developed by German dermatologists to protect heal and soothe post laser surgery skin whilst providing some coverage.  They were then popularised by Korean actresses for beauty purposes and the trend eventually spread to Japan and the rest of South East Asia before spreading to the USA and UK. My only concern about trying these was the reported 'greyish' cast the Asian creams had to conteracted the local skintone - My Irish heritage has provided me with skin that is almost the exact opposite of a warm yellow undertone, being a cool pink  (NW20).
So when I saw that Garnier had launched a UK version in two skin shades I was excited to try it, but delayed for a while as I'd heard mixed reviews from bloggers.
The blurb reads:
 "Garnier Miracle Skin Perfector BB cream  is for immediately perfected skin with even tone and boosted glow. Blurs imperfections and smoothes fine lines. SPF15 protection and 24hr hydration."
Humm....never believe the marketing peeps....However, when I hit my local
Superdrug
a few weeks ago the temptation was too much..especially as the 50ml tube was on offer at £7.50 instead of the RRP of £9.99.
It's a fairly thick consistency - much thicker that my usual liquid foundation (erm....probably because it's called a cream!)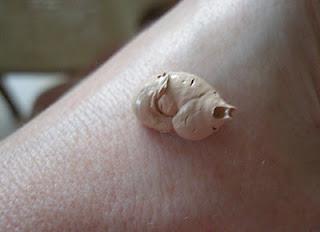 The first time I used it I applied as a tinted moisturiser.  Whilst the fresh citrus fragrance was quite pleasant (would still have preferred unfragranced!) i was overly impressed with the coverage it provided so it has sat on my skincare shelf for a couple of weeks. However, asking watching one of my favorite youtubers apply moisturiser with a foundation brush I was inspired to revisit this product and try it out with a flat foundation brush (as opposed to my beloved MAC 187 stippling brush I use to apply my liquid foundation).  I squeezed the product onto my skin and worked the product in with the foundation brush in long strokes prior to buffing softly.  It is buildable as I applied a second layer for slightly more coverage and it didn't cake at all.  I was pretty impressed with the results!
Photographs L-R:  Bare Faced, with BB Cream, with additional layer of BB Cream and Concealer.
 (I tried my best to keep the same light and angle on the photographs....this is me in the dull gray light of an English January!)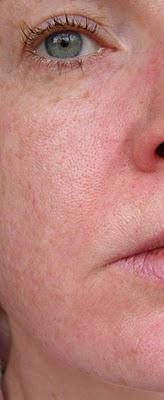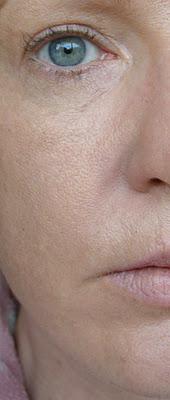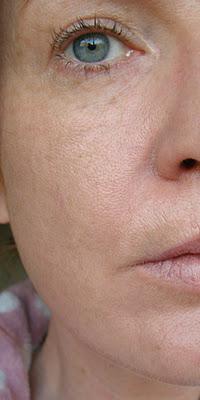 It's definitely reduced redness, not sure if it's a miracle perfector but on the second application, it gave a nice light-medium coverage.  I haven't used powder at all and I found the product gave a nice dewy glow to my 40 something normal/dry skin.  It has even mattified slightly after sinking in to my skin.  I'm going to trial it for a few days and also compare against foundation coverage. Although so far it could be a winner for casual no/minimal make up days. Another suggestion from Garnier is to use this as a primer so I'll give this a go to and report back.  As it's moisturising it may be good for us non-oily types as I always find silicone based primers are just too drying.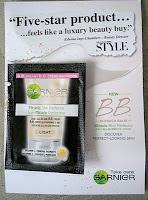 I've found another freebie for your guys from - it's a 1.5ml sample  from
Boots
, unfortunately it's only available in Light.  I ordered this several weeks ago and it only arrived after I'd already bought the full size.  Please let me know how you get on with the link, I trialled it again and it seems active! Have you tried BB Creams?  What do you think of them?  Would you buy them again? My overall verdict: I'll get back when fully tested!
Laters Peeps!
Love Lainey x