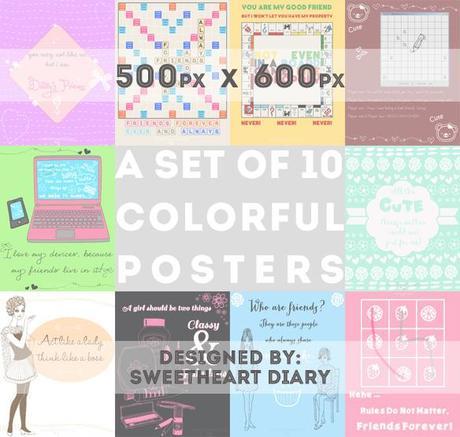 This is exclusively for all the ladies/girls/teens... whoever, you are always young and pretty! The set includes 10 posters of the size 500x600 pixels.
I had a lot of fun when I was making them in Photoshop, playing with the brushes, selecting doodles and shapes. The thing I enjoy the most is playing with the text. I love using my newly installed fonts.
You will find a poster of the board game called 'Scrabble'; when I started doing that one my mind was empty and I was thinking of using simple fonts like Arial or Times New Roman, but they looked very bad with the concept so I went to www.dafont.com and typed in the search box 'scrabble' and then I found the font I really really wanted to use with my concept. This font is called 'Tilez' and it is superb! Alhumdulillah, it was a free font! :)
Oh yes! My most favorite poster from these is the first one (filed as 1.png) it has a turquoise background and all my favorite doodles are lined up in white forming a cute pattern and the poster says "all the cute things in this world are just for me", yes they are! :)
So, download this freebie and let me know how you like them. There is another great freebie coming up the next month.