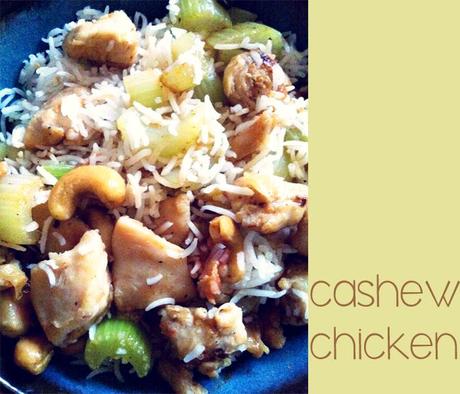 Assalamualaikum wa rahmatulahi wa barakatu!
Thank you sis Amna for giving me such an opportunity to contribute a guest post to your lovely blog! It took me a while to think of what I could possible share with your readers and decided to write about my first Chinese dish that I had made a few weeks back. I am Chinese Canadian and have never been your typical Chinese, in fact, I am probably the most non-Chinese-Chinese sister you will ever meet! The only reason I chose to experiment with a Chinese dish was for my father-in-law who came to visit all the way from Saudi Arabia! I normally cook Middle Eastern dishes and I thought that would probably be something he didn't want to have when he was in America for his first time so I took a big chance and said Bismillah and concocted a simple yet delicious dish the Chinese usually eat at the dinner table on a Monday night or at your typical authentic restaurant. Below is the recipe and I hope that you will give it a try! The website I found this on has tons of great Asian cuisine including Indonesian, Thai, Indian, Chinese, and Japanese! It truly is a gem! The recipe is called 'Cashew Chicken' and I also want to let you all in a little secret (which I also got from her website!) Every time I go to AUTHENTIC Chinese restaurants, the chicken is always so plump and moist and super tender, I learnt that the reason for this is because the Chinese marinate the chicken in baking soda for 10-15 minutes! I tried it and Masha'Allah it was SUPER soft! I know many of you may be skeptical to use baking soda because you all use it to clean, but hey, it's in the baking aisle so it must be edible right? ! Please enjoy and let me know how it goes insha'Allah!
Cashew Chicken
Ingredients:
1 boneless & skinless chicken breast, about 10 oz. (cut into small cubes)
1/2 cup unsalted cashew nuts
1 small green bell pepper, about 4 oz. (cut into small square pieces) – I USED CELERY because that's usually what I've had at Chinese restaurants!
5 slices ginger
1/4 onion (cut into small square pieces)
Marinade:
1 teaspoon baking soda
1 teaspoon corn starch
1/2 teaspoon rice wine ( I used rice vinegar just because I stay away with anything that says "wine")
Sauce:
1/2 tablespoon oyster sauce
3/4 teaspoon soy sauce
3 tablespoons water
3 dashes white pepper powder
1/2 teaspoon sugar
1/2 teaspoon rice wine (again, rice vinegar)
1/8 teaspoon sesame oil
Salt to taste
Method:
1. Marinate the chicken meat with the baking soda for 15-20 minutes and then rinse the chicken thoroughly. (Please make sure that the chicken is properly rinsed clean of the baking soda.)
2. Pat the chicken meat dry with paper towels and then marinate with the rice wine(vinegar) and corn starch, for 15 minutes.
3. Mix the sauce together and set aside.
4. Heat up a wok with 1 tablespoon of cooking oil and stir-fry the chicken meat until the color turns white or half-cooked. Dish out and set aside.
5. Add another 1 tablespoon of cooking oil into the wok and add in the ginger slices, bell peppers and onions.
6. Stir-fry until you smell the peppery aroma from the green peppers and add the chicken meat back in.
7. Add in the sauce and stir continuously until the chicken meat is cooked and well coated with the sauce. Add salt to taste, if you like.
8. Add in the cashew nuts and do a few quick stirs. Dish out and serve the Cashew Chicken hot with steamed white rice.
- Khadijah is a Chinese revert and a blogger. You will be pleased to meet her!