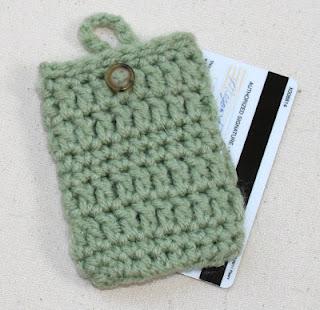 I was inspired to create this pattern by my debit card.  No matter what I did, my card kept getting so scratched that scanners wouldn't read it and I would have to call the bank to request a new card.  I always kept my card in my wallet but somehow it was still getting scratched.
This little cozy has proved itself to be a great solution.  Since I started using it about two months ago my card has remained scratch-less.   It is also very convenient to stick my ID and credit card in the cozy, throw it in my pocket and spend a day at an amusement park.  I love being able to use the "guests without bags" line at Disney!
Credit Card Holder Cozy Crochet Pattern
Materials:
Small amount of worsted weight yarn Size G crochet hook Needle
Pattern:
When making your slip knot, leave about a 6" tail.
You will use this later to sew the bottom of the cozy closed.
Ch 20, Slip stitch to first ch to join round. (be careful not to twist the chain)
Round 1:
Ch 2, dc in next stitch and in each stitch around. Slip stitch to top of ch 2 to join round. Round 2-6:
Repeat round 1. Round 7:
Ch 1, sc in next st and in each st around.
Sl st to ch 1 to join round. Round 8:
Ch 1, sl st in next stitch and in each of the next 4 sts, ch 9, skip the next stitch and slip stitch in the following st.
Continue slip stitching in each stitch around.
Slip stitch to the ch 1 space to join round. Tie off yarn.
Using the 6" tail at the bottom of the cozy, sew the bottom closed.
Turn the cozy inside out.
Sew a small button to the top center of the cozy, approximately ½" from the top.
Finish by weaving in all loose ends.